Shabazz Muhammad: 3 Reasons UCLA Can Win the Pac-12 Next Year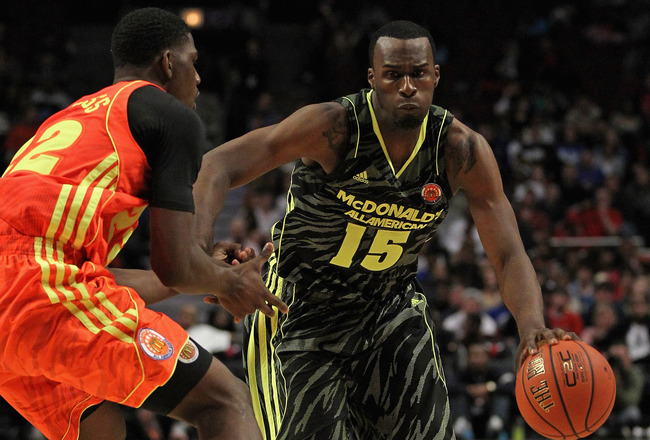 Jonathan Daniel/Getty Images
Nerlens Noels "shocked the world" by going to Kentucky. However, the UCLA Bruins are the big winner with their 2012 recruiting class having landed the top recruit in the nation, Shabazz Muhammad.
Shabazz Muhammad told ESPNU:
It was down to Kentucky, Duke and UCLA and I chose to be a Bruin…I'll be at UCLA next year…Knowing how bad they were these last two years, it's a challenge to really get them back up to the top knowing they are the leaders in all-time championships with 11.
UCLA not only has 11 NCAA tournament championships, they also have the third longest NCAA Division I men's basketball home-court win streak, 98 games between 1970-1976.
Additionally, the Bruins hold one of the most impressive all-time sport's records with an incredible 88-consecutive totals wins, which ended after a 1974 loss at Notre Dame.
In the 2010-2011 season the UCLA Bruins made their 44th NCAA appearance. In that tournament UCLA beat Michigan State, 78-76, in the first round. The Bruins then lost to Florida, 73-65, in the second round. UCLA's last NCAA tournament championship was in 1995. The Bruins were in the 2006 National Championship Game and the 2007 and 2008 National semifinals.
This season the Bruins (19-14, 11-7) finished tied for fifth in the Pac-12 along with the Pac-12 Conference tournament championship team, Colorado. Colorado went on to the 2012 NCAA tournament where they defeated UNLV in the second round before losing to Baylor in the round of 32. UCLA did not go to the post season.
With no wins over AP top 25 teams, a fifth place finish in the Pac-12, an unflattering article in Sports Illustrated and an absence from the postseason, this was one of the Bruins' worst seasons. However, all of that is about to change next season with Muhammad coming to UCLA.
Here are three reasons why UCLA can win the Pac-12 next year.
Shabazz Muhammad Has the Talent of a Game Changer
Shabazz Muhammad has enough talent at this point to play in the NBA. However, the NBA has a stipulation against allowing players under 19 years old in the league. While the rule and resulting one-and-done type of players it produces is a matter for a separate debate, it does play out in UCLA's favor, at least for this coming season.
Muhammad recently played in the Nike Hoop Summit, an event that pits the top prospects in the U.S. against a team composed of internal talent. Participants in last year's Hoop Summit include several projected NBA draft lottery picks including: Anthony Davis, Michael Kidd-Gilchrist, Austin Rivers, Bradley Beal, Marquis Teague and Tony Wroten.
Rivals quoted one NBA scout at the event as having this to say about Muhammad's talent, "Shabazz is by far the best player here…It's not even close. He's the only one who can play in the NBA tomorrow."
You would be hard pressed to identify another player that has Muhammad's level talent, either coming into or returning to play in the Pac-12 next season. It's the type of talent that can help lead a team to victory and pick up any slack in areas where it was deficient this past season.
UCLA 2012 Recruiting Builds a Dream Squad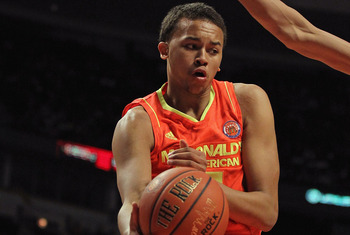 Jonathan Daniel/Getty Images
UCLA currently only has three recruits so far. However, all three are top recruits that have the potential to add serious perimeter shooting prowess to a group of solid returning Bruins.
Jordan Adams of Mouth of Wilson, VA (Oak Hill Academy) is a 6'5" 215 lbs Rivals' 4-star recruit that committed to UCLA in June of last year. The small forward is ranked by Rivals as No. 62 nationally and No. 14 in his position.
Kyle Anderson of Jersey City, NJ (St. Anthony) is a 6'8" 215 lbs Rivals' 5-star recruit that committed to UCLA in September of last year. The small forward is ranked by Rivals as No. 3 nationally and No. 1 in his position.
Shabazz Muhammad of Las Vegas (Bishop Gorman) is a 6'6" 220 lbs Rivals' 5-star recruit shooting guard ranked No. 1 both nationally and in position.
If Muhammad and UCLA get their way, you may see added to this list Rivals 4-star recruit Tony Parker. Parker is currently uncommitted, but UCLA has made an offer to the 6'9" 250 lbs center from Lithonia, Georgia.
On UCLA's 2012 recruiting, Muhammad told ESPNU, "Kyle Anderson is a great addition to that program with Jordan Adams…Hopefully Tony Parker will come and there's a lot of bits and pieces with that team that could make it a great team in the future."
Lack of Much Competition in the Pac-12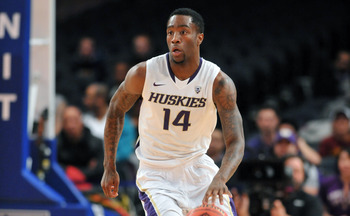 Jason Szenes/Getty Images
The 2012 Pac-12 regular season champion, the Washington Huskies is losing its top two scorers, Terrence Ross and Tony Wroten (2012 Pac-12 Freshman of the Year) to the 2012 NBA draft.
While the Huskies will have a solid returning team, including several talented players that red-shirted this season, they have so far only signed Tacoma Community College transfer Mark McLaughlin. How the Huskies will perform without the duo of Ross and Wroten remains to be seen.
Cal finished the 2011-2012 season second in the Pac-12. A big part of this year's success was due to Jorge Gutierrez. In his senior season, Gutierrez won both the 2012 Pac-12 Player and Defensive Player of the Year awards.
The Bears so far only have three commits. Of those three, the projected best player would be Rivals' 4-star and No. 87-ranked point guard Tyrone Wallace.
Oregon finished the 2011-2012 season third in the Pac-12. The Ducks will be losing Devoe Joseph, a transfer from Minnesota. While at Minnesota, Joseph had a relatively unimpressive performance, which was not the case at Oregon. Devoe Joseph led the Ducks this season with an average of 16.7 points per game.
Oregon does have commits from three Rivals' 3-star and one 4-star recruit. Rivals' 4-star point guard Dominic Artis is ranked No. 47 nationally and No. 5 in his position. Oregon along with Washington, Florida, UNLV and Kentucky are all after Rivals' 5-star and No. 7 national and No. 1 position ranked Anthony Bennett. Anthony Bennett plans to commit at some point by May.
The Pac-12 tournament champion team, Colorado, will take a big hit losing its top scorer, graduating senior Carlon Brown. Brown averaged 12.6 points per game. The Buffs do have two 4-star and four 3-star 2012 commits signed.
Arizona is the team that comes closest in the NCAA to the 2012 recruit class that UCLA has put together. Arizona signed three 5-star commits including Brandon Ashley, Grant Jerrett and Kaleb Tarczewski. The Wildcats also signed 4-star Gabe York, and have a commitment from 3-star Matt Korcheck.
A major problem, for next season at least, presenting itself to the Wildcats will be in the point guard position. This season Arizona was riddled with trouble in that spot with Josiah Turner. The highly sought after recruit was suspended indefinitely prior to the Pac-12 tournament after violating team rules for a second time this season.
Josiah Turner announced that he would be transferring from Arizona to a different school. The Wildcats will be getting Duquesne transfer T.J. McConnell. McConnell will likely fit into the spot in the 2013-2014 season, but due to his transfer he will not be eligible to play this coming season. Arizona's replacement for Turner in the Pac-12 tournament, Kyle Fogg, graduates this year.
With the exception of Arizona no Pac-12 team comes close to the star power that UCLA is bringing in next season. If the Bruins can use that talent to build a cohesive team they will be hard to stop in the Pac-12 next season.
Shabazz Muhummad is the No. 1 ranked player in the country for a reason, as he is that good. Whether UCLA will be able to keep the momentum going beyond next season is another question, but getting Muhummad to come to UCLA gives the Bruins a huge leg up in winning the Pac-12 next season.
Keep Reading

UCLA Basketball: Like this team?