B/R Debate: Will the New England Patriots Run a 3-4, 4-3 or Hybrid Defense?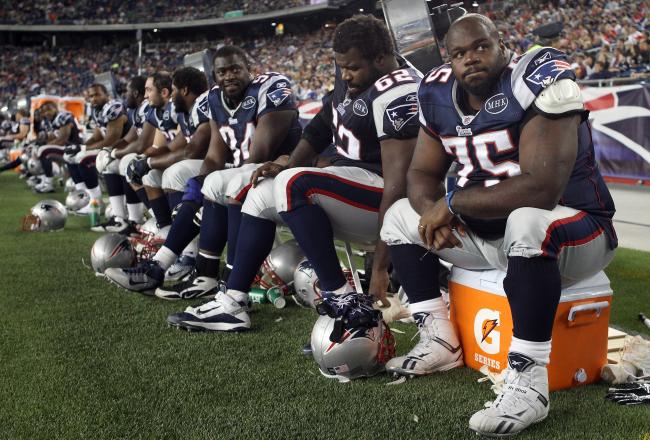 What the Patriots do up front will vary depending on opponent.
Elsa/Getty Images
Under Bill Belichick, the New England Patriots have been synonymous with the 3-4, although they've always mixed things up a bit in the front.
Last year, they threw their defensive scheme into a blender when they went with the 4-3. It was the easiest thing to do, given the lockout and the shortened offseason program.
It's tough enough to learn Belichick's defense, but under those circumstances, it's almost impossible.
But now that there's a full offseason to work with, what will the Patriots do? Will they switch back to the 3-4 that Belichick has popularized, or is it time to stick with the 4-3, which helped the Patriots get after the quarterback.
To debate the topic, we bring in B/R Patriots featured columnist Aaron Dodge who can also be found on Twitter. You're the guest, so I'll let you lead us off.
Aaron: Well Erik, as is usually the case with any Bill Belichick-related topic, this question is a complicated one.
It is true that New England chose not to implement the complex structure of the 3-4 defense early on in 2011, but as the season progressed, it did make limited appearances. I think what that tells us is that Belichick will never completely abandon such a historically productive and efficient scheme—it's simply a question of how much it will be implemented.
A full offseason worth of organized team activities and rookie training camps, not to mention practices and the ability for the team to communicate with its players, should all contribute to it's redeployment in 2012.

But I would argue that the team is even more likely to showcase a hybrid, as they had five or more defensive backs on the field for more than 60 percent of their plays last year. That only leaves six slots left to showcase a 3-3, 2-4 or 4-2 alignment with your linemen and backers.
Erik: Comprehensive answer there, Aaron, and you're absolutely right. The Patriots will continue to run a mix of 3-4 and 4-3 looks, and it's my thinking that the eventual "base defense" will be the 3-4.
But how much does that even matter? As your numbers indicate, they were in the sub package 25 percent more frequently than their base defense. Their base defense was their sub package.

As the NFL has been geared more and more toward passing, so has Belichick's defensive philosophy. The sub package isn't so much about what allows the team the best chance to get after the quarterback, but more about what personnel grouping gives the Patriots the best chance to make a play, whether it be in the trenches or in the secondary.
The common misconception about a sub package is that it doesn't necessarily entail a standard four-man front. It could be a nickel or even a dime package with any combination of two, three or four defensive linemen and linebackers.
But with that in mind, how do the Patriots tackle their defensive needs in the draft? My opinion is that they need to draft scheme-versatile players across the board—guys who can learn a system and be flexible in carrying out their assignments. With so much changing from week to week as the Patriots adjust their defense for their opponent, there's no room for one-trick ponies in the Patriots defense.
Aaron: The scheme that eventually becomes the base defense will determine which players can be utilized in that front and vice versa. The players New England brings in will act as puzzle pieces and by examining those signings, it should allow us a sneak peek at the base defense and possibly what the team will be doing in the draft.
It seems the Patriots have been determined all offseason to get bigger and stronger in the middle of the defensive line. Jonathan Fanene fits that bill at 300 pounds, but that signing hardly ended New England's interest. The team engaged in discussions with at just about every well-known available free agent at the position.
What that tells me is that the team is looking for a true defensive tackle to plug into the middle with Vince Wilfork and Kyle Love. That duo performed admirably in 2011, but with Wilfork playing nearly 90 percent of the snaps and Love coming in at 50 percent, it's easy to see why the Patriots are interested in getting the big men some help.
Due to persistent interest in free agents at tackle, I believe an addition is very much in their plans. Employing a three-man rotation at tackle would provide a way to keep that position rested, healthy and effective and this is a draft class ripe with talented lineman.
And not to mention a draft ripe with early selections, if you're New England.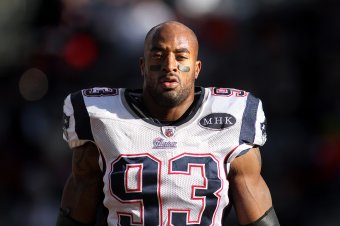 The Patriots are very hopeful Carter returns. He was part of a Patriots' pass-rush renaissance in 2011.
Marc Piscotty/Getty Images
Andre Carter is still likely to return at OLB/DE with Trevor Scott, Rob Ninkovich and Jermaine Cunningham all in the fold already. As comfortable as the Patriots may be with plugging Carter (55 percent of 2011 snaps) back into the starting lineup, there needs to be a backup plan due to his age, health and free-agent status.
The relative inactivity throughout free agency leads me to believe this position will be targeted in the draft as well. A hybrid lineman who can stand up and get after the quarterback is the type of versatile player this defense needs, as you pointed out.
With Brandon Spikes, Jerod Mayo and Bobby Carpenter in the mix on the inside, I think the Patriots look pretty set at backer otherwise.
Erik: The team's desire to bring in another defensive tackle gives them more options in their fronts, to be sure, but what it also does is allow them to move people around. Wilfork has had to play defensive end at times, which is a good matchup in certain situations, but he's better suited to the nose or a true defensive tackle spot.
Clearly, though, the Patriots have options and will employ them. Their best bet, in my mind, is to continue to find scheme-versatile players. The days of the base defense have come and gone, as the NFL is now almost entirely predicated on matchups.
The more versatility the Patriots have in their fronts, the better off they'll be to respond when the need to exploit a particular matchup arises.
And with that, I think our friendly debate has drawn to a close. Thanks for joining me in this spirited discussion, Aaron, and I'll certainly bring you back to debate another Patriots-related topic in the future.
For the readers, be sure to check at the AFC East blog every day for a new debate over AFC East-related topics.
This article is
What is the duplicate article?
Why is this article offensive?
Where is this article plagiarized from?
Why is this article poorly edited?