2012 NFL Draft: Latest News and Rumors Swirling Around Green Bay Packers
April 11, 2012

Chris Graythen/Getty Images
The Green Bay Packers have already been surprisingly active this offseason, even before their prized event, the NFL draft. With the draft upcoming, the Packers' moves and players of interest are being rumored and discussed at a furious pace. Here is a look at some of the latest news surrounding the Packers. While focused primarily on the draft, other Packers new is included.   
Interest in Chris Polk
According to a Milwaukee Journal Sentinel article by Lori Nickel, the Packers have interest in former Washington running back Chris Polk.
Nickel writes: "A source said he believes the Green Bay Packers have a genuine interest in the running back after interviewing him at the combine in Indianapolis. Indeed, a scout from the Packers joined 12 other NFL representatives to watch Polk at pro day in early March in Seattle."
In the article, it also mentions Polk's belief that he is first-round talent. 
Polk would be a nice addition to the Packers offense, but with Polk garnering first-round attention, it seems too high for the Packers. With so many issues on defense, it's hard to imagine the Packers going anywhere other than a defensive player in the first two rounds.
If Ryan Grant is re-signed by the Packers, there should be little need to draft a running back with Grant, James Starks, Brandon Saine and Alex Green on the roster. If the Packers don't plan on bringing back Grant, however, a running back will likely be drafted, but most likely in the middle or later rounds.
Packers mock draft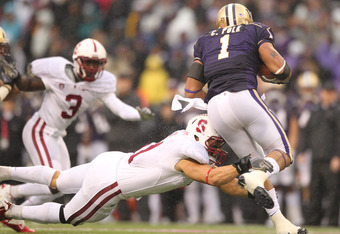 Otto Greule Jr/Getty Images
Sigmund Bloom, NFL draft lead blogger here at BR, put out a mock draft for the Packers. He provides a Plan A and a Plan B for each pick the Packers have, including compensation picks.
Courtney Upshaw and Shea McClellin, both OLB/DE, highlight the first-round options. McClellin's name has been mentioned more and more with the Packers recently in draft circles. 
In the second round, Bloom has the Packers taking DE Jared Crick in his Plan A and RB Chris Polk as Plan B. Any combination of those two rounds would be a solid haul for the Packers when the draft comes around in nearly two weeks. 
Blair Kiel, former Packers QB, dies
On Sunday, the Packers lost a family member as former quarterback Blair Kiel passed away at 50 years old. It is reported that Kiel suffered a heart attack at a family gathering for Easter.
Kiel was the backup to Dan Majkowski from '90-'91. He threw 865 yards and five touchdowns playing in seven games over the span and starting two.
Packers in other news
 Donald Driver continues his assault on Dancing with the Stars.
The Packers begin their offseason program next Monday.
Dave Tollefson signed with the Oakland Raiders after the Packers showed interest.