Green Bay Packers Mock Draft: Building the Perfect 7-Round Draft
April 10, 2012

Jamie Squire/Getty Images
The Green Bay Packers were one and done in the 2011 playoffs after being number one in 2010. The cutthroat nature of the NFL showed the vast difference between being the best in the regular season and being the best in the postseason. How can GM Ted Thompson make best use of his twelve draft picks to get the Packers back on top when it counts?
Round 1, No. 28
Plan A: Courtney Upshaw, DE/OLB, Alabama—It's unlikely that a high-floor prospect like Upshaw falls to the Packers' first-round pick, but it is possible after an uninspiring postseason. What is more likely is the Packers being able to trade up to the late teens or early 20s if Upshaw isn't one of the first two or three DE/OLB's taken in the draft. With four extra compensatory picks freeing up their natural picks to be traded, the Packers have no excuse to let a tough, disciplined, high-motor player like Upshaw get away.
Plan B: Shea McClellin, DE/OLB, Boise State—Perhaps a raw ultra-athletic tweener like USC's Nick Perry could slip through to 28, but McClellin represents a true "plan B" as another relentless, instinctive, tough OLB to pair up with Clay Matthews.
Round 2, No. 59
Plan A: Jared Crick, DE, Nebraska—The team spent a late second on a much riskier prospect two years ago, and Mike Neal has left them with little future at the position. Crick is a first-round talent who may just fall into the Packers lap in the late second.
Plan B: Chris Polk, RB, Washington—The Packers can hope that a Doug Martin/Lamar Miller/David Wilson falls to their late second, but Polk is much more likely to be there. He's got great hands and is terrific at generating yards after contact. Alex Green is no sure thing to contribute and the team is otherwise lacking talent at running back. This is another place the Packers could move up from for a better target if they don't move up for an OLB in the first.
Round 3, No. 90
Plan A: Markelle Martin, FS, Oklahoma State—Martin needs some work on discipline and overaggressiveness but he has great athleticism for a deep safety. Unless the Packers know something about Nick Collins that we don't, they need to develop a long-term replacement at the position.
Plan B: Derek Wolfe, DL, Cincinnati—With Mike Neal looking like a bust, the Packers reload at 3-4 DE. Wolfe has been a fast riser, so he may not be there for this pick.
Round 4, No. 123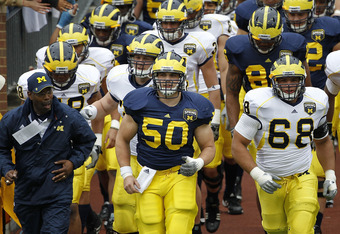 Leon Halip/Getty Images
Plan A: David Molk, C, Michigan—Molk's lack of ideal size and strength shouldn't be as big an issue in Green Bay's zone blocking running game. He might need help against someone of the brutish DTs in the NFC North, but he can be a good high character developmental center.
Plan B: Philip Blake, C, Baylor—Blake has some experience at tackle and he's used to a shotgun, pass-oriented offense. Jeff Saturday is only a temporary fix with Scott Wells gone for St. Louis.
Round 4, No. 132 (Compensatory)
Plan A: Russell Wilson, QB, Wisconsin—Why not keep Wilson in Wisconsin? Graham Harrell might be a suitable backup, but it's always good to cultivate competition.
Plan B: Trenton Robinson, FS, Michigan State—Robinson can cover well and has the ballhawk mentality to fit in with the Packers secondary. A suitable Nick Collins insurance plan.
Round 4, No. 133 (Compensatory)
Plan A: Cyrus Gray, RB, Texas A&M—I like Gray's patience and underrated speed as a fit for the Green Bay zone blocking running game. The late fourth is a great place to pick up a back if a target doesn't fall to the late second.
Plan B: Jonathan Massaquoi, DE/OLB, Troy—The Packers can take their instant starter in the first round, but it's still a good idea to create long-term quality depth at the position.
Round 5, No. 163
Plan A: Micah Pellerin, CB, Hampton—A nice developmental corner with good length and speed, Pellerin would be a good get in the fifth.
Plan B: Lucas Nix, OL, Pitt—Quality versatile depth is something every offensive line needs.
Round 6, No. 197
Plan A: Ryan Miller, OL, Colorado—Like Nix, Miller can provide depth at multiple positions and he has some good attributes for the Packers' zone blocking running game.
Plan B: Rishard Matthews, WR, Nevada—Tori Gurley has promise, but Matthews has good hands and speed for a complementary WR. With Donald Driver in the December of his career, drafting another wide receiver is not a bad idea.
Round 7, No. 224 (from New York Jets)
Plan A: Miles Burris, LB, San Diego State—Burris is versatile with good pass rush skills. More OLB depth.
Plan B: Brandon Lindsey, DE/OLB, Pittsburgh—Lindsey is a great athlete, but he needs to add more edge to his game. He's worth developing.
Round 7, No. 235
Plan A: Danny Coale, WR, Virginia Tech—Coale has good natural speed and can compete for a roster spot or be developed on the practice squad.
Plan B: Case Keenum, QB, Houston—If the Packers can make Graham Harrell into an NFL backup, they can work with Keenum.
Round 7, No. 241 (Compensatory)
Plan A: Tim Fugger, DE/OLB, Vanderbilt—With so many picks, the Packers can afford to create competition at key positions. Fugger had a terrific pro day after being snubbed by the Combine.
Plan B: Louis Nzegwu, DE/OLB, Wisconsin—Another Combine snub with a terrific pro day, Nzegwu's 41.5" vertical shows rare explosiveness.
Round 7, No. 243 (Compensatory)
Plan A: James Carmon, OT, Mississippi State—The massive former DT replaced Packers 2011 first-round pick Derek Sherrod, so he could be a good understudy for Sherrod yet again.
Plan B: Jeremy Lane, CB, Northwestern State—An endorsement from former NFL personnel man Greg Gabriel is good enough to recommend Lane as a late pick.