DeMar DeRozan: 5 Things to Improve on During the Summer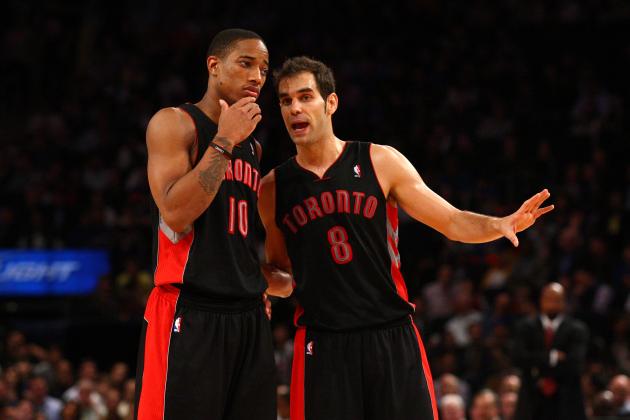 Chris Chambers/Getty Images

DeMar DeRozan hasn't exactly had the breakout season that Raptor fans were hoping for this year. He has struggled to take his game to the next level after a very successful second season in the league.
Part of that can be attributed to the lockout eliminating any possibility of him working with Raptor personnel during the summer, some of it is adjusting to a new coach and system and part of it is simply DeRozan not improving as much as expected to.
To avoid another relatively disappointing season next year, here are five things that DeRozan must improve on during the summer.
Begin Slideshow

»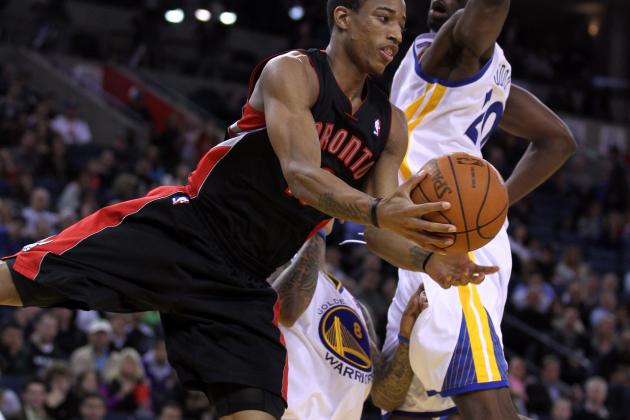 Ezra Shaw/Getty Images

Despite standing around 6'7" and boasting a height advantage over a large portion of NBA shooting guards, DeRozan struggles to absorb, finish through or fight through contact, both offensively and defensively.
When he attacks the paint on his drives and is hit, he is easily knocked off balance. With him appearing to be off balance or out of control, he does not get the benefit of the doubt from referees on many of his drives.
On defense, he struggles to fight through good, hard screens, which allows his man to get open too easily. It also limits his effectiveness on the defensive glass, despite his size and athleticism.
By bulking up and adding strength in the offseason, DeRozan will be able to do a better job in these areas. If he is able to absorb and finish through contact offensively, it will greatly increase his offensive efficiency and ultimately result in more trips to the free-throw line.
On defense, he will be able to body up better, fight through screens and even contribute more on the glass with the added muscle mass.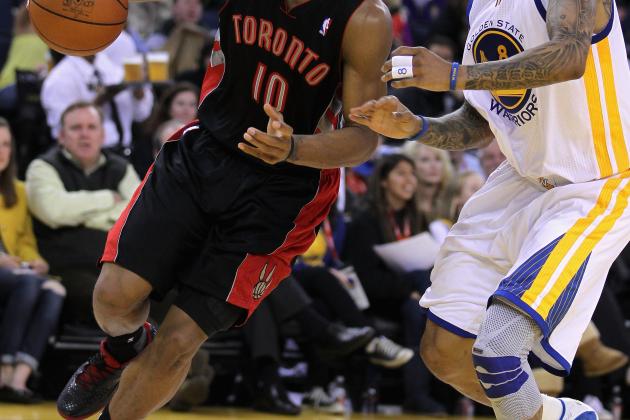 Ezra Shaw/Getty Images

A big part of DeRozan's much lower offensive efficiency this season can be attributed to his struggles creating his own offense off of the bounce.
Last season this wasn't as much of an issue because the Raptors played at a much faster pace ,which opened up transition opportunities for him. He also kind of surprised teams with his substantial improvements from his rookie season, so teams didn't focus in on him as much as they do now.
This season DeRozan has faced much more defensive attention. Opposing teams are game-planning around stopping him, and the increased defensive pressure has limited his ability to create his own offense.
DeRozan has committed 57 ball-handling turnovers and 15 offensive fouls. This may not seem like a lot, but when you consider he is used much more as an off-the-ball player, it is pretty startling.
By improving his ability to handle the ball and create his own offense, he will find himself with more opportunities to score. Teams will have to respect him as a threat to blow by them, which in turn will give him more room to get off his jump shot.
It will also give the Raptors' offense a new dimension as they don't have any perimeter penetration, which is a big reason for them stagnating offensively so often during the course of a game.
Chris Chambers/Getty Images

After being one of the more productive mid-range shooting guards last season, DeRozan has struggled to duplicate that success this season. He has an effective field-goal percentage of just 39.6 percent on jump shots this season, which is well below average and nearly five percent worse than last season.
Reports from the summer indicated that DeRozan spent countless hours working on extending his range out beyond the three-point line, but he would be better served mastering the mid-range jumper before looking to add the three-point shot to his arsenal.
Too often players get caught up in the three-point line and they neglect the mid-range jumper, which is a deadly weapon that basically all the best players in the NBA possess.
DeRozan should focus on getting his 15-to-20-foot jumper as automatic as possible this summer. If he does that, it will force defenses to play tight on him when he curls off of screens, and that will ultimately open up driving lanes for him.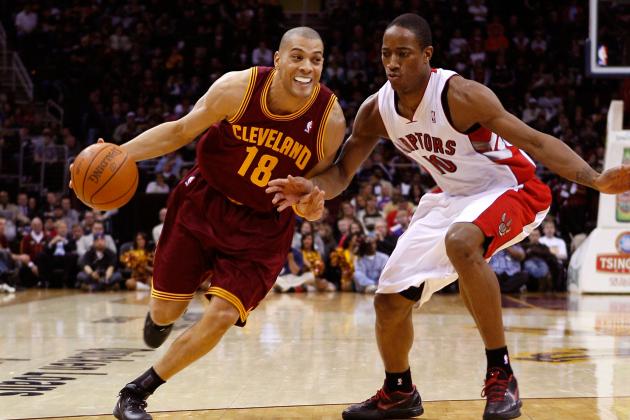 Mike Lawrie/Getty Images

DeRozan has taken strides on the defensive end this season under new coach Dwane Casey. He is doing a better job with ball denial and has has a more profound understanding of defensive positioning.
However, he still has room for improvement on this end. He needs to improve his lateral quickness and do a better job of contesting jumpers.
Most importantly, he needs to fight through screens more. He gets picked off way too easily, and it results in him scrambling to recover. This gets him out of position far too often and reacting to the offensive player, rather than forcing the offensive player to react to him.
The fact that he never played man-to-man defense until his freshman season at USC plays a large part in his struggles defensively. Despite being in his third NBA season, he has really only played man-to-man defense for four years, which is hardly enough time to become a defensive stopper.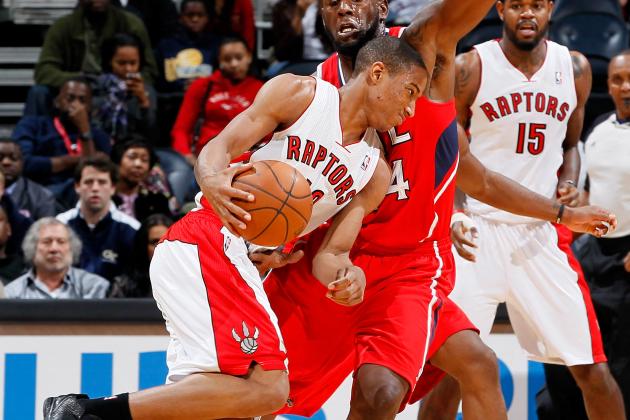 Kevin C. Cox/Getty Images

The last thing is to simply become a more well-rounded player. He has far too many games where he is scoring and doing little else. When he isn't scoring, which is going to happen throughout the course of the season, he becomes too much of a non-factor.
By chipping in on the glass, both offensively and defensively, creating some plays for teammates or coming away with a timely steal or block, it will enable him to still leave an impact on the game even when his jumper isn't falling or if he is unable to get to the free-throw line.
He has shown glimpses of improved playmaking this season by posting a new career high in assists with seven against the Los Angeles Lakers.
Nobody expects him to average that many per game or even five per game, but if he is able to increase his rebounding to around five a game and his assists to three, it will be perhaps even more valuable to the Raptors than if he simply increases his scoring average by a point or two.