Bobby Petrino: Arkansas Razorbacks Make the Hard, but Correct Decision
April 10, 2012

Chris Graythen/Getty Images
In the matter of a week, Bobby Petrino has gone from the sympathized, injured motorcycle rider to looking for employment in 2012. That's how quickly things can come crashing down in the world of college football.
Petrino is exchanging his SEC championship hopes for a job hunt in April. 
He didn't lose enough to get fired. He didn't bring the house down with NCAA sanctions. However, Petrino most certainly lied enough to warrant the hand that fate has dealt him, spelled out simply by Joe Schad of ESPN:
Bobby Petrino is out at Arkansas

—Joe Schad (@schadjoe) April 10, 2012
And like that, he's gone. The press conference is coming up in an hour, and Bleacher Report's own Barrett Sallee over at the SEC Blog will have analysis on that for you.
Right now, before we hear Jeff Long explain the reasoning behind the firing and what's next for Arkansas football, we have to say that this was the smart move.
Yes, the Hogs are losing Petrino's 34 wins over four seasons. Yes, they're sacrificing the coach who led them to a 21-5 record in two seasons. Yes, they're losing the man who made their offense one of the premier machines in college football.
Long and Arkansas are looking at all of that and still pulling the plug on Petrino.
Ultimately, regardless of where your allegiance lies, this is the right move.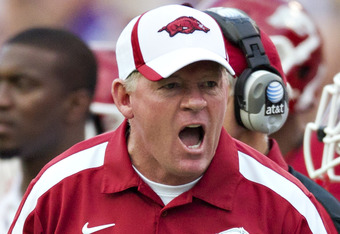 Wesley Hitt/Getty Images
Too much has happened in the last 10 days for the Hogs to keep Petrino as their head coach. Suspending him or docking him pay just wouldn't do. Wagging a finger and saying, "Don't do it again," was never going to work. Burying their heads in the sand and saying, "He wins too much to be fired," was never a truly viable option.
You see, the affair is not the problem here. The reason none of those punishments or reactions would work is pretty simple: These people still would have had to work with Petrino.
Perhaps Long is able to get past the whole affair thing; he wouldn't be the first guy to retain an adulterer. However, Long and the Arkansas program cannot get past the lying thing. When you've got to work with someone in this sort of capacity, you have to have some modicum of trust.
Going into this ordeal, Petrino was perhaps on thin ice in the trust department. That's why his buyout was structured in such a marked fashion, so as to stop him from leaving for another job as he had done in the past. Now, after this motorcycle accident situation, Petrino doesn't even have a razor's edge to stand on as far as trust is concerned. 
Keep in mind, this is not about hurt feelings—this is about doing damage to a program.
It doesn't matter that Long's feelings might have been hurt when Petrino lied to him. It is about the complexity of the lie and the fact that Petrino fully intended to ride this one out, thinking that he got away with things. It is about leaving your employer in the dark in an effort to further your own cause.
So, no, this is not about the affair—this is about the lie and everything that has come with it.
This is about the revelation of an inappropriate relationship with someone Petrino then chose to hire. The revelation that a coach, in extreme pain, would work so hard to make sure his dirt was swept up. The revelation that, when asked about the accident, he lied because he thought he could keep it under wraps.
Basically, last Monday when Petrino told Arkansas officials that he was alone on that motorcycle, he handed Long and the Hogs program a time bomb. If the cops didn't ask, if the witnesses just shut up, then maybe—just maybe—that bomb would not have gone off.
But the cops did ask. The witnesses did talk. That bomb blew up on Thursday in Long's hands.
And now, less than a week after the scandal was detonated, Petrino is out. Arkansas did what it had to do.
Don't make this about morals or standing for a higher cause. The fact is, when you can't trust one of your highest-ranking officials to do right by you, then you have to cut them loose. That's what Bobby Petrino did—he screwed the Hogs to the floor with his well-spun lie, and then left the bomb for them to sit on.
He had to go.