2012 NFL Draft: Chris Polk Could Be a Steal in Round 2
April 10, 2012
During the draft process, numerous players rise up draft boards based on their timed speed or performance on the bench press.
Often times, these measurables wrongfully take precedence over the true indicator of a football player: production on the field.
In three years as the starting running back for the University of Washington, Chris Polk amassed 4,016 yards on the ground and found the end zone a total of 30 times.
Nobody in their right mind is questioning Polk's production. However, since so much is being stock placed on numbers measuring height, weight, speed and strength, Polk is being overshadowed by several others at the position.
Alabama's Trent Richardson is clearly the top running back in this year's draft, and the second tier seems to include a trio of talented runners. Doug Martin from Boise State, David Wilson from Virginia Tech and Miami's Lamar Miller all have been mentioned as potential first-round picks; however, all three are more likely to be taken somewhere in Round 2.
At a stocky 5'9", 223 pounds, Martin has the size and he proved he has the strength after putting up 28 reps on the 225-pound bench press. Miller showed his elite speed by running a 4.40 40, a combine-best among running backs. Determined not to be shown up by his peers, Wilson proved to be a sensational athlete by posting combine-best numbers in four different tests: a 41" vertical, an 11' broad jump, 4.12-second time in the three-cone drill, and he finished the 20-yard shuttle in 11.59 seconds.
Somewhere in the middle of all this, the ultra-productive Chris Polk has went largely unnoticed.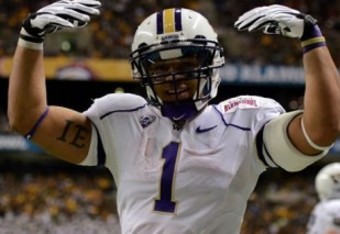 While running backs tend to come in all shapes and sizes, Polk has a nearly ideal build for the position. At 5'10", 215, he's built like a bowling ball and he moves like one, too.
Polk improved upon his semi-disappointing time in the 40-yard dash (4.57) when he clocked a 4.45 at his March 8 pro day. His other measurables aren't exactly jaw-dropping, but his game tape reflects one who's shown the ability to lower his shoulder and finish runs.
For a guy of Polk's stature, it's unusual that the best part of his game is his ability to break tackles. Despite being knocked around like a pinball, Polk is always falling forward and spinning off defenders for extra yardage. As the NFL continues its trend of being an aerial assault, it's imperative for running backs to get as much yardage as they can with limited opportunities.
However, a running back like Polk fits the bill for what teams are looking for in a passing league like we have in 2012.
Polk was a high school wide receiver, and his natural ability to catch the football was certainly utilized at the University of Washington. Although not much is expected from running backs in the passing game at the collegiate level, Polk caught 31 passes and hauled in four touchdowns in his senior season alone. In his three years as the full-time starter, Polk totaled an impressive 78 receptions.
Polk may still be in contention to be the second running back selected in the 2012 draft, but I personally believe Doug Martin will be the second one off the board.
The best-case scenario for Polk would appear to be the middle portion of Round 2, perhaps to the Cincinnati Bengals with their second-round pick. The Green Bay Packers and New England Patriots haven't got much production from the running back position, and both teams could consider Polk at the end of the second round. If worse comes to worst, I don't think there's any possible way that Polk falls past the first part of the third round.
Exactly where he is selected remains to be seen, but if a team is looking for a productive football player in the second round, Chris Polk is the guy.