Brief Break Before Long Stretch of Racing
April 9, 2012

John Harrelson/Getty Images
Racin' with Russ—This year's Easter holiday weekend saw most forms of auto racing take the weekend off. And they may well need the time off, as the next round of racing for the NASCAR Sprint Cup schedule runs for the next 14 consecutive weeks before one final break and then 17 weeks in a row to the finale in Florida. It's a long season without many breaks.
The Cupsters head to Texas this weekend for some wide open action. Roush boys Carl Edwards, Greg Biffle and Matt Kenseth have won here before on the 1.5 mile, 24-degree banked oval.
There are several other drivers with big Texas trophies and Texas-sized hats among their accolades over the years.
The latest winner, Tony Stewart, cannot be ruled out as a possible contender this weekend, nor can two-time winner Denny Hamlin.
Drivers trying to dig themselves out of a rut include Kyle Busch, Jeff Gordon and Kasey Kahne, all of whom are deep in the standings with several dismal results. If this group doesn't turn around their seasons in a hurry, they face a non-Chase year. Greg Biffle heads the points, but not by much over Dale Earnhardt Jr.
Nationwide
Elliott Sadler is the current dominating force in Nationwide, with Ricky Stenhouse Jr. and Austin Dillon as well as Trevor Bayne not far behind. The rest of the top 10, such as Sam Hornish Jr and Cole Whitt are well beyond a race-worth of points back of the pack.
Stenhouse's two wins are impressive, and Dillon's four top tens is outstanding for a rookie. Bayne may not be much of a threat, with no definite plans for the remainder of the season. Roush-Fenway has been cobbling together sponsorship for the talented 21-year-old, but there are still no etched-in-bronze plans…..too bad.
This weekend, the Nationwide series will also compete in Texas, a place Sadler has won before among the Cup set. There are many others capable of holding that checkered flag by the end of the race, and I look forward to seeing who that might be.
I will also at this time have to make a big note as to the winners so far this year being mostly full-time Nationwide drivers, a pattern not seen for many years, with full-time Cuppers taking most of the checkers, money and awards over the past five years.
Note: Both Texas races are being held under the lights at night. Adjust your viewing accordingly.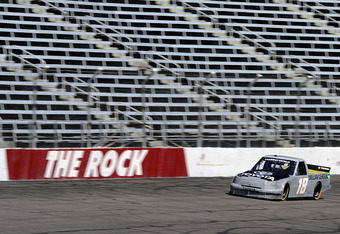 Jared C. Tilton/Getty Images
Camping World Trucks
The trucks return to action this weekend at the famed Rockingham Speedway for the first time ever and is the first NASCAR race since the Cup effort in 2004. This is a very tough one-mile track, a real driver's track as declared by many drivers, and should produce a real barn burner event on Sunday.
So far this year, rookie John King is leading the points by virtue of his surprise win at the season opener in Daytona. He holds a very narrow one-point lead over Timothy Peters and Justin Lofton, with only a four-point margin over rookie Ty Dillon.
Drivers in this division needing better results include teammates Johnny Sauter and Matt Crafton, with Jason Leffler and Cale Gale struggling to keep pace.
Open Wheel News
The Indy Cars have completed two races so far, with Penske hot shoes Helio Castroneves and Will Power standing tall in the winner's circles.  The newly designed Dallara cars seem to be working well and holding up to the rigors of racing.
We are discovering the Chevy and Honda power plants are the strongest in the horsepower department, with the Lotus entries lagging behind to the tune of some 50 horsepower. Despite that situation, four-time champ Sebastien Bourdais has produced some good results, with ex-F-1 driver Rubens Barrichello doing well despite never having driven any of the tracks involved or the new race. The personable racer is certainly adding to the spectator sales.This week, the gang heads West to the famed Long Beach Grand Prix. I'll be succinct….don't miss it.
Across the Pond, the Formula One series heads to the GP of China with Fernando Alonso out front, but the Ferraris are still lagging in performance, with the McLarens of Lewis Hamilton and Jenson Button the fast guys on the block. You can never rule out the Red Bull teammates of Sebastien Vettel and Mark Webber to take a podium spot.
From Rumorville
Recent testing in Michigan this past week saw Brad Keselowski eclipse 212 mph on the new surface alongside Jeff Gordon's time of 215 mph. Can you say super fast? This is a big wide track with new pavement and the potential for some wild results.
That's it for this week. Next week, RWR will review the NASCAR rounds from Texas, along with more racing news from around the globe.