NFL Free Agency 2012: Best Available for the New England Patriots' Needs
April 7, 2012

The New England Patriots have filled some voids via free agency without breaking the bank. The team still remains well under the $120 million salary cap and had $9.9 million available before signing linebacker Bobby Carpenter on April 7.
Nearly a month into free agency, not many marquee names remain—yet that doesn't mean the player crop has dried up. If New England opts for the leftovers, there's money to play with.
Based on the Pats' roster needs, the following players deserve a second look.
Defensive End: Andre Carter
Andre Carter's career was revitalized in New England last season. The 11-year vet posted 52 combined tackles, 10 sacks and two forced fumbles.
A torn quadriceps tendon ended his 2011 season, but Carter was a prime example of an under-the-radar acquisition paying off. At 32, age may catch up with him. However, Carter has the ability to play like he's 22. If he can get healthy, the former Cal Bear could be a factor again in 2012 if the Patriots decide to re-sign him.
The Boston Herald reports that Carter is still "limping heavily," so it looks like he won't be going anywhere until he's close to 100 percent.
Linebacker: London Fletcher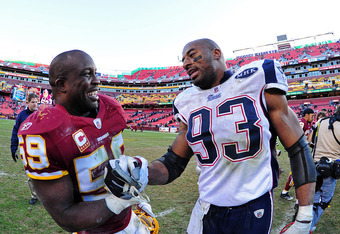 Scott Cunningham/Getty Images
London Fletcher continues to fight Father Time. Fourteen seasons deep into his career, Fletcher is still a menace. The 36-year-old has amassed well over 100 combined tackles in 11-straight seasons.
The John Carroll standout is as healthy as they come. He has never missed a game in his NFL career.
The Patriots may not be vying for a middle linebacker with Jerod Mayo, Brandon Spikes and Dane Fletcher in the fold, but his experience could strengthen the defense.
NESN reports that the Patriots could be interested in Fletcher. He would solidify the inside linebacker position and bring great leadership to New England.
Safety: Yeremiah Bell
Omar Kelly of the South Florida Sun Sentinel reports that Yeremiah Bell has been targeted by the Patriots following his release from the Miami Dolphins on March 19.
Bell, an eight-year pro, is a sure tackler at the safety position. The 2009 Pro Bowl selection has made more than 100 tackles in four consecutive seasons.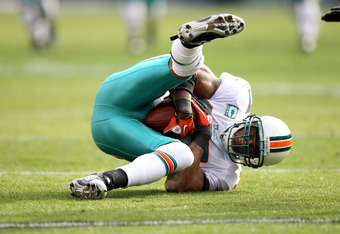 Ezra Shaw/Getty Images
By signing Bell, New England would bolster their safety depth which currently includes Patrick Chung, Steve Gregory, Sterling Moore, Sergio Brown and Malcolm Williams.
The Patriots are expected to address the safety spot in this year's draft. But even if they do, the 34-year-old Bell could be a stopgap next to Chung next season.
Safety: Oshiomogho Atogwe
O.J. Atogwe is the most glamorous safety waiting for a deal. At age 30, Atogwe has some fuel left in his tank and is looking for a new home after being cut by the Washington Redskins on March 12.
CBSSports.com's John Kreger reports that Atogwe met with the Detroit Lions on March 21, but he's still unsigned.
The free safety is dependable in pass coverage and knows how to make plays when it counts. He's a hard hitter and can find the football. In seven NFL seasons, the Stanford product has nabbed 25 interceptions and forced 16 fumbles.
The Minnesota Vikings and New York Jets are also in the running for Atogwe, but he could fit the Patriots' mold.
"I think Atogwe makes plenty of sense," said NESN's Jeff Howe. "He had a pretty good year in Washington and obviously fits one of the Patriots' greatest needs."
Atogwe's future remains uncertain, but New England makes sense on paper.
The Outlook
The Patriots may hold off on free-agency signings until after the draft. But with only six selections, not all of New England's voids will be filled, even if head coach Bill Belichick trades down.
Ultimately, Andre Carter, London Fletcher, Yeremiah Bell and O.J. Atogwe could all be pieces to the puzzle.
That is, if the Patriots can sign them for fair market value.