Washington Redskins: Are Anthony Armstrong and Santana Moss Odd Men Out?
April 7, 2012

Larry French/Getty Images
Last season, the receiving corps of the Washington Redskins left a lot to be desired. Even with questionable quarterback play, and a shaky offensive line, the passing game simply did not pose a threat to opposing defenses.
Having signed Pierre Garçon and Josh Morgan to bolster the unit for the coming season, it stands to reason that someone in the receiver rotation could be on their way out of Washington.
Santana Moss is the longest tenured Redskins receiver, arriving via trade in 2005 and tallying three 1,000-yard seasons since then. Moss' early success was reliant on speed and yards after the catch, evident in the 7.3 YAC he averaged in his first season with Washington.
Last season, Moss missed four games with a broken hand, averaged just 4.4 YAC and turned in his lowest yardage total since his second year in the NFL.
Speed receivers tend to decline once they hit 30, and Moss will be 33 before the season starts. The team re-signed him to a three-year, $15 million deal before last season, echoing their reservations about what Moss can still do for them.
Moss' saving grace is his versatility, which he has proven time and time again throughout the offensive changes that the Redskins have endured in the past several seasons.
After their pursuit of Eddie Royal failed, the Redskins need a capable slot receiver like Moss this season.
The Redskins are not likely to ditch Moss because he is a shadow of his former explosive self, but his opportunities may not be so abundant this season. Though more of a possession receiver, Jabar Gaffney led the team in receiving last season. Despite his production, Gaffney may find himself competing with Leonard Hankerson for a starting spot.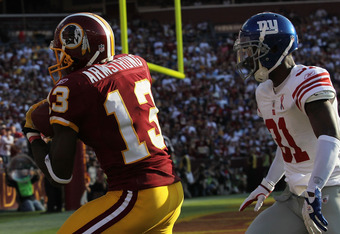 Ronald Martinez/Getty Images
Garçon, Hankerson and Gaffney are likely to be the top three receivers on offense, which puts pressure not only on Moss, but Anthony Armstrong as well.
Moss is not guaranteed the role, but he would likely see most of his time in the slot. However, the Redskins could seek a younger option in the draft like Ryan Broyles, AJ Jenkins or Kendall Wright, if he somehow plummets down draft boards.
Armstrong's tenure with the Redskins may be coming to an end due to a season of injuries and a lack of production.
After bursting onto the scene in 2010 with 44 catches for 871 yards, Armstrong failed to build on his success in 2011. He appeared in 14 games last season and mustered just seven catches for 103 yards, losing time to veteran Donté Stallworth in the process.
Though the Redskins have been desperate for game-breaking receivers, Armstrong was unable to separate from press coverage last season and was demoted by Mike Shanahan.
In Morgan, the Redskins hope to have a big-play receiver in the mix, which could either motivate Armstrong or make him expendable.
In just five games last season, Morgan caught 15 passes for 220 yards while matching Armstrong's 14.7 yards-per-catch average.
Like Moss, Armstrong has value in his versatility since he plays special teams, but the Redskins can only keep so many receivers on the roster because of special teams. Brandon Banks and Terrence Austin may battle for return duties, and Niles Paul is likely to provide depth and youth at the position.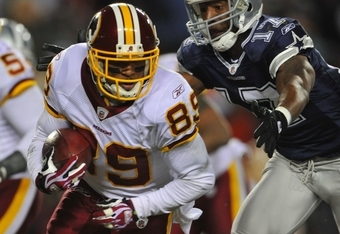 Larry French/Getty Images
The Redskins only carried two quarterbacks to allow for more receivers on the roster, but carrying eight into the season with the potential for a ninth from the draft seems unlikely.
It is perfectly reasonable to think that both Moss and Armstrong will be back for the 2012-2013 season, but they're positions are hardly guaranteed. Releasing Moss would mean a substantial cap hit compared to Armstrong, which means Armstrong could be on his way out if he doesn't perform in training camp.
Signing two receivers early in free agency means someone is likely to be released sometime before the season. There is still the potential for the less game-tested players to be released, but Armstrong and Moss have the most working against them heading towards preseason activities.
With Robert Griffin III in line to be drafted, the Redskins can go a lot of different directions with their receiving corps. Hopefully, they make the right decision if they ultimately have to pick between Moss and Armstrong.