2012 NBA Mock Draft: How Anthony Davis and Kentucky Teammates Will Reshape Draft
April 6, 2012

Jeff Gross/Getty Images
Just as they did a couple of years ago, youngsters from Kentucky are going to dominate the 2012 NBA Draft.
By now, everyone knows the principles. Anthony Davis is expected to be the No. 1 overall pick this summer, swiftly followed by Michael Kidd-Gilchrist, Terrence Jones and eventually Marquis Teague and Doron Lamb.
And as luck would have it, the word from ESPN's Chad Ford (via Kentucky radio host Matt Jones) on Friday is that Davis, Kidd-Gilchrist and Jones will all declare for the draft very soon. 
Presumably, Teague and Lamb will also declare in the near future.
So, where will Kentucky's stars end up, and how will they fit in with their new teams? Let's answer those questions in the form of a full first-round mock.
1. Charlotte Bobcats (7-45): Anthony Davis, PF, Kentucky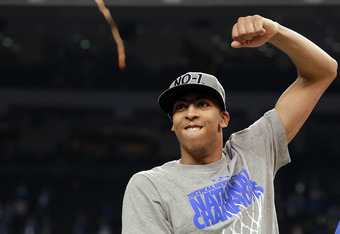 Ronald Martinez/Getty Images
This is a no-brainer.
The Bobcats are as bad as they are for a reason. They are perilously thin on NBA-quality talent and don't have a single difference maker on their roster. They have some solid pieces, but no great ones.
Anthony Davis is the very definition of a difference maker. He established himself as one of the most dominant defensive players in recent college-basketball history in his freshman season.
He made a difference on the offensive end of the floor as well. The scary part is that he's still developing as a post player. Once he gets that part of his game squared away, he's going to be an All-Star big man.
Davis won't make the Bobcats a winner right away. He is, however, a star player they can build around.  
2. Washington Wizards (12-43): Michael Kidd-Gilchrist, SF, Kentucky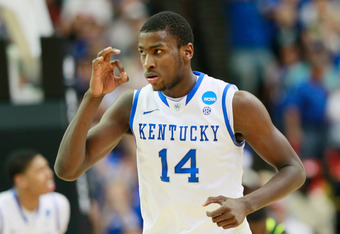 Kevin C. Cox/Getty Images
Is small forward the biggest area of need in Washington? No.
The Wizards drafted Chris Singleton in the first round last year and it's way, way too soon to make any kind of definitive judgments about his career.
But when you're a team as bad as the Wizards, taking the best player on the board is a must. At No. 2, that will be Michael Kidd-Gilchrist.
Kidd-Gilchrist projects as an All-Star small forward. He's already a tremendous athlete with a great motor and ability to get to the rim. All he needs is a consistent perimeter game, which will come in due time. 
One guy who would love having MKG around is John Wall. The two Kentucky alums would have little trouble bonding with one another and forming a dynamic duo out on the court.
3. New Orleans Hornets (14-40): Thomas Robinson, PF, Kansas
The Hornets will probably lose Carl Landry as a free agent this offseason. Even if he sticks around, drafting Thomas Robinson is still the best move for the Hornets. Robinson is a physical freak with a great motor, and he's still developing as a player. His ceiling is still high, even after his breakout season in 2011-2012.
4. Cleveland Cavaliers (17-35): Bradley Beal, SG, Florida
Bradley Beal is everything you could ask for in a shooting guard. He has the size to handle the position, he can penetrate and he can shoot. He'd be a great partner in crime for Kyrie Irving.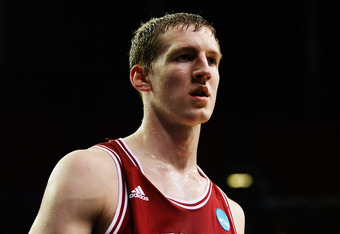 Kevin C. Cox/Getty Images
5. Portland Trail Blazers (via 19-37 New Jersey Nets): Cody Zeller, C, Indiana
The Trail Blazers tried and failed with Greg Oden. They need to roll the dice with a new big man. Andre Drummond is a definite possibility, but his bust potential is something with which the Trail Blazers can't afford to mess. Cody Zeller is the safer pick, the right pick for the Blazers.
6. Sacramento Kings (19-36): Jared Sullinger, PF, Ohio State
The Kings could roll the dice on a project big man like Andre Drummond or Perry Jones III, but the last thing they need is another player with the potential to cause headaches. Jared Sullinger doesn't fit that bill. He's a man of good character, and his game is remarkably polished. He'd be a good fit in Sacramento's frontcourt, which is already impressive.
7. Toronto Raptors (20-35): Harrison Barnes, SF, North Carolina
I'm not crazy about the way Harrison Barnes finished the season, either, but that doesn't change the fact that he has all the tools he needs to become an effective NBA player. The Raptors could use a scoring small forward, and Barnes is just that.
8. Detroit Pistons (21-33): Perry Jones III, PF, Baylor
Perry Jones III never quite lived up to the hype at Baylor, but the upside is there. He's tall, athletic, and there are only a few things he can't do on a basketball court. If the Pistons succeed in convincing Jones that he can be a star, you'll see him develop into one.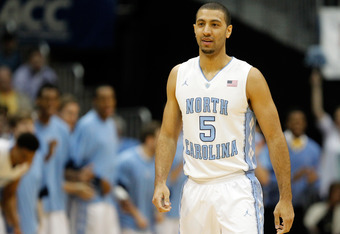 Streeter Lecka/Getty Images
9. Utah Jazz (via 21-32 Golden State Warriors): Kendall Marshall, PG, North Carolina
The Jazz are a top-flight point guard away from being a contender in the Western Conference. It's a tough call between Damian Lillard and Kendall Marshall. Marshall is a better fit for the Jazz because of his ability to make plays for his teammates. Lillard is more of a scorer.
10. New Orleans Hornets (via 25-31 Minnesota Timberwolves): Damian Lillard, PG, Weber State
If the Jazz don't want Lillard, the Hornets will pick him up. Chris Paul must be replaced, and Lillard is a guy who could be an elite point guard once he figures out how to get other people involved.
11. Portland Trail Blazers (26-49): Terrence Jones, PF, Kentucky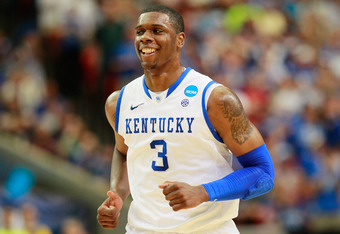 Kevin C. Cox/Getty Images
I have a feeling you might be thinking this is an odd pick. The Trail Blazers already have a power forward—a darn good one, too. 
But, Terrence Jones isn't a pure power forward. He's more of a combo forward. In fact, he can play pretty much every position except the 5. He's long, athletic, and he's got a pretty good jump shot. 
Jones is still refining his game, however. On the Trail Blazers, he would be a great asset coming off the bench in the short term. The team could easily use him as a starter down the road once Jones' game has completely matured. My best guess is that he'll be groomed as a small forward, though he could be used as a 2 as well.
Either way, the Blazers couldn't lose by picking Jones. At worst, he's going to be a solid bench player. At best, he'll be an above-average starter.
12. Milwaukee Bucks (26-28): Andre Drummond, C, UConn
Andre Drummond has all the tools he needs to be a dominant center in the NBA. But, in his freshman season at UConn, he made it abundantly clear that he has huge bust potential. That's why I have him sliding this far. He stops at the Bucks because they need a center after trading away Andrew Bogut. They can afford to take a chance on Drummond.
13. Utah Jazz (28-27): Jeremy Lamb, SG, UConn
If the Jazz draft Marshall, adding an elite shooter like Jeremy Lamb would be ideal. He doesn't project as a star, but he'd fit right in with the Jazz.
14. Phoenix Suns (28-26): Austin Rivers, SG, Duke
Austin Rivers has a lot of work to do to develop into an elite player. There are things he does well, but he's a streaky shooter and he does not have a high basketball IQ. However, his ceiling remains high. The Suns are going to need a potential star once Steve Nash leaves town. We all know it's going to happen.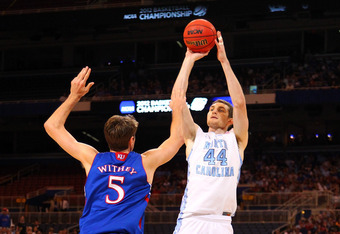 Dilip Vishwanat/Getty Images
15. Houston Rockets (from 28-27 New York Knicks): Tyler Zeller, C, North Carolina
The Rockets have some aging big men. They need to add a youthful one, and Tyler Zeller would be a steal at this point in the draft. His ceiling isn't as high as his younger brother's, but there's really not much to complain about in terms of Zeller's game. He's ready for the NBA.
16. Philadelphia 76ers (29-25): John Henson, PF, North Carolina
The 76ers could use some more depth in their frontcourt, especially since Elton Brand and Tony Battie could both be gone after this season. John Henson needs to add a lot of muscle, but he's a great shot-blocker and rebounder. He showed some improvement on offense this past season, too.
17. Denver Nuggets (29-25): Royce White, SF, Iowa State
There are some guys who just seem like great fits for George Karl's Nuggets. Kenneth Faried stood out last year, and Royce White will stand out this year. He's a very versatile forward who plays with a lot of energy, and he's good at getting his teammates involved. He'd make a seamless transition to the pro game with the Nuggets.
18. New Jersey Nets (via 29-25 Houston Rockets): Quincy Miller, PF, Baylor
The Nets could use a versatile forward, and Quincy Miller is nothing if not a versatile forward. He can play at both the 3 and the 4, and he's a well-rounded scorer who can rebound and defend. He has the potential to be a great player, but he has a lot of tinkering to do first.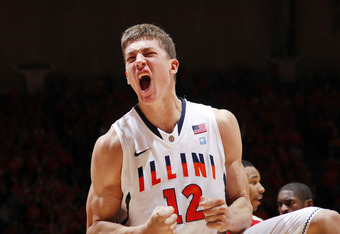 Joe Robbins/Getty Images
19. Boston Celtics (30-24): Meyers Leonard, C, Illinois
The Celtics need to grab the best big man they can get when they're on the draft clock. There won't be many players to choose from at this point, but Meyers Leonard will be there for the taking. He's not much of an offensive player, but he is a very good defender, rebounder and shot-blocker.
20. Dallas Mavericks (31-24): Terrence Ross, SG, Washington
The Mavericks have some pretty old players holding down the 2 right now. Injecting some youth into the situation would be a good idea. Terrence Ross is an outstanding shooter, which will bode well for Dallas.
21. Memphis Grizzlies (30-23): Arnett Moultrie, PF, Mississippi State
Adding frontcourt depth is in Memphis' interest. Arnett Moultrie is an outstanding athlete who was considered to be a lock for the lottery before he had some issues at UTEP. If he develops into the player scouts think he can be, he'll be a steal at No. 21.
22. Atlanta Hawks (32-23): Dion Waiters, SG, Syracuse
The Hawks could use some backcourt help coming off the bench. Dion Waiters is appealing because of his tremendous athleticism and scoring potential. If he develops a consistent jump shot, he's going to be a star.
23. Orlando Magic (32-23): Tony Wroten Jr., PG, Washington
Jameer Nelson is nothing special as a point guard. If the Magic want to keep Dwight Howard happy, they need to pair him with a point guard who at least has the potential to be special. That's Tony Wroten Jr. He needs to mature as a player, but he has outstanding court vision and he's a great passer.
24. Boston Celtics (via 33-22 Los Angeles Clippers): Doron Lamb, SG, Kentucky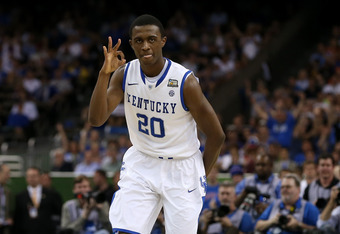 Jeff Gross/Getty Images
Doron Lamb had a tendency to get lost in the shuffle at Kentucky, but he definitely shined in the national championship game, scoring 22 points on 7-of-12 shooting.
Lamb would be a good fit for the Celtics. Not unlike Ray Allen (not saying he is Ray Allen), Lamb is an elite shooter who could help open up the floor for Rajon Rondo. All he would have to do is knock down shots.
That's going to be Lamb's M.O. in the NBA, since he doesn't project as a truly special player. He'll be a great asset on the right team, and the Celtics are the perfect team for him.
25. Indiana Pacers (33-21): Jeff Taylor, SF, Vanderbilt
The Pacers are solid at all five positions, so they'll be able to take the best player available when they're on the clock. Jeff Taylor has more than a few holes in his game, but he's a great athlete who would provide a ton of energy coming off Indiana's bench.
26. Cleveland Cavaliers (via 38-14 San Antonio Spurs): Marquis Teague, PG, Kentucky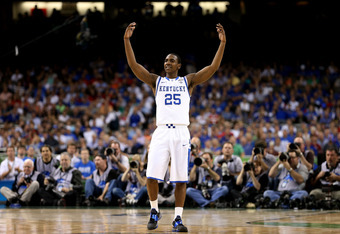 Chris Graythen/Getty Images
The Cavaliers sacrificed point-guard depth when they traded Ramon Sessions to the Lakers, though it was a good trade that they had to make. 
Teague is not unlike Sessions in that he excels at getting to the basket and creating havoc among defenses in his way. He still needs to learn when to attack the basket, but he's going to get there more often than not.
The good news is that he has the above-average court vision to be an effective point guard as he continues to mature as a player.
Teague would have to be content sitting behind Kyrie Irving, but there would be minutes for him in Cleveland.
27. Golden State Warriors (via 38-14 San Antonio Spurs): Moe Harkless, SF, St. John's
The Warriors need a small forward that they can draft and groom to be a great player. Moe Harkless is a great athlete who excels in transition, rebounding and shot-blocking. He's not an elite defensive player, so he'll fit right in with the Warriors.
28. Miami Heat (39-14): Fab Melo, C, Syracuse
Fab Melo has a very low basketball IQ and he's not much of an offensive player. But, he's an intimidating player on defense. He's big, strong and moves very quickly for a guy of his stature. He's just the guy the Heat need in the middle of their defense.
29. Oklahoma City Thunder (40-14): B.J. Young, PG, Arkansas
B.J. Young is a combo guard who moves quickly and loves to attack the basket. He's raw and doesn't have a consistent shot. The other stuff makes him a good fit for Oklahoma City's bench.
30. Chicago Bulls (43-13): C.J. McCollum, SG, Lehigh
C.J. McCollum is a great scorer who can score both driving to the basket and shooting it from the outside. He's not bad in other areas, either, as he can rebound better than most guards while picking up a lot of steals. His versatility makes him an outstanding fit for the Bulls.