Champ Bailey: Broncos CB Calls out Defense, Can't Miss 'Golden Opportunity'
April 6, 2012

Jamie Squire/Getty Images
Champ Bailey has been around the Denver Broncos organization a long time. He is the longest-tenured Bronco at any position on the team right now. 2012 marks Bailey's ninth season in orange and blue.
Not only is Champ an All-Pro football player and first-ballot Hall of Fame cornerback (one of the best to ever play the game), Champ has relished his role as team leader and motivator much more this offseason than any previous years I can remember.
Champ has really stepped up into that role to call out the defense, which shined at times last year, but also was disappointing on other occasions.
That is why, in an interview with Yahoo! Sports, he told Martin Rogers:
"We did some good things but I don't want anybody to think we were great by any means. We were far from it. There are a lot of young guys who need to grow up and guys like me that need to hold my end as much as possible."
His call for the defense to improve comes in a year where the Broncos defense finished in the middle of the pack on defense, ranking 18th in the league in passing yards surrendered and 22nd in the league against the run. The Broncos also ranked 24th in league in points surrendered.
Champ envisions improvement on the defense to compare with the Baltimore Ravens, a consistently top defense. They ranked in the top five in all of the categories listed above.
"We just need guys to step up and play better," said Bailey. "There were stretches when we looked mediocre and stretches when we looked great. That's not the definition of a great defense. Look at the Baltimore Ravens' defense; they are consistently good all the time. That is a great defense. We are not there yet–and there is a little bit more on the line now."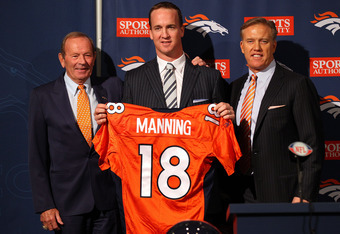 Justin Edmonds/Getty Images
Champ references his hopes to finally win a Super Bowl, something that has eluded him during his 13-year career. The stakes have been raised since the Broncos won the sweepstakes to land Peyton Manning, something motivated by team owner Pat Bowlen's desire to win championships, not just playoff games.
"When you get a guy like Peyton coming to your team you are blessed. The stakes go up. The way he approaches the game is the way I want my quarterback to approach the game. I haven't played with a quarterback of this caliber. That is not to discredit any of the guys I have played with but Peyton Manning is one of a kind."
Champ sees in Manning something he has never seen in any quarterback he has played with. Manning is a four-time MVP, a Super Bowl winner and a precise surgeon when it comes to slicing up opposing defenses and finding the open receiver. He releases the ball very quickly and can adjust the offense at the line of scrimmage based on what he sees out of the defense, film study and his knack to anticipate the coverage before the snap.
Bailey believes that Manning will be the final piece for the Broncos to make a legitimate run at a championship in 2012.
"To get to work with him and have him lead your team and try to make them successful is a golden opportunity and that goes for all of us. We have to understand it is going to take a lot of work to get where we want to go but at least we have got the pieces and we have just got to make it come together. We have communicated by text and Peyton is ready to go. That's all I know and that's all I'm about – trying to win these games. We look forward to that pressure. I don't think anyone sleeps on us by any means."
The Broncos utilized this offseason's free agency to make a marquee signing on defense as well as adding Manning. The Broncos brought in one of the top cornerbacks in the league as a free agent to pair with Champ after acquiring Tracy Porter from the New Orleans Saints.
Porter is only 25 years old and is reaching some of the best years of his career. Last season, Porter had nine passes defended, an interception and forced two fumbles. He has been a sound tackler as well, recording 52 tackles last year.
The Broncos have also added safety Mike Adams from the Cleveland Browns, who was a playmaker last year, with three interceptions, a forced fumble and 64 total tackles. He is likely to replace Brian Dawkins if he retires and will help coach up Quinton Carter and Rahim Moore, two very young prospects who had inconsistent seasons last year.
Last season, the Broncos defense excelled in the pass rush from the outside after adding the dynamic Defensive Rookie of the Year Von Miller. Miller had 11.5 sacks last year, but cooled off late in the year after a thumb injury. The Broncos hope for Miller to build on his outstanding season last year and to continue to get excellent play out of their defensive end, Elvis Dumervil, who had 9.5 sacks in 2011.
The middle of the defense has been an area in need of improvement as the Broncos look at replacements for Brodrick Bunkley in free agency and the draft.
With all of the new talent coming into Denver, Bailey, a stalwart on the Broncos defense for almost a decade, will continue to be a motivating voice in the locker room to challenge guys and spur them on to greatness. He looks forward to the pressure and the spotlight on the Broncos organization and the high hopes the front office as well as the fans have for the team in 2012.
"The expectations definitely go up when you got a guy like that behind center. One thing we can't lose track of is what it takes to get where we want to go. We've got to still work hard. You can't expect it to happen overnight. I've been on some great teams before and it didn't work out. We didn't even make the playoffs. That is something we have obviously got to work towards."
The Broncos have their work cut out for them, but so far, they appear to be up to the task at hand.