Breaking Down Bizarre Fiasco Between Dwight Howard and Stan Van Gundy
April 5, 2012

Kevin C. Cox/Getty Images
There is something very strange going on between Orlando Magic star center Dwight Howard and head coach Stan Van Gundy.
It has been reported, by Local 6 Sports and others, that Howard wants Van Gundy to be fired. Only then will he sign a contract extension with the team, meaning his long-term future with the club is in just as much doubt as it was at the trade deadline.
On Thursday, Van Gundy confirmed to a group of reporters that he is well aware that Howard wants him out of Orlando.
"I know he has," Van Gundy told reporters, via Josh Robbins of the Orlando Sentinel. "That's just the way it is. Again, I've been dealing with that all year. It's not anything real bothersome. You go out and do your job."
The whole thing was captured on video. Just know that there's some NSFW language:
Via Robbins, here's the full quote of what Van Gundy said about needing or not needing his players to like him:
It's not a matter of being committed to me. It's a matter of being committed to the team and trying to do everything you can to help the team win games. That's all I'm concerned with. As far as the other stuff, I don't think that matters. I don't need love and support here at my job. I'll turn to my family for that. I don't need these guys giving me hugs and pats on the back.
Howard appeared moments later. In addition to hugging Van Gundy, Howard started disputing the reports that he wants his coach fired.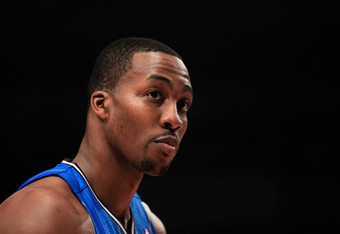 Chris Trotman/Getty Images
Robbins said it best when he wrote that it was a "supremely awkward moment."
Given what we know about Howard, all the pieces fit quite perfectly. He has a tendency of saying one thing in private, and then saying the complete opposite in public. He has his own ideas about his future with the Magic and the team itself, but publicly he wants to be friends with everybody. He'll basically do whatever it takes to be liked.
Howard did his best to cast the media as the villains in this situation, accusing the reporters in attendance of trying too hard to dig up dirt:
Whatever happens at the end of the season is not under my control. I am a player for the Magic. I am not the GM. I am not [team owner] Rich DeVos. I am not [CEO] Alex Martins. So that's not my job. So you guys should stop with every other week it's trying to find something, because there's nothing. There's nothing. I haven't said anything to anybody about anything. Our main concern is winning. So all the other stuff should stop.
There's just one problem, Mr. Howard. Your head coach just admitted that you had asked for him to be fired. By denying it, you're calling both him and the media liars.
Given the circumstances, it's far more likely that you're the liar, Mr. Howard.