MLB Opening Night 2012: Marlins' Muhammad Ali Pregame Ceremony Hardly Festive
April 5, 2012

Mike Ehrmann/Getty Images
The Miami Marlins wanted their 2012 home opener to be special.
As if the debut of a shiny new ballpark with lime green interior, new uniforms, a new manager, new shortstop and new expectations weren't enough to get Marlins fans excited, the team wanted to do something memorable for the patrons in attendance in Marlins Park and the national audience watching on ESPN.
Unfortunately, most people will remember the Marlins' pregame ceremony for reasons having nothing to do with baseball.
I don't know whose idea it was to bring Muhammad Ali out onto the field for a ceremonial first pitch. Presumably, owner Jeffrey Loria came up with this one.
There's actually some historical significance to Ali being in Miami, as South Beach is where The Greatest of All Time won his first heavyweight title by defeating Sonny Liston in 1964. So maybe that's the primary reason the Marlins asked him to take part in pregame festivities.
Or maybe Loria is just a huge fan of Ali and thought it would be the coolest thing to have one of his sporting heroes join him and his team for one of the great moments in team history.
(I'm not cynical enough to believe that Loria stuck close to Ali to prevent the Marlins fans from booing him. And I love to be cynical. But that's certainly not out of the realm of possibility.) 
However, wheeling Ali out to the field on a golf cart wasn't cool. It was anything but cool. It was horribly awkward, to say the very least. But above all, it was just terribly sad. 
Virtually all video of the event has been taken down from YouTube, so we can't embed it here. But both SportsGrid and Deadspin have a clip for you to see.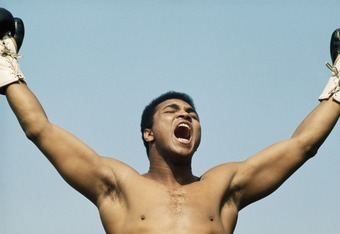 Getty Images/Getty Images
The fans at Marlins Park initially cheered and chanted "Ali! Ali!" He's a global figure and maybe our most legendary sports figure. The memory of his greatness is what compelled everyone to applaud. But the reality of his current condition soon caused those same people to fall silent. Even the PA announcer trying to stir up another "Ali!" chant couldn't overcome what was being seen.
Wednesday night's ceremony didn't present the danger of the opening ceremonies at the 1996 Olympics in Atlanta. Asking a man whose hands were trembling from Parkinson's Disease to hold a flaming object was another ill-conceived idea. But Ali's pride and spirit overcame his difficulties and he still managed to provide a special moment.
Sixteen years later, Parkinson's has rendered Ali far more frail. As much as he surely wanted to, his body simply no longer allows him to rise to the occasion. Instead of reminding us how great he was, Ali now displays the heavy toll that his affliction has taken on him. 
Watching Ali's hands shake uncontrollably as the cart moved—ever so slowly—to the infield was heartbreaking. Perhaps Ali was trying to throw punches, as virtually any boxer would do. But it hardly looked like that. 
The entire scenario put the Marlins players in an uncomfortable position, as well. They stood in the infield waiting, waiting, waiting for Ali to be brought over, but it was taking so long that players were just standing around, looking at each other, wondering what they should do.
It got much worse when Ali attempted to hand a baseball to Hanley Ramirez for the "first pitch." The attempted exchange was yet another aching moment. But Ramirez and his teammates were kind and did their best to help and protect Ali. Frankly, they showed far more compassion than Loria did. 
For the sake of his dignity, organizations and event planners need to stop doing this. The hope is that the people around Ali also begin declining such invitations. But it's not really for us to say, either. Perhaps Ali wants to make these appearances. And maybe no one in his inner circle really has the heart to tell him that he shouldn't. However, those people are presumably looking out for his best interests and should act accordingly.
The alternative, as was painfully demonstrated Wednesday night, is effectively being taken advantage of by the Jeffrey Lorias of the world.