NBA Rumors: Power Ranking Best Destinations in Free Agency for Kevin Garnett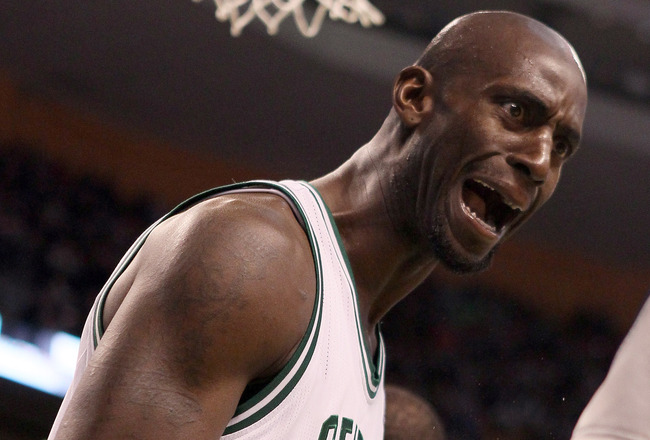 KG looks like he may be auditioning for potential suitors.
Elsa/Getty Images
He's 35 years old, has played 16-plus years and logged 1,244 career games not including the playoffs.
Yet, Kevin Garnett is looking as good these days as at any point since his first season in Boston, the 2007-2008 championship campaign.
He's a restricted free agent after this season which means the Celtics will have the right to match any offer he gets from another team. But will they? Or will there be that many other offers to match?
Or will he retire?
The cynical observer might note at this point that KG's inspired play of late (he averaged 16.8 points, 8.4 rebounds, 3.6 assists, 1.3 steals and 1.1 blocks per game in March) coincides with his impending free agency, restricted or otherwise, and thus could make him a more tantalizing option for next season and perhaps beyond. The Celts are 15-5 since the All-Star break, and KG has been one of the biggest reasons why.
The chances he suits up for at least one more year seem to be pretty good right now, and there is likely to be more than one team knocking on his door in an attempt to get the future Hall of Famer.
Let's look at a handful of those teams, ranging from the worst potential fit to the best.
5. New Jersey
Apparently, Humphries' 11 boards per game aren't enough for the Nets.
Chris Chambers/Getty Images
This one came out recently in the New York Daily News in a piece written by Stefan Bondy, and it makes no sense whatsoever.
Bondy says there are rumors the Nets will renounce the rights to power forward Kris Humphries and his $8 million salary so that they can pursue either Milwaukee unrestricted free agent Ersan Ilyasova or KG. Orlando's Ryan Anderson is also mentioned as a possibility, though Bondy states that Nets, "want a strong rebounder to play next to Brook Lopez."
There are so many holes in this idea, it's hard to know which one to examine first.
If the Nets want a strong rebounder at the 4, why would they get rid of Humphries in the first place? Humphries has averaged double-digits in that category the past two seasons with this year's 11 per game being a career high.
Next, why would Garnett want to play for the Nets? Sure, they'll be playing in Brooklyn next year, and there is allure for everyone to play in the biggest of big markets.
But unless they trade for Dwight Howard and re-sign Deron Williams, what would be the incentive for Garnett to come back and play with Lopez, Gerald Wallace and Jordan Farmar en route to a 25-win season?
Perhaps, this would be a good destination in which for KG to finish out his storied career if Howard and Williams are on board, making the Nets contenders.
Otherwise, KG would have to be out of his mind to even consider this scenario.
4. Atlanta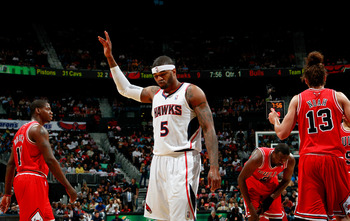 If Smith leaves Atlanta, the Hawks could look to KG.
Kevin C. Cox/Getty Images
According to WEEI.com, the Celtics explored the possibility of acquiring Hawks forward Josh Smith around the trade deadline. The price? KG.
Obviously, that didn't happen, but Smith has been asking to be moved from Atlanta for some time now. He's a free agent after next season, but would the Hawks consider dealing him before then?
If they want to do it in exchange for Garnett, it's probably too late. But whether or not they keep the wildly talented, fairly inconsistent Smith, KG could be a good fit for them regardless.
The Hawks are a perpetual in-between team. They make the playoffs every year and have reached the second round the past two, but can't seem to get over the hump and make it further.
KG would not be the difference maker for them that he was in Boston in '07-'08. But his acumen, experience and recent history of winning might be just what the Hawks need to change their culture somewhat.
If Smith leaves Atlanta, don't be surprised if the Hawks make a run at KG.
3. L.A. Lakers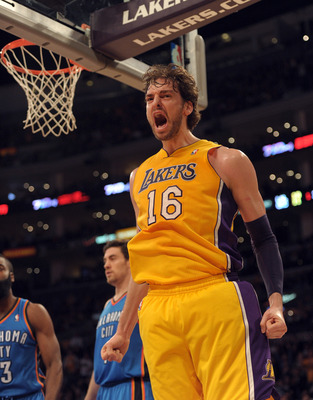 If the Lakers move Gasol, they may move for KG.
Harry How/Getty Images
The Lakers have been whispering about moving Pau Gasol for months.
Andrew Bynum has recently been benched, fined and is a free agent (though with a team option for next year) this summer.
In other words, this team could do some major retooling in the offseason in an attempt to wrangle one more title for Kobe Bryant. And KG, who lives in L.A., could be a target.
Stephen A. Smith thinks this is a real possibility and has said as much on ESPN.com. And it's been reported that before he wound up in Boston, KG nearly went there once already.
It's hard to imagine a scenario in which the Celtics didn't match an offer for KG made by their long-time rivals unless the Lakers were interested in wildly overpaying.
Still, with the culture out on the West coast seeming as though it's becoming more toxic by the day, don't rule out the Lakers making a real run at Garnett.
2. Chicago
The Bulls don't seem to mind the prospect of moving Boozer.
Jonathan Daniel/Getty Images
Around the deadline, the Bulls' big contract—not so big performing power forward Carlos Boozer—was available in trade according to ESPN.com's Marc Stein.
That massive deal makes Boozer tough to move, but it's easy to see Chicago trying to subtract him from the equation again this summer, especially if there's no championship parade in the Windy City.
So who could replace him, particularly as the potential final piece to a puzzle?
KG, of course.
Garnett went to high school in the Chicago area and obviously has a truckload of experience with Bulls coach Tom Thibodeau from Thibs' days in Boston as Doc Rivers' top assistant.
The Bulls have as good a chance to win it all this year as anyone, but if they don't, bringing in a guy like KG, whether they move Boozer or not, could be the answer for which they're looking.
1. Boston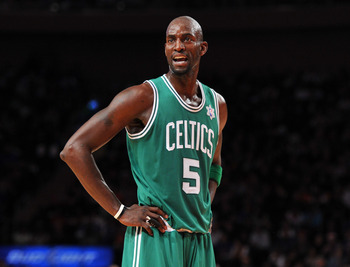 In the end, KG will wind up right back in Boston.
Christopher Pasatieri/Getty Images
At the end of the day, while speculating on KG's future home may be fun, it's where he's cemented his legacy as one of the all-time greats that's where he'll be finishing his career.
Boston.
The C's aren't going to win a title this year or next. But Garnett, who is clearly capable of still playing at a high, borderline elite level, will listen to his legendary competitive streak and stay local. The Celts will offer him a perfectly legitimate, middle-of-the-road type offer for a year or two (or maybe one with an option) and he'll accept it.
He doesn't need money—not after making $20 million-plus over the past 10 or so years. But he likes it in Boston, he's fully healthy for the first time in over three years and if anyone ever accuses him of not being loyal, even to a fault, they'd be the first, or at least not have paid attention over the course of his career.
Paul Pierce will be back next year. Rajon Rondo will be the leader of the team. The C's have two first-round picks and will have a nice chunk of cap room to pursue a free agent or two (just don't expect any of said free agents to be of the top echelon).
And so will KG, ready to bark, headbutt the basket stanchion and otherwise be the same guy he's been the past 17 years.
Keep Reading

Boston Celtics: Like this team?