Alex Smith: The Manning Equation Was Known, but Re-Signing Was Always the Plan
February 20, 2017
Ezra Shaw/Getty Images
When the game clock stopped after the New York Giants kicked the winning field goal in overtime to defeat the San Francisco 49ers in NFC championship game to advance to Super Bowl XLVI (46), the countdown towards 49ers quarterback Alex Smith's future in the Bay Area began.
At one point, Smith was believed to be the field general for the 49ers organization and head coach Jim Harbaugh—until quarterback Peyton Manning was brought into the equation. The 2012 NFL free agency has been a rollercoaster ride for Smith, as he was in limbo for not knowing if he would re-sign with the 49ers after having the best season of his professional football career. 
The worst-case scenario for the first overall selection in the 2005 NFL draft was to start over, being judged off his past performance and being questioned whether his outbreak season in 2011 was because of him or in spite of him.
Now things have settled for Smith since re-signing with the club to a three-year deal, which could pay him up to $33 million.  
Nevertheless, the 49ers' plan was to re-sign Smith, according to the signal-caller. Unfortunately, Smith's re-signing with the 49ers did not go as planned, but he is happy that the deal is done.
"I guess I never really felt like a free agent to tell you the truth. Like I said, this was the plan to come back here," said Smith in his press conference March 21, according to the press release.
"It was just a matter of getting it right and getting it done. And that's it. That's the bottom line. That was it. So, I never really felt like a free agent. I don't know if there is any protocol, or right way to go about it. Obviously, I would have liked it to have got done sooner, but that's neither here nor there. It's done now and I'm happy about it."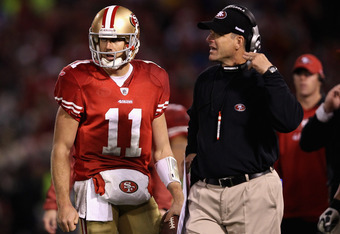 Ezra Shaw/Getty Images
Clearly, Smith stopped the talks (for now) of him being a bust last season. After entering the league in 2005, Smith was looked upon to become the second coming of Hall of Fame quarterback Joe Montana—fans hoped to find their Super Bowl-winning quarterback out of college. 
Instead, Smith struggled mightily due to the revolving door of head coaches and coordinators and the lack of talent around him. However, Smith's abilities were not questioned, as he needed the right coach, system and players around him.
Enter Jim Harbaugh.
Under Harbaugh for the 2011 campaign, Smith's numbers were better across the board, with career-highs in completions at 61.3 percent, 3,144 passing yards with 17 touchdowns and five interceptions, and he finished with a 90.7 passer rating.  Most importantly, Harbaugh helped restored Smith's confidence.  Harbaugh is on record for stating that Smith is their (49ers) guy.
" The thing from day one when I first met Coach Harbaugh is he's always been upfront and always been honest with me and has continued to do that through this entire process," said Smith. "It's one of the reasons I love playing for him. So, no question, nothing there, just obviously looking forward to having an offseason with him."
From the outside looking in, it appeared that Harbaugh and the 49ers were going against their word of re-signing Smith when Manning was available. In Smith's words, that wasn't the case and he had known about the team's pursuit of the four-time league MVP.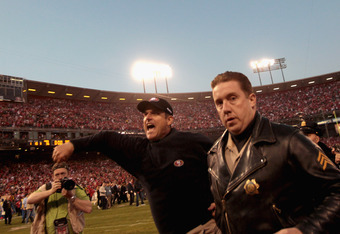 Jed Jacobsohn/Getty Images
"They were, yes. Jim and [general manager] Trent [Baalke] were the ones that informed me obviously when this was happening and that they were going to look into that," said Smith. "So, it was obviously a little unexpected, but it's part of the deal. This is free agency and this is the NFL. And those things happen... Right there when they first started to look into the process of looking at him (Manning). They came over and sat down with me and told me about it."
"I was always in contract negotiations with the Niners the entire time," he added. "It had never stopped."
From Smith's impression, he thought he was going to compete against Manning for the starting job in San Francisco, if he signed. Competition or not, most football fans would believe that Manning would have started for the 49ers because the former Tennessee Volunteer is more of an established quarterback than Smith is. 
No matter what, if the 49ers brought in Manning or someone else, Smith would have been willing to compete for the starting job. (The Niners have signed quarterback Josh Johnson to a two-year deal.)
"The first conversation with Jim was yeah, it was about competition," said Smith. "Really the one time we sat down and talked about it, it would be about competition and best man winning. And that's really the way it's always been with Jim. The same way with me last year when I got brought in, nothing was ever laid out there, nothing was given to you. You were going to have to earn everything. And I agree with it.
"Jim firmly believes in—that's the nature of this game," Smith added. "Going all the way back to when it first started. It's about competition and about the best guy playing. It's what's best for the team. This isn't about individuals and I agree with that. And I've been a part of a lot of that over the years. I've been involved in a lot of competitions, and it seems like every year it's like that. So, nothing any different about it this year.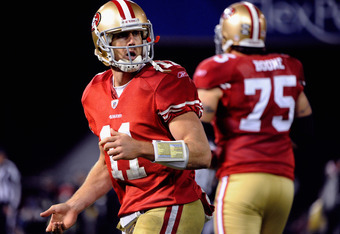 Thearon W. Henderson/Getty Images
"That's my impression. I guess that's a better question for Jim and Trent, but that was my understanding. I feel like, well I know this is my job," he continued. "I feel like I've earned it. I've earned the right to compete for it and I've always welcomed competition and will continue to welcome it.
"In fact, I would have relished the opportunity to compete for the starting quarterback job with Peyton Manning."
Nonetheless, Smith was frustrated with the process of being re-signed only, and not at the team's pursuit of Manning.
"The frustration came from, I guess, the entire process of just working out the contract, of just finally getting it done," said Smith. "It was a long process, longer than most that I've been a part of, as far as this is my fourth contract now with the Niners. Obviously, I was anticipating it moving along quicker and it didn't. That came from the frustrating part, none of this other stuff."
The 49ers has been extremely active in free agency, and signed and re-signed significant players to help their pursuit of getting to the Super Bowl. The Niners established their defense first through free agency and started to focus on the offense, as they added running backs Rock Cartwright and Brandon Jacobs and wide receivers Mario Manningham and the great Randy Moss. Wide receiver Ted Ginn Jr., who is one of the league's best return men, re-signed to a one-year deal March 22.
With the 49ers' additional firepower, Smith is excited, especially at the opportunity of playing with Moss.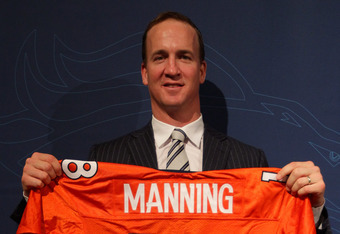 Doug Pensinger/Getty Images
"He's Randy Moss. He's got a tool set that is totally unique to himself," said Smith. "When your last name can all of a sudden become a verb, that you've got "Mossed," as the receivers say. He's a special player. I think we've all seen what he's done over the years, and look forward to being able to throw the ball to him."
Apparently, Smith and the 49ers offense should be more aggressive and explosive for the 2012 campaign. The league may witness a more effective Smith, due to the outstanding talent surrounding him.
"Yeah, I am excited about it," said Smith. "The NFL these days this is what happens. You're never going to be the same team two years in a row. There's always going to be faces in and out, year-to-year now. And this is part of the deal. Obviously, this year it was kind of our receiving corps a little bit and excited for those two additions.
"And really excited for this offseason to put the work in, to put the time in, to have an offseason to build on what we did last year, and to get better because we certainly have room for it and need to get better."
Now that free agency is behind Smith, after experiencing a frustrating, emotional rollercoaster ride, he is looking forward to the offseason and anxious to get back to football for the 2012 campaign.
"All of that aside, I guess I've just been anxious this entire time just to get back to football," said Smith. "Like I said, this free agency, this was my first time being a free agent and you know I wasn't a fan of it. Football is where I want to be and I want to get back to work. I'm excited for that…the passing game is the emphasis.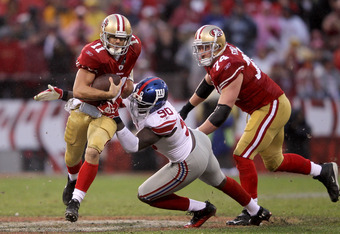 Jamie Squire/Getty Images
"I think it's really time to kind of take it to another level," he continued. "You know, at times last year, you know we were more effective than others and certainly have a lot of room for improvement. Obviously, third down and red zone jumped out at me. Just being more effective across the board in the passing game. Really working on that timing.
"That was something we didn't have a lot of time last year to do because of no offseason," he added. "Really just kind of jumping into it in the middle of the season. You just don't have the time to really work on the timing and being together for that amount of time and getting all the reps in. For me that's what I look to focus on."
Smith was in New York Tuesday modeling the team's new uniform, powered by Nike.
Barry Barnes is a featured columnist for Bleacher Report. Unless otherwise noted, all quotes were obtained first-hand.