2012 NFL Free Agents: 10 Players Set Up to Fail on Their New Teams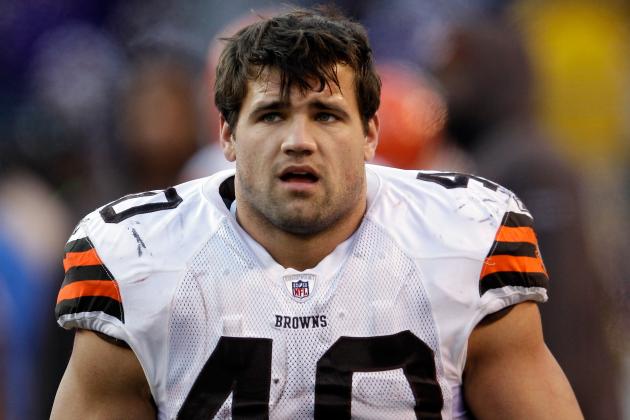 Rob Carr/Getty Images

Every now and again the NFL is treated to a story like that of Stephen Neal and Antonio Gates. Both players rose to prominence in the league at their respective positions despite never playing a down of football in their collegiate careers.
Most teams aren't as lucky as the New England Patriots or San Diego Chargers, however.
The only two places they generally have to look for football talent is in the draft and free agency. Both avenues are anything but guaranteed to produce that talent.
Yet the allure of adding a proven talent is often too much for the majority of NFL franchises to resist, as teams invest absurd amounts of money on their dream players.
It's a two-way street, though.
Players will rarely take anything other than the best offer, as the prospects of adding a few zeros to their pay check is enough to woo their signature. But there's more to the game of football than how many commas you have in your salary.
There's something to be said about the way a player fits a specific scheme and how that player would figure into the depth charts, among countless other factors.
I've composed a list of players who chose a new home for the upcoming season, but may soon regret that decision.
Begin Slideshow

»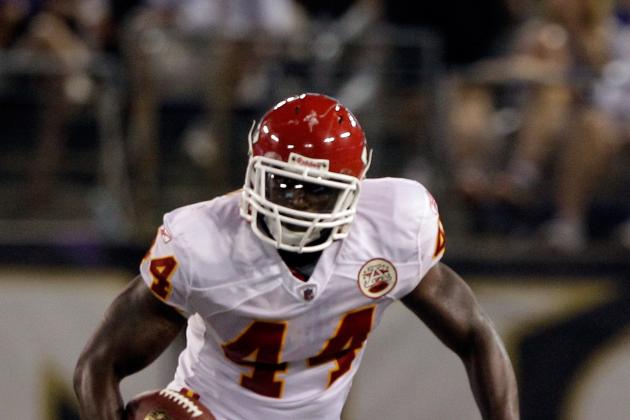 Rob Carr/Getty Images

Believe it or not, Le'Ron McClain earned an appearance on this list back in 2008.
The 260-pound bruiser racked up over 1,000 yards from scrimmage over the course of his 16 starts. McClain carried the ball for the Baltimore Ravens 232 times during his Pro Bowl season, scoring 11 total touchdowns.
He did this while losing only one fumble and maintaining a yards per carry average just under four in just his second year in the league.
I'm a believer in McClain's ability to carry the load but his decision to take his talents to San Diego will likely end those prospects.
Sure, he's more likely to receive carries as a Charger than he was in 2011 as a member of the Kansas City Chiefs (15 total carries), but I feel like he could have done better for himself.
With many projecting 2012 as Ryan Mathews' breakout season, I'm not so sure there will be a reincarnation of Mike Tolbert's role. McClain will likely have to settle for the thankless fullback role and occasional goalline duties.
Call me crazy, but I see so much untapped potential here I'm willing to label it a failure in the waiting.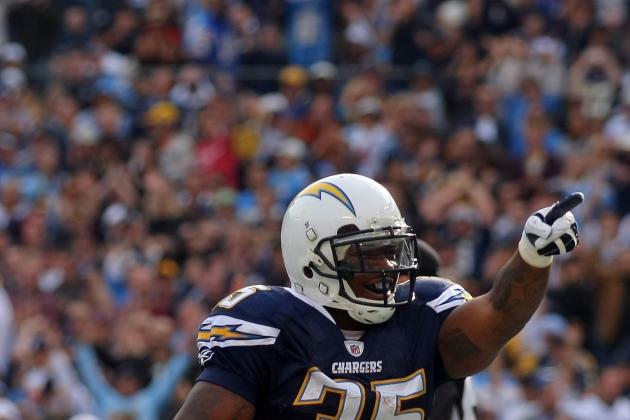 Donald Miralle/Getty Images

Speaking of Mike Tolbert, why in the world would he sign with the Carolina Panthers?
A proven ball-carrier, Tolbert collected 303 carries over the course of the last two seasons. Averaging a little over four yards a carry during that span, he put up 1,225 yards and 21 total touchdowns.
I know not every physically gifted fullback can, or should carry the load. But for logic's sake, look at those numbers.
He's clearly an efficient runner with a nose for the end zone and now he's headed to a team already saddled with two Pro Bowl-caliber running backs who already sap each other's total value.
Jonathan Stewart and DeAngelo Williams aren't going anywhere, unless of course you're counting the holes they'll be running through behind Tolbert.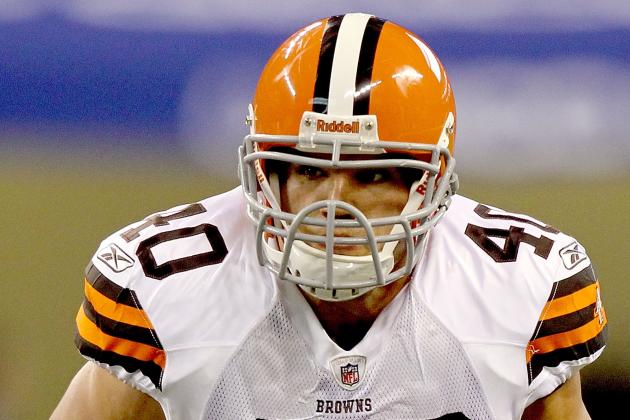 Matthew Stockman/Getty Images

Peyton Hillis finds himself in a similar situation as the aforementioned fullbacks.
He signed a one-year "prove it" deal with the Chiefs in order to improve his value by next offseason. But how does he intend to do so behind incumbent starter Jamaal Charles?
There's no doubt Hillis was brought in with the expectation he'd be given carries, but I'm failing to see how taking a sidekick role is going to help him improve his value.
Without the opportunity to showcase the fact that he can handle the responsibilities of a starter without wearing down, I don't see this move working out well.
Maybe Hillis is perfectly suited for a thunder and lightning role, but I bet you he thinks differently. Too bad he reportedly turned down multiple long-term deals in Cleveland last year.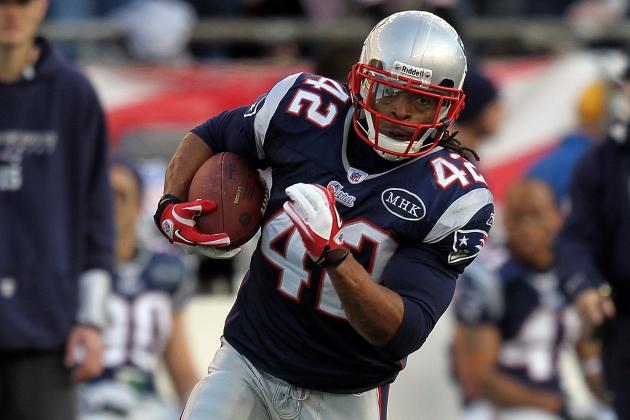 Jim Rogash/Getty Images

Take it from someone who had the opportunity to watch every single one of BenJarvus Green-Ellis' snaps, he just got overpaid.
Why such a negative sentiment for just a three-year, $9 million deal?
He was a product of the Patriots system, that's why. New England was the only team even willing to give him a shot as an undrafted free agent in 2008. BGE is a solid pass protector, has never fumbled and doesn't go backwards.
But is he worth $3 million a year? Considering the Patriots will retain Stevan Ridley, Shane Vereen and Danny Woodhead for less than $2 million combined, I think not.
If Cincinnati plans on leaning on The Law Firm as they did with Cedric Benson, they're going to be in for a rude awakening.
I'm with the Patriots' team brass, who selected Vereen and Ridley in back-to-back rounds the year after Green-Ellis' best season. I just don't think he's dynamic enough to start, or pay for that matter.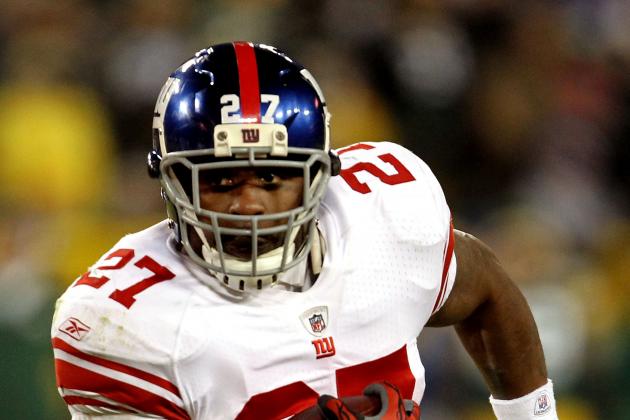 Jonathan Daniel/Getty Images

After years and years of grumbling out loud about his play time, Brandon Jacobs will finally be leaving the New York Giants for greener pastures. Oh wait, no he won't.
Jacobs signed just a one-year deal to take over an even smaller role with the San Francisco 49ers. Playing behind Frank Gore and up-and-comer Kendall Hunter will likely only leave Jacobs with goalline duties.
He complains about the platoon role he's in yearly, only to then sign on to take an even lesser role with more talented ball carriers on the depth chart. Smart move, Brandon.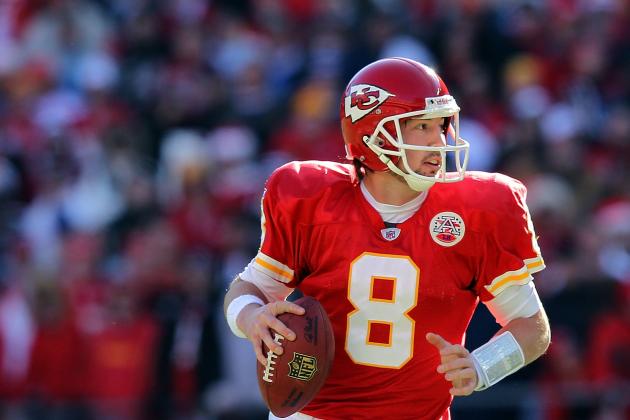 Jamie Squire/Getty Images

It blows my mind that teams like the Seattle Seahawks, Miami Dolphins and Jacksonville Jaguars are content enough with their quarterbacks that they passed up on Kyle Orton.
Say what you will, but he's had absolutely no luck. Josh McDaniels changed the entire direction of his career in 2009 when the Denver Broncos and Chicago Bears swapped picks and quarterbacks.
Orton hadn't only underachieved in Chicago, 2008 was a solid campaign. He built on that success in 2009 and in 2010 in Denver. It may not have shown up in the record, but Orton threw for 59 touchdowns compared to 33 interceptions. Not perfect, but damn near close to a respectable 2:1 ratio.
His completion percentage from 2008-2010 was exactly 60 percent and he collected 10,427 yards during that span. Going off of the three seasons we've seen him play the most, he averaged 20 touchdowns, 11 interceptions and 3,475 yards and a 60 percent completion percentage.
Yet Matt Flynn, David Garrard and Chad Henne are more appealing options? I don't know about you guys, but I think Orton signing with Dallas is a mistake.
He's got little to no chance of playing, much less starting. He has the ability to do so given the right opportunity.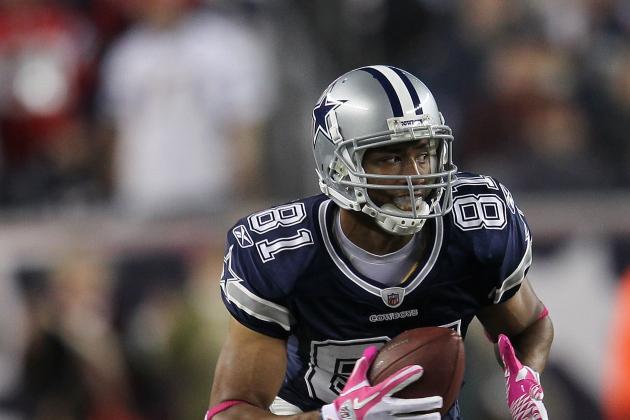 Jim Rogash/Getty Images

Speaking of Chad Henne and the Jacksonville Jaguars, let's pick apart some more of their decisions this offseason. A great place to start would be with the five-year, $32 million deal they handed the injury-prone journeyman, Laurent Robinson.
He absolutely impressed in Dallas last season while filling in for Miles Austin and Dez Bryant at times. I'd lean towards the logic that he benefited greatly from their presence as well.
With Jason Witten thrown into the mix, the Cowboys had themselves a pretty lethal combination of size, speed and athleticism at receiver. That will not be the case in Jacksonville.
Robinson will be the main attraction and will garner a lot of attention from defenses that hope to make him a non-factor. Add in the huge chunk of change that the Jags now owe Robinson and it's beginning to look like a recipe for disaster.
Not producing at a low salary is one thing, but not producing at a ridiculous salary is almost sure to get you a pink slip.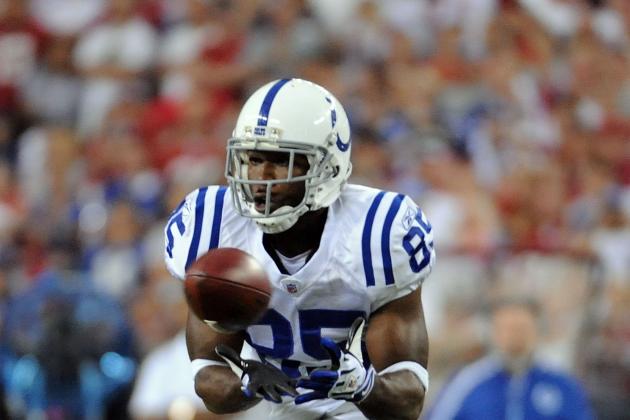 Harry How/Getty Images

Let's discuss a hypothetical situation for a brief second. What would make a free agency destination the wrong choice for a young, talented wideout?
You certainly wouldn't want to be headed to a team without a proven quarterback. Having an outrageous contract to try and live up to wouldn't help either. And a recent history of losing would be a negative situation to enter as well.
Check, check and check for Pierre Garcon heading to the Washington Redskins.
The career No. 2 receiver, who struggled mightily at times catching passes from future Hall-of-Famer Peyton Manning, is set up to fail in 2012.
For all the hype about Robert Griffin III, that's all it is. Hype. He's still going to be a rookie who goes through his struggles just like everyone else.
It's laughable for the Redskins brass to honestly think Garcon is going to live up to his five-year, $42 million deal.
He's guaranteed to make $20.5 million no matter how this little experiment goes, so the team is almost handcuffed to him for at least the next two seasons.
What if Griffin struggles? What if Garcon's hands become a problem again? What if he never develops into a No. 1 option?
The answer to all of those questions doesn't really matter because Washington still has to pay Garcon a pretty penny any way it goes. Seems like a big risk to me, a risk not worth taking.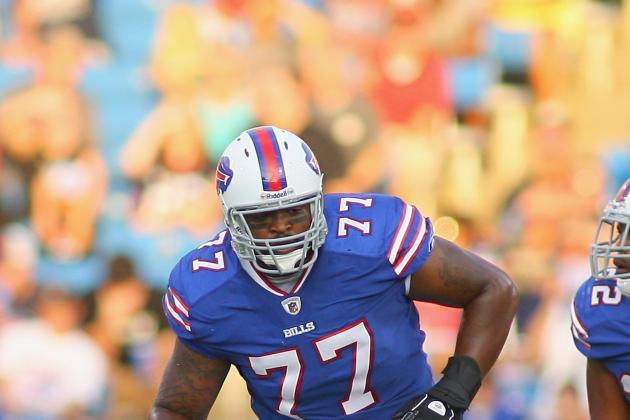 Rick Stewart/Getty Images

Know what desperation looks like? Take a gander at Demetress Bell's new contract with the Philadelphia Eagles.
The team was willing to hand Bell a five-year, $35 million contract despite the fact that he's completed a 16-game season only once in his four pro seasons.
Bell was a developmental project out of college and spent his rookie season with the Bills more or less redshirted. His 2009 season was marked by highs and lows and eventually ended after only eight games.
2010 saw Bell make every start, but he was again hampered by injuries in 2011 which limited him to six starts. Not quite the resume you'd want for a player in line to make that much cash.
But the thing is, he's not in line to make that much. The language of the deal allows the Eagles to cut ties with Bell after only one season with no further financial commitment.
Judging by his lack of health over the years and his overall inexperience in playing football, I'll take the under on him making eight starts in 2012.
If that ends up being the case, Philly is going to be paying him about a million a start. Worth it?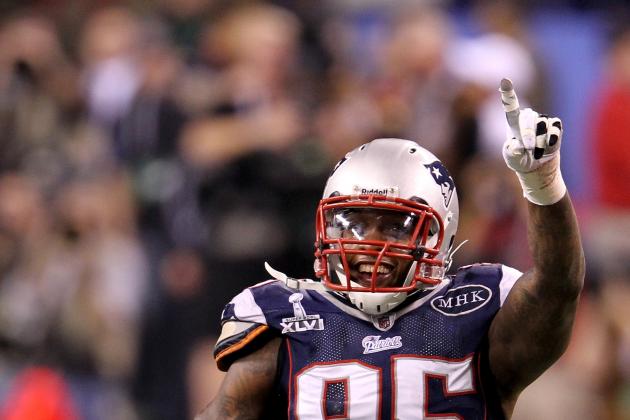 Andy Lyons/Getty Images

The Buffalo Bills are attempting to buy their defense this offseason and thought it would be wise to hand Mark Anderson, who is soon to turn 29, a four-year pact worth $27.5 million. Anderson scored an $8 million signing bonus on top of that.
He's coming off of a career season and has only made six starts since 2008. The Bills are going to pay him nearly $7 million a year until he's 33. Good call.
Let me know how that's working out in a year or two when he proves he was meant for a sub rushing role and not a full-time starting gig.