Miami Dolphins: 5 Reasons Why the Joe Philbin Era Is off to a Rocky Start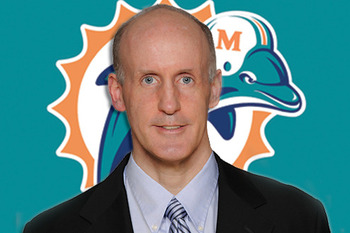 Before the season even starts, Joe Philbin already has a disaster in South Beach.
On Jan. 20, 2012, Philbin was named the 10th head coach of the Miami Dolphins. The Miami faithful hoped he would bring a Lombardi trophy back to Florida. The Fins closed out last season playing very impressive football, and many thought that Philbin combined with Matt Flynn and a strong nucleus of players would equal playoffs.
Even I was excited for the Dolphins.
Alas it was not meant to be.
Anything can happen in the season, but for now the Joe Philbin era Is off to a rocky start.
No One Wants to Be a Dolphin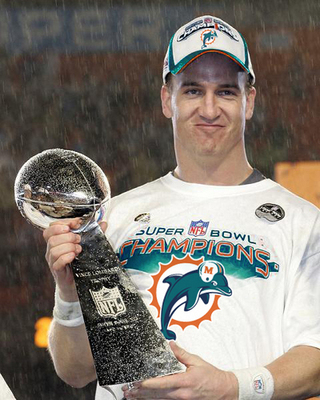 This Will Never Happen
The Dolphins had big plans for free agency to fix a number of holes. Those plans never panned out.
Pittsburgh Steelers safety Ryan Clark even said, "No one (wants to go to the Dolphins)! To believe I almost went there but it was an easy decision not to."
He continued by blaming GM Jeff Ireland and his questionable decision-making for that opinion. It takes a lot to make South Beach undesirable, but Ireland has succeeded in that.
The Fins entered 2012 desperate to land a franchise quarterback. They failed to move up in April's NFL draft and nab Heisman winner Robert Griffin III.
The front office then failed to land one of the greatest quarterbacks in our generation in Peyton Manning.
"Miami is a great place to vacation, but you don't want to play there" said Manning.
Record-breaker Matt Flynn bolted to Seattle, and Alex Smith would rather play in an organization that doesn't have faith in him than play in Miami.
Ouch.
Quarterback?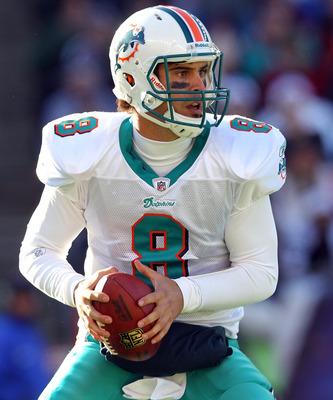 Jim Rogash/Getty Images
Now that Robert Griffin III, Matt Flynn, Peyton Manning and Alex Smith have all decided to play somewhere other than Miami, Philbin is left with a huge hole under center.
Matt Moore and David Garrard will probably have to duke it out for the starting slot. That is a position that no coach wants to be in.
Even the Jaguars passed on Garrard. Yes, this is the same team that is starting Blaine Gabbert. Now Garrard has a chance to start in Miami. He is coming back from injury and will be a shadow of his former self.
Moore played well last season as he notched up 2,497 yards and 16 touchdowns for a 87.1 quarterback rating.
But Moore is not a quality starter on a playoff team.
Now, the Dolphins might have to take a huge reach and draft Ryan Tannehill with the eighth pick in the 2012 NFL draft.
Tannehill is a late first-round talent at best. He should not be picked in the top 10. Sadly, the Dolphins might just have to take the risk.
Saying Goodbye to Brandon Marshall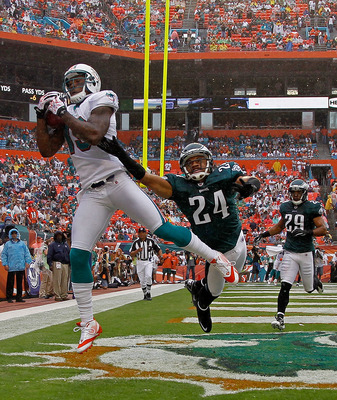 Mike Ehrmann/Getty Images
This move completely boggled my mind. The Dolphins shockingly traded Brandon Marshall to the Chicago Bears on March 13, 2012 for two third-round draft picks.
Marshall was the biggest playmaker for Miami, and they just traded him away for practically nothing. I really want to know what Jeff Ireland was thinking. Sure, Marshall was a problem, but the Dolphins should have known that when they gave up two second-round picks for him back in 2010.
Sending Marshall to the Windy City might make sense for locker room chemistry, but it makes zero sense on the field.
Marshall was one of the few working pieces on a lethargic offense. With him gone, the two leading receivers are Davone Bess and Brian Hartline. Last season Bess and Hartline combined for 1,086 yards and four touchdowns on 86 receptions. Alone Marshall picked up 1,214 yards and six touchdowns on 81 receptions.
Losing Brandon Marshall is a huge blow, giving the next quarterback will have even less to work with.
The Revamped AFC East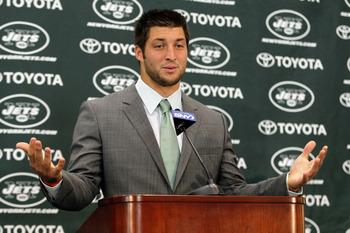 Mike Stobe/Getty Images
The Buffalo Bills were able to retain Stevie Johnson, and Ryan Fitzpatrick is a capable starter. Behind the mask of his shenanigans, Johnson is able to get the job done.
David Nelson and Scott Chandler round out a young receiving corps with potential to succeed. Fred Jackson will be back after his breakout season, and C.J. Spiller will be waiting in the wings. Nick Barnett and Super Mario will headline a scary defense.
Over in New York, the Jets are still fuming about missing out on a playoff berth. They will be back with a vengeance. Sanchez is back with a hefty contract extension, along with newly acquired Tim Tebow.
But whoever is behind center, they will have viable targets to throw to. Santonio Holmes is also back and has put the rift with Sanchez behind him. Signing Plaxico Burress is important as he will be a red-zone threat, and Dustin Keller is always a valuable presence.
But the forte for Rex Ryan is defense. He signed LaRon Landry to pair with Eric Smith on the other side of the ball. Revis Island will still be a scary destination for opposing receivers, and Sione Pouha is back.
The New England Patriots were a Wes Welker catch away from winning the Super Bowl once again. They will be scary.
The reason I bring up the other AFC East teams is because they are all improving. The division is getting better, while the Dolphins are not doing anything productive.
Which Hole to Fill?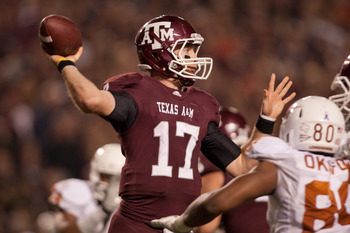 Darren Carroll/Getty Images
The Miami Dolphins own the eighth pick in the upcoming 2012 NFL draft, so they will have a chance to improve.
The O-line is underrated and the run game is solid. With an elite quarterback and a true No. 1 receiver, the Fins can be competitive. The only problem is they struck out in free agency and turn to the draft to find a quarterback and a wide receiver.
Miami's quarterback situation is a mess, and this is the opportunity the franchise has to fix it. They could overdraft and grab Ryan Tannehill from Texas A&M. I am undecided on Tannehill. He has been moved into the Top 10 in many mock drafts because of the need at the position but still could contribute to a team.
Their wide receiver problem also lingers over South Beach. The Dolphins could grab Notre Dame wideout Michael Floyd with their eighth pick. He impressed in the combine and moved himself into the No. 2 receiver slot.
Miami could also slelect Melvin Ingram or Riley Reiff, if they are available.
The eighth pick will be a tough decision and Miami fans are hoping that Joe Philbin and the front office choose right.
Keep Reading

Miami Dolphins: Like this team?