The Most Embarrassing Press Conference Moments in NFL History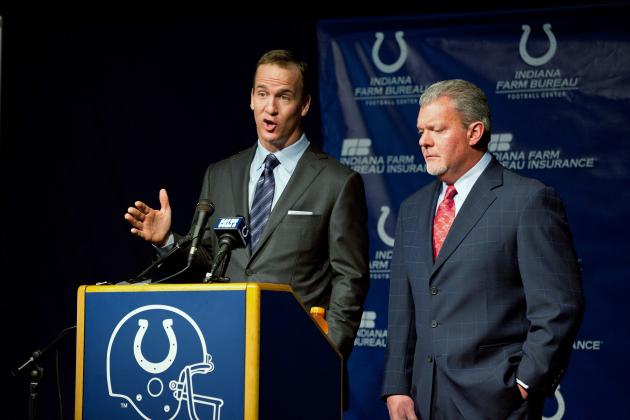 Joey Foley/Getty Images

There are a wide variety of NFL press conferences held throughout the year. They range from player interviews, free agent signings, debriefing coaches after games and NFL Commissioner Roger Goodell talking about everything from labor negotiations progress to the penalties for bounty hunting.
Some of these press conferences end up with embarrassing moments, usually because somebody lost their cool, or was already riled up to begin with and just needed an excuse to flip their lid.
Here are the most embarrassing NFL press conferences (or byproducts of those press conferences) of all time, with a couple added "best of videos" at the end of the presentation for your viewing pleasure.
Videos are courtesy of YouTube, National Football Network and ESPN.
Begin Slideshow

»
When Vince Young joined the Philadelphia Eagles, he held a a press conference to announce the move, during which he proclaimed that the Eagles were a "Dream Team."
This YouTube video contains a different number of Eagles players conducting press conferences that all share the belief that the 2011 version of the Eagles team will be something special. In retrospect, it is rather embarrassing when you realize how poorly they performed.
At the end of this video, you will see Terrell Owens crying over his quarterback at a press conference, in addition to doing some sit ups from home.
The infamous Dennis Green press conference, where he reveals that, "The Bears are who we thought they were!"
Thanks for solving that mystery for us, coach.
Derek Anderson loses face by claiming he wasn't laughing, while the cameras show he was clearly laughing away on the sidelines.
Some guys deserve exactly what is coming to them.
Brett Favre retires from the Green Bay Packers in this emotional press conference video. Well, at least we thought he was going to retire.
Apparently, he thought he was going to retire as well.
Peyton Manning and Jim Irsay get emotional during this press conference where the much anticipated announcement that Manning is no longer going to play in Indianapolis is made.
This move was designed to try to save face for Colts fans everywhere.
In case you weren't sure how he felt exactly, Tim Tebow is more than a little excited about becoming a member of the New York Jets.
2012 should prove to be another boring year for football in New York City. That's sarcasm, by the way.
Shannon Sharpe pokes some fun at Dennis Green's press conference, and Miss USA as well.
Funny stuff.
This video features some Randy Moss press conference highlights, along with some music, and combined it makes for a rather entertaining video.
This YouTube video is from NFL Films, and it contains plenty of bleeped out segments where NFL coaches were getting hot under the collar on the sidelines.
It also contains a Jerry Burns press conference clip, which is why we included it in the presentation. If you prefer the original Jerry Burns press conference, we included that version as well, later on in the presentation.
It isn't a press conference, but Bill Parcells talks about some of the embarrassing things that can happen to NFL players if they frequent night clubs, so we thought you would enjoy hearing his opinion.
Since the topic is embarrassing moments, here is one from an awards banquet honoring Paul Hornung. Mike Ditka accidentally upsets his own table, and then Hornung pushes Ditka off the stage.
Bill Parcells lets the Dallas Cowboys media know how Terrell Owens is doing a number on them. Parcells concludes the session with, "Consider yourself sucked."
Classic Parcells.
Here is a Jerry Jones video from YouTube set to music about how sorry Jones is over the Dallas Cowboys' embarrassing play.
Sorry seems to be the hardest word, right Jerry?
Mike Ditka's team is 2-7 after nine games, and you can tell from his general attitude that he is ready to bite somebody's head off.
Better that he takes it out on the media, rather than bringing that attitude home to his family.
This is the infamous Jim Mora clip where he discusses his chances for leading his team to the playoffs.
Playoffs?
Here is the classic Herm Edwards quote, "You play to win the game!"
Enough said.
Mike Singletary blows up in a press conference after a tough game. Once he gets started, he goes on a roll. This is also known as the, "Let's Throw Vernon Davis Under the Bus" press conference.
After dropping a contest to the Atlanta Falcons, a disheartened Mike Ditka speaks to reporters and basically says he is ready to give up on his team.
Ditka said that the team broke his will. Have to admit that he does look the part of a defeated coach.
Whatever you do, don't roll your eyes when you ask Jim Zorn a question.
Warning: If you prefer not to hear somebody swearing at length, please pass over this particular slide.
If the Minnesota Vikings had a team policy about putting dollar bills in a jar for swearing, Burns would have to re-negotiate his contract after every Vikings loss.
Bill Callahan is not very happy about the way his Oakland Raiders team played that day, nor how smart they are.
Marv Levy calls out somebody at a press conference who wants to follow up on a rumor.
Guess they will know better next time.
Is there something in the water in New York City that forces NFL coaches to make outlandish guarantees about their football teams that they can't deliver on?
Rex Ryan guaranteed that the New York Jets will win Super Bowl XLVI.
Just keep telling yourself that Rex.
This top 10 video presentation of NFL tirades, courtesy of ESPN, includes the Jim Mora playoff rant, some wisdom from Mike Ditka, Mike Singletary, Herm Edwards and Dennis Green.
This video stream includes the Derek Anderson rant about laughing on the sidelines during a loss, as well as the Wes Welker press conference making fun of Rex Ryan's foot fetish.
Thanks for checking out the presentation.