Ryan Newman Wins Wacky NASCAR Sprint Cup Race at Martinsville
April 1, 2012
Jared C. Tilton/Getty Images
The day was dominated by Hendrick Motorsports, but after 505 laps around the half-mile paperclip, that is Martinsville Speedway, Ryan Newman came out the winner.
Newman started fifth but had a speeding penalty on his first pit stop at Lap 100 that pushed him back into the 20th position. It took Newman over 350 laps to claw back into the top five.
But it wasn't until the second-to-last restart that Newman actually saw a chance at victory.
Hendrick Motorsports owned the day, with seven-time Martinsville winner Jeff Gordon leading 328 of the race's 505 laps. Gordon, Jimmie Johnson and Dale Earnhardt Jr. were running 1-2-3 on the track with four laps to go.
Then, it all went south.
The caution came out with four laps remaining when David Reutimann's No. 10 car stopped at the bottom of the track at the entrance to Turn 1. Reutimann had circled the track a few times with a major mechanical issue evident, but never brought his car down pit road.
The caution set up one final round of pit stops that saw every car on the lead lap take to pit road, with the exception of Gordon and Johnson.
Gordon lined up as the leader with Johnson to his outside. Clint Bowyer, who had a top-five car all day, lined up behind Gordon in third with Brad Keselowski in fourth and Newman in fifth.
On the ensuing restart, the first of two green-white-checkered attempts, Bowyer made the most of his fresh tires and tried an aggressive three-wide move to the inside of Gordon and Johnson heading into Turn 1.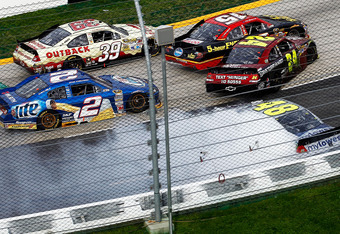 Jeff Zelevansky/Getty Images
The result was not pretty for any of them.
Bowyer body-slammed Gordon into Johnson, sending both Gordon's No. 24 and Johnson's No. 48 through the spin cycle. Gordon used Bowyer's No. 15 car to get himself corrected, sending Bowyer around and severely damaging the left-front of Gordon's car.
Newman, meanwhile, snuck by everybody on the inside and took the lead, with AJ Allmendinger and Earnhardt in tow.
Newman and Allmendinger lined up side-by-side on the final restart. Allmendinger fought Newman hard on the outside for a lap-and-a-half before finally surrendering his run for the win on the backstretch on the final lap.
Newman crossed the line for his first win of 2012 with Allmendinger in second, a career-best and his first Top 10 with Penske Racing.
Earnhardt Jr., Matt Kenseth, Martin Truex Jr., Denny Hamlin, Tony Stewart, Aric Almirola, Keselowski and Bowyer unofficially rounded out the top 10.
Johnson unofficially finished 12th, while Gordon was scored in 14th.
Reutimann was called to the NASCAR trailer after the race for a discussion.
Newman's win following his speeding penalty marks the first time any driver has accomplished that feat since Carl Edwards rebounded from a speeding penalty to win at Michigan in June 2007.