Fantasy Football: Which Sophomore QB Is Most Likely to Break out in 2012?
March 31, 2012

Hannah Foslien/Getty Images
In 2011, four quarterbacks were selected in the first round of the draft: Cam Newton, Jake Locker, Blaine Gabbert and Christian Ponder.
Newton made an immediate splash in fantasy, throwing for over 400 yards in each of his first two games. He also set an NFL record for QBs with 14 rushing TDs. Newton finished tied for No. 3 in overall fantasy scoring.
However, the other QBs selected in the first round did not fare as well. And none of them led their teams to the playoffs. This is not a surprise, but two later-round picks were able to accomplish that feat.
Andy Dalton was a second-round pick who solidified his position in Cincinnati as the Bengals' QB of today and the future by leading the team into the playoffs. He finished as the No. 16 fantasy-scoring QB, a solid QB2 option.
Of course, Dalton's Bengals lost to a team on AFC Wild Card Weekend that was led by another rookie.
The Houston Texans called fifth-round pick T.J. Yates into action when Matt Schaub and Matt Leinart went down with injuries. While Yates played well and helped the Texans advance past the Wild Card Round in the playoffs, he'll be relegated to backup duties in 2012 with a healthy Schaub at the helm.
So Yates is unlikely to be a factor in fantasy football in 2012, as he is not a starter.
The other rookie QBs who had significant playing time had mixed results.
Ponder was handed the reins to the Vikings offense in Week 6 when offseason acquisition Donovan McNabb was benched. He showed promise in a few starts, but his good plays were often overshadowed by poor decision-making that led to 13 INTs on just 291 pass attempts (Dalton had 13 INTs on 516 pass attempts).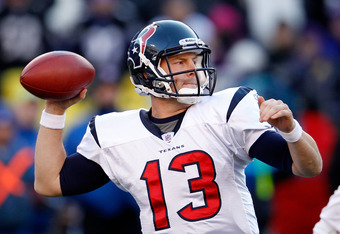 Rob Carr/Getty Images
The Vikings are owners of the No. 3 pick in the 2012 draft, and they could use it to add an offensive piece to help Ponder. As he was selected with the 12th overall pick in 2011, the Vikings have bet that Ponder can be a franchise QB.
Minnesota is thin at WR behind No. 1 Percy Harvin and could use help on the offensive line. Both ESPN's Todd McShay and B/R's own Matt Miller have the Vikings selecting franchise-caliber OT Matt Kalil at No. 3 overall and taking a WR in the second round (McShay says South Carolina's Alshon Jeffery, and Miller says LSU's Reuben Randle).
Blaine Gabbert was the 10th selection in the 2011 draft, and he started out the season as backup to Luke McCown. After McCown threw four picks in the Jacksonville's second game, Gabbert took over and took his lumps. He finished the season with the lowest QBR out of qualified players, posting a mark of 20.5 out of a possible 100.
The Jags added free-agent WR Laurent Robinson from the Cowboys in hopes that he would be an outside threat in addition to big TE Marcedes Lewis on the inside and do-it-all RB Maurice Jones-Drew.
It won't be enough for Gabbert to turn the corner this year, though; he will remain irrelevant in the fantasy game until he improves his pocket presence.
Jake Locker saw a bit of action for the Tennessee Titans in 2011, with impressive numbers in limited action. He had four TDs and no INTS on 34-of-66 passing for 542 yards. However, another year under veteran Matt Hasselbeck seems to be the plan that the Titans have for Locker.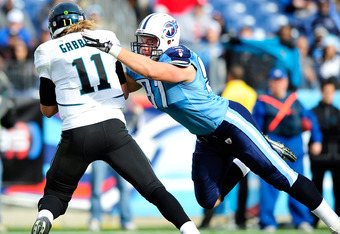 Grant Halverson/Getty Images
Locker, who was the second QB taken in the 2011 and the eighth pick overall, could reach fantasy relevance immediately upon stepping in—especially if WR Kenny Britt is fully healthy and WR Nate Washington and TE Jared Cook continue to improve.
So, which sophomore QB is most likely to break out?
Newton already had his breakout and will likely be a first-round pick in fantasy drafts in 2012. 
For Dalton, a breakout would mean cracking the top 10 in QB fantasy scoring. He's capable, but a jump of six spots seems unlikely with projections that include the return of Peyton Manning, a healthy Schaub and a rebound season from Tampa Bay's Josh Freeman. Dalton's fantasy value should be about the same.
That leaves Ponder as the most likely to break out and make a jump to fantasy relevance in 2012. If Minnesota does as the draft analysts have projected and picks up a left tackle like Kalil and a solid No. 2 WR, Ponder could become a legitimate QB2 in fantasy.
Adding to Harvin and Adrian Peterson as offensive weapons isn't the only key, though. Ponder will have to improve his decision-making in the pocket, or savvy veteran DBs like Charles Woodson will continue to take advantage (Woodson picked off Ponder twice during the third quarter in Week 7).
For now, Ponder might be worth a late-round draft pick, but monitoring the Vikings' offseason activity and Ponder's progress in camp will be key in determining his value for 2012.