Cleveland Browns Humor 2012: 7 Fictional Players the Browns Would Draft or Sign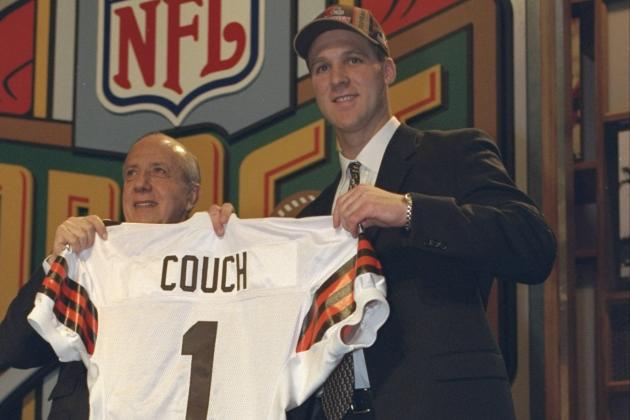 Ezra Shaw/Getty Images
Tim Couch likely wishes this moment were fiction.
"Life imitates art far more than art imitates life."-Oscar Wilde

I love April Fools' Day, so we're going to stretch it out over the weekend. If you missed my column on Steelers fans stereotypes, you may want to check that out, too.

Occasionally while viewing a film of the football genre, I watch as the token over-the-hill veteran loses his job to the brash, audacious, but talented rookie or the cocky, over-confident senior blows out his knee and the thought crosses my mind, "this character would definitely get drafted or signed by the Cleveland Browns."

Submitted for your approval: in a parallel universe wherein the Cleveland Browns exist along with the various other professional, amateur and college football clubs featured in Hollywood films, this list consists of players whose attributes would make them quintessential Cleveland Browns.

Whether over-paid, over-aged or over-dosed, consistent with most high-level professional sports worldwide, the Browns' locker room features some fictional characters.
Which fictional characters could we see the Browns drafting after college or signing as a free agent?

You can hit me up on Twitter @StepanekButton
Begin Slideshow

»
That grits-and-gravy accent and habit of firing, re-hiring and re-firing agents, while soaking up his 15 minutes in the NFL spotlight, compound to make Frank "Cush" Cushman an ideal silver-screen Cleveland Brown.

To begin with, most anticipate Cush as a first-overall selection, a position with which the Browns are only slightly familiar, but often come within a game or two of... achieving.

Something just tells me the Browns would either top San Diego's offer in the draft, or wait until Cush washed up and sign him in free agency.

Real-life comparisons: Tim Couch, Peyton Hillis
A hyped-up workout warrior whose team of boys wears uniforms typically associated with men?

One look at Spike hauling that fridge off the truck would have had Browns execs trading up to draft the suspiciously-post-pubescent fifth-grader.

To ice the cake, with the game on the line, Spike's overconfidence and passions obstruct his path to victory.

Real-life comparisons: Courtney Brown, Matt Roth, Dwayne Rudd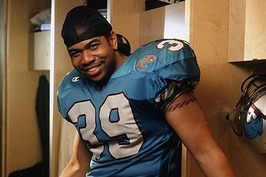 A talented, troubled prospect: Butch Davis couldn't resist.
Some members of this sliver-screen Browns squad generally fit a profile the Browns tend to be suckers for: aging, big-name linebacker, tag-along from the last job, etc.

Butch Davis wouldn't be able to resist the dual allure of ESPN's Playmakers' Demetrius Harris, played by Omar Gooding.

A victim and product of his rough upbringing, (DH's fictional childhood eerily mirrored that of William Green's real-life struggles.) and star-struck success, "DH" shows no respect for his teammates, uses drugs at halftime and his tragic flaws ultimately negate his overwhelming talent.

While no one objects to giving troubled talent a second chance, giving that talent the run of the locker room can be a recipe for trouble.

Josh Cribbs and Eric Wright—two Browns with successful NFL careers—came to the team with a checkered past and were able to change their paths.
While Wright's a respectable corner, Cribbs is a consummate professional football player and probably along with Joe Thomas and Phil Dawson the most respected Cleveland Brown around the league.
Playmakers never made it to a second season, but I would have liked to have seen DH mature into a seasoned mentor for young troubled stars like himself.

Real-life comparisons: William Green, Eric Wright, Josh Cribbs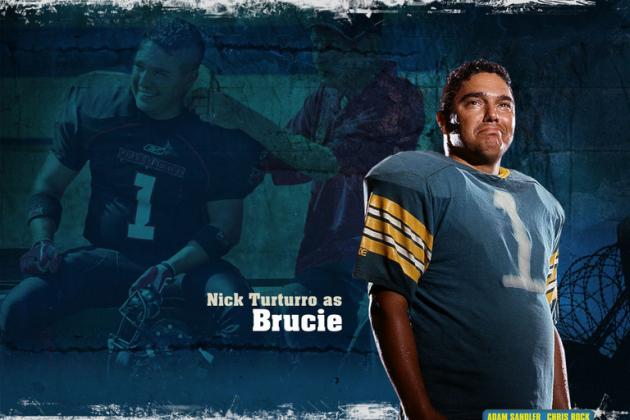 Brucie: a "character," acquisition.
I'm convinced when Eric Mangini came over from New York, he would have brought little Brucie with him.

Unmistakably from New York, a little too small, a little too old and with a questionable record of lifetime athletic achievement at best, no doubt Man-Genius would have done everything in his power to get a "character" guy like Brucie in the locker room.

Sometimes having "Yes men" can be more important than "talent." Plus with those short legs, Brucie would have no problem driving the 10 hours in a van to Mangini's camp in Connecticut.

PS, Man-Genius: next time you try to build a franchise from the ground up, it's generally a bad thing if your entire linebacker corps from just two years ago is already retired...just an FYI.

Real-life comparisons: Hank Poteat, David Bowens, Eric Barton

As a Browns fan, I admit I purchase every movie featuring Jim Brown on DVD and Blu-Ray—even Small Soldiers and Mars Attacks.

The Browns would undoubtedly pursue Shark (played by Lawrence Taylor) after his Hall of Fame career, after Shark exceeds the concussion limit (giving way to the best line in the movie, "Don't drop me. I'm worth a million dollars.")

As Shark rehabbed his brain and neck, some Browns GM would be out there signing the guy to a five year, $40 million deal to come to Cleveland.
Shark would oblige and perform at an acceptable level for a year before retiring and costing the Browns yet another season of development at a position filled by an over-the-hill veteran free agent—even the adequate ones.

Real-life comparisons: Ted Washington, Willie McGinest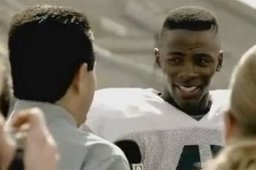 Boobie Miles' talent and media hype would compel the Browns to acquire the intoxicatingly quick running back out of Permian High.

No doubt the Browns would see Boobie's injury history merely as a troubling side note. Even after his torn ACL, Tom Heckert would still think "Can I get a steal here and show up every other GM in the league?"

I'm sad to say it, but I could see Heckert trading up for this guy...

Real-life comparisons: Montario Hardesty
"Footsteps" Falco from Ohio State?

The guy who got blown up in his bowl game and was out of football?

Given that the Browns' only modern playoff appearance occurred with an unintentional starting quarterback who threw for over 400 yards but lost in dramatic fashion, Shane Falco would be the only kind of quarterback the Browns could feature: not a high draft pick, but an accidental star.

Additionally, the fact that Falco was out of the NFL (or whatever pseudonym they give the league in The Replacements) further enhances his "I-could-play-QB-for-the-Browns" credibility.

Real-life comparisons: Jake Delhomme, Kelly Holcomb, Jeff Garcia, Brady Quinn, Charlie Frye, every quarterback, ever?