Mets Injury Update: 5 Reasons to Expect a Slow Start for David Wright
Marc Serota/Getty Images
David Wright may not have the right stuff for a few weeks.
David Wright sounded optimistic after his first spring training game on Monday.
"I feel good," he told reporters after his four innings of play. "I feel healthy. I got a chance to dive around a little bit, run the bases a little bit, see some pitches, get some at-bats. Now it's just a matter of getting reps."
That isn't a small matter.
The Mets third baseman sat out most of the spring recovering from a torn abdominal muscle. Now he's got just two weeks to get ready for Opening Day.
For a player of Wright's caliber, that's not too much to expect. But there are other factors that are likely to slow Wright's progress.
Here are five reasons why Wright may not have the right stuff in April.
Begin Slideshow

»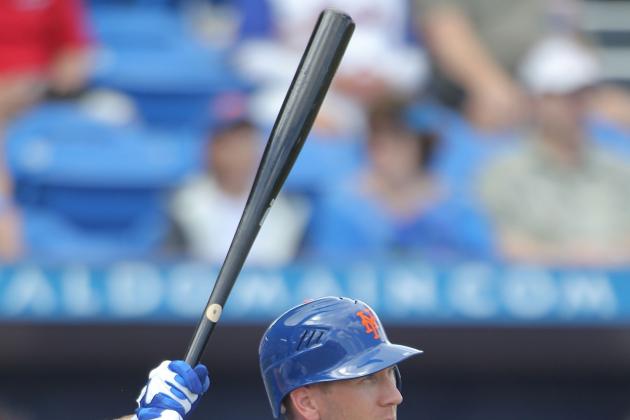 Marc Serota/Getty Images
Jason Bay is more focused on his hitting woes than on team leadership.
The Mets are lacking in the leadership department.
Young and relatively inexperienced clubs like the Mets rely on their veterans to provide mentoring and direction to their younger teammates.
Johan Santana can do that for the pitching staff. But where's the leadership on the field?
Andres Torres might step up when he gets off the disabled list, whenever that will be. Jason Bay has been struggling mightily to get his mojo back, and until he does, he's unlikely to be an inspiring presence.
That leaves Wright. If the Mets were a deeper team, they might be inclined to have Wright play a few minor league games at the start of the regular season and ease him back into the lineup.
The leadership vacuum on and off the field puts the pressure on him to get back and perform. Considering his competitive nature, Wright may push too hard at the start.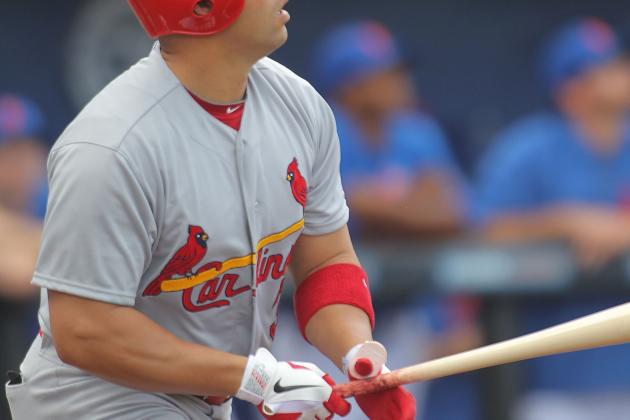 Marc Serota/Getty Images
With Carlos Beltran and other power hitters gone, there will be more pressure on Wright to produce runs.
The Mets lost a lot of run-producing prowess last year.
Carlos Beltran racked up 149 home runs and 559 RBI for the Mets over his seven years with the team.
After nine years in New York, Jose Reyes left for Florida with 1,300 hits, 735 runs scored, 370 stolen bases and a .292 batting average to his credit.
The Mets still have a potent hitter in David Wright. In eight years, he's produced a .300 batting average, a 1,248 hits and 183 dingers for his team.
The Mets can hold out hope that Jason Bay will find his old form and start hitting 30 homers a year again, but Bay doesn't seem to have fully recovered from a concussion he suffered in 2010.
Wright now stands alone as a big bat. Not to mention that with Reyes gone, he can't count on a lead-off hitter who consistently gets on base and into scoring position.
Look for Wright to press hard for extra base hits and home runs. As if he doesn't already have enough pressure.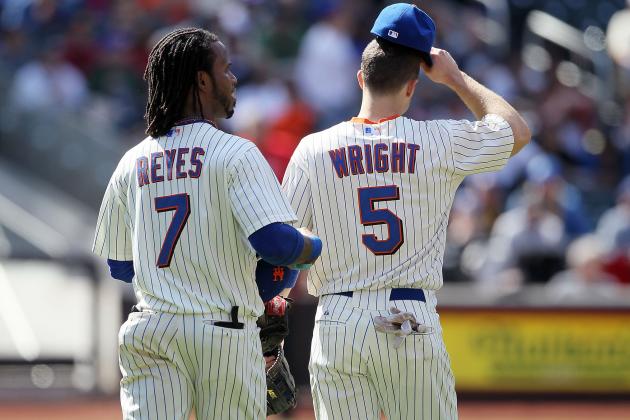 Jim McIsaac/Getty Images
Jose Reyes and David Wright anchored the left side of the infield.
The Mets haven't had much of a defense the last few seasons. In fact, David Wright and Jose Reyes consistently led the team in errors. That's no small feat on a team that ranked near the bottom in fielding in 2011.
It could get worse in 2012.
While Wright made a nice diving stop at third in his first spring training game this week, his injury raises questions about his capability on defense.
If he plays closer to the line to keep the diving stops to a minimum, he risks leaving too much ground for the inexperienced Ruben Tejada to cover at short. If he doesn't, a few more doubles may scoot past him.
Don't forget that Wright suffered back problems last year. With a shortened spring training and the cool Northeast weather, Wright's defense probably won't warm up until the temperature does.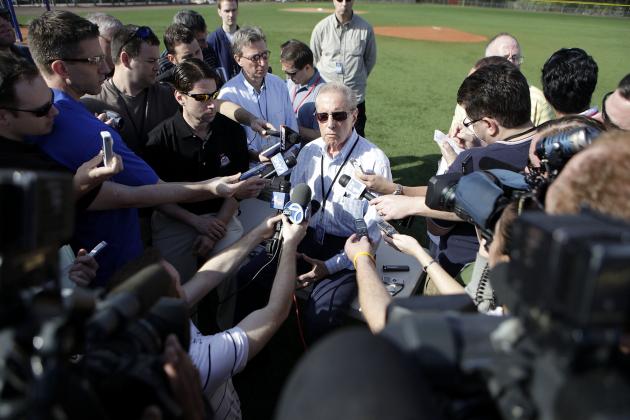 Marc Serota/Getty Images
Cash-poor owner Fred Wilpon has a valuable asset in David Wright.
David Wright has all of the elements a team can want in a player. Aside from being highly skilled, he's high on integrity and low on drama.
Even players with those characteristics find it hard to ignore trade talk.
The rumors buzzed in the background throughout the offseason. The team's owners faced the loss of the Mets as they fought lawsuits in the Bernard Madoff affair. They had already slashed the payroll, and dumping a big contract like Wright's before his option year seemed plausible.
That talk has eased up since owners Fred Wilpon and Saul Katz reached a settlement in the Madoff case. Still, they have had to sell shares in the team to repay loans and cover operating expense, and Wright's option year is still there.
If Wright gets off to a slow start, he still could be trade bait this year. Wright says he's not scared, but admits that the background chatter sometimes "ages me."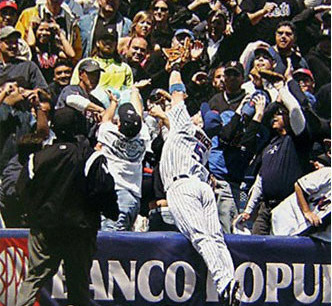 David Wright's fierce competitiveness can also be a weakness.
One of David Wright's defining characteristics is his selflessness.You can see the upset on his face when he lets his team down. He's the consummate team player.
That could end being his greatest weakness. Self-imposed pressure to lead the Mets on and off the field before he's 100 percent healthy could be disastrous.
If Wright is to avoid a bad start, he could stand thinking about himself first, for once.
After his spring training debut on Monday, he said, "I can't feel rushed or I can't feel like I'm up against the clock to go out there and start cramming innings in because that's when you get hurt somewhere else. Not just the current thing I got going on, but also if you push yourself when your body is not ready for it, something else will get hurt."
Sound thinking. Then he went and asked manager Terry Collins to let him play on Tuesday, when Wright had been scheduled to rest.
There's no reason for Wright to rush back. He'd be better off starting the year playing a few minor league games. If he needs to make adjustments to his swing to protect his abdominal muscle, better to do it away from the intense media spotlight.
Instead, we'll see him swinging too hard and twisting too much in April. Wright's motives are good. But he could dig himself into a hole by trying too hard too soon.