Green Bay Packers: The Day of Reckoning Is Coming Soon for Nick Collins
March 27, 2012

Mike Ehrmann/Getty Images
This has sure been an interesting offseason for the Green Bay Packers. The team is coming off the best regular season the storied franchise ever had, when the Packers went 15-1 in the 2011 NFL campaign. Even with that, the team lost their first playoff game vs. the eventual Super Bowl champions—the New York Giants.
The Packers are trying to build off that great 2011 season and find some more players who might make the difference and get the team back to a championship level—like in 2010 when the team won Super Bowl XLV.
A week ago last Saturday, the Packers lost C Scott Wells, as he signed with the St. Louis Rams. The next day, QB Matt Flynn signed with the Seattle Seahawks. The Packers also saw CB Pat Lee leave via free agency, as he signed last Wednesday with the Oakland Raiders.
But the Packers made some movements of their own this week in free agency.
On Tuesday, the Packers re-signed DB Jarrett Bush to a new three-year deal worth $5.25 million. But the big news came last Friday, as the Packers signed C Jeff Saturday to a two-year deal believed to be worth about $4 million a year.
And the Packers aren't done in free agency either. They have shown interest in LB Manny Lawson and former Packer DE Dave Tollefson, who is scheduled for a visit. Tollefson would most likely play ROLB if he was signed as a free agent.
In addition, DT Anthony Hargrove supposedly will soon be part of the team—based on a report by Aaron Wilson of profootball.scout.com. Wilson reported that Hargrove tweeted: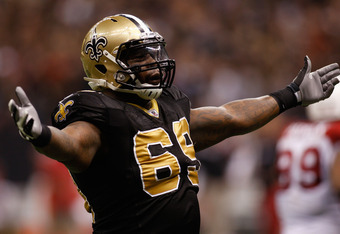 Chris Graythen/Getty Images
not official but like i said green and yellow green yellow. can't wait for my first Lambeau Leap on game day. not yet but we screaming green and yellow green and yellow go packers go.
Hargrove was in Green Bay last Friday. Time will tell if that tweet becomes reality.
The Packers have also scheduled a visit next week with OT Demetrius Bell, according to Joe Buscaglia of WGR-550 in Buffalo.
Add to all that, the NFL announced yesterday the compensatory picks that will be given to teams in the 2012 NFL draft. The Packers were awarded four compensatory picks—two in the fourth round and two in the seventh round. The Packers now have 12 picks in the draft.
The team already had the seven of their own, plus an additional seventh round selection from the New York Jets in the Caleb Schlauderaff trade. The compensatory picks give Ted Thompson plenty of ammunition if he wants to trade up and select a given player. Compensatory picks can not be traded, but the other picks can.
But the biggest news that the Packers are awaiting is the status of S Nick Collins. Collins will be meeting with his doctor very soon to find out if he will be cleared to resume his NFL career after suffering a severe neck injury which involved surgery to rectify the injury.
It's hard to say what the outcome will be.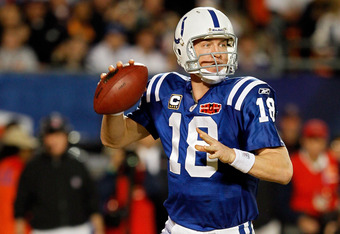 Andy Lyons/Getty Images
Mike McCarthy talked about the situation with Collins the other day. McCarthy was quoted as telling Jason Wilde of ESPNMilwaukee.com, "If Nick was my son, I would not let him play."
Neck injuries are a tricky situation, especially in the NFL.
Just ask Peyton Manning, who missed the entire 2011 NFL season due to a neck injury. Manning has had a number of medical procedures done to his neck to get himself cleared to be able to play this season. The doctors have cleared Manning to play, but this year Manning will play for the Denver Broncos (via free agency) and not the Indianapolis Colts.
I suffered a fractured skull and a fractured neck in an auto accident about five years ago. I needed a medical procedure to help heal my neck injury. The procedure was very similar to what was done with FB Mike Alstott of the Tampa Bay Bucs in 2003 after he suffered a neck injury.
Alstott was cleared to play after his surgery too. Alstott was a very physical running back as well. He loved to lower his head and try to run through tacklers. He was allowed to do that after his procedure.
All I know is that I still have some issues, even after my procedure was done. I still have some numbness in my left arm—one of the symptoms which was affecting Manning, although his issue was with his right (throwing) arm.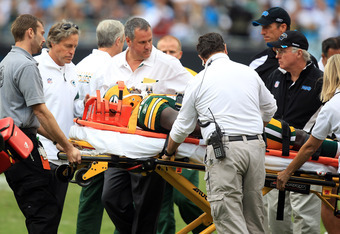 Streeter Lecka/Getty Images
Every neck injury is different. It depends on what type of damage was done to the cervical spine and where exactly it occurred.
The Packers know that Collins is one of the very best players on the team. Collins is a three time All-Pro and has also been selected to play in three Pro Bowls. He has 21 career interceptions, including four TDs, and also had a key interception return for a TD in Super Bowl XLV.
Collins was the second player ever selected by Thompson in the draft, as he was picked in the second round of the 2005 NFL draft, after Aaron Rodgers was selected in the first round.
The loss of Collins for almost the entire 2011 season had a severe effect on the pass defense of the Packers. Green Bay finished dead last in pass defense in 2011, giving up almost 300 yards a game. Communication issues were apparent, as there were a number of blown coverages.
There is no doubt that the Packers will be selecting a safety in the 2012 NFL draft.
Why?
For one, you may need to draft the replacement for Collins if he is unable to continue his NFL career. The best case scenario would be to draft a safety for quality depth reasons if Collins is cleared to play.
Bottom line, we will find out very soon if Collins will be able to resume his career as a Green Bay Packer.
That situation is the biggest issue facing the team this offseason, even as the free agency period is in full bloom, and the draft is about a month away. 
The Packers certainly hope that Collins will be able to continue to play in the NFL, just like Alstott was able to do a few years back and Manning will in 2012.
Time will tell.