Philadelphia Phillies: Ryan Madson's Injury Doesn't Validate Papelbon's Contract
March 26, 2012

Rob Carr/Getty Images
As I'm sure everyone knows by now, Ryan Madson will miss the 2012 season due to a torn ligament in his right elbow.  
Unfortunate as this injury is for the former Phillie, Mad Dog's injury does not, as some fans have suggested, validate the monster contract Ruben Amaro Jr. hastily handed to Jonathan Papelbon in the offseason.
For those who need a refresher on how the situation played out, Madson and the Phillies were close on a reported deal for $44 million in November before talks fell through and the Phils inked Papelbon for four years and $50 million. After holding out for another huge, multi-year offer that never came, Madson signed with the Reds for one year and $8.5 million in January.
Certainly, it's fortunate that the Phillies did not end up with another crippling injury entering 2012, and it unfortunate the Reds now have to find another closer—but what the relative losses are, and could have been, to each team only serves to highlight how impatient and foolish Ruben Amaro Jr.'s closer negotiating was this winter.
Yes, Madson's injury is a tough blow for the Reds' bullpen, but it's not terrible for their checkbook.
By showing patience while negotiating for a closer, and letting the market settle before making any rash offers, the Reds managed to wed themselves to Madson (a potentially elite closer) for only one year. The Reds' patience helped to minimize their losses—Madson probably would have been gone after the season in search of a much bigger deal had he performed well, anyway.
The Phillies, on the other hand, would not have come away so clean.
Had Ruben Amaro Jr. been successful in signing Madson, the Phillies would be on the books for a ton of money over a handful of years for a pitcher with a busted elbow.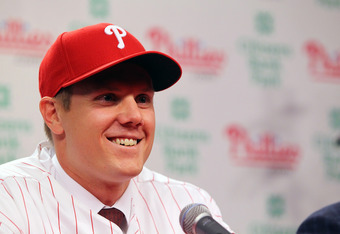 Len Redkoles/Getty Images
If anything, Madson's injury makes it even more clear how foolish the Papelbon contract was.
The closer role is one of the most volatile positions in all of sports. Guys burst on to the scene all the time (if you've ever played fantasy baseball, you know there's like 12 hot closer commodities that always seem to pop up during the season), they only pitch 60-70 innings a season and have incredible short career peaks (unless their last name is Rivera).
Madson's injury is scary because it could happen to anyone, even Johnny Paps—the $50 million man.
Obviously, the Phillies weren't overly concerned with Madson's elbow if they were that close to signing him long-term. His injury just serves to highlight how fickle it was to gamble $50 million on Jonathan Papelbon's right arm.  
Even if Papelbon has two great seasons and then goes down with a serious injury three years from now, the Phillies are still out tens of millions of dollars on an injured closer.  
Just look at the previous largest contract for a reliever.
In 2005, the Blue Jays signed B.J. Ryan to a five year deal worth $47 million. He had a great first year in 2006 before blowing out his elbow and missing almost the entire 2007 season. Though he did manage to come back with a solid year in 2008, he had a 6.53 ERA in 2009 and never pitched in the Major Leagues again.
Were those two good years of Ryan worth $47 million to the Blue Jays?  
Probably not.  
Would two good years of Jonathan Papelbon be worth $50 million? Would three even do it?
While the Reds lost $8.5 million on Ryan Madson, they'll be alright in the long run. If Jonathan Papelbon suffers a similar, unpredictable injury the Phillies won't be so lucky.