NBA Draft: Best Team Fits for Duke Star Austin Rivers
March 23, 2012
Streeter Lecka/Getty Images
According to Jeff Goodman of CBSSports.com, Austin Rivers will forgo his final three seasons of NCAA eligibility to enter his name in this summer's NBA draft. While many expected the guard from Duke to stay another year at the collegiate level, his decision to go pro has made a deep draft class even more talented.
Despite being a top tier recruit last season out of Winter Park High School in Florida, Rivers failed to meet his lofty expectations under legendary coach Mike Krzyzewski.
Nonetheless, there is no doubt that there are many teams intrigued in acquiring the services of the combo guard. However, his draft stock is quite unstable, as he showed a fair amount of potential in his disappointing season at Duke.
So, who, in the end, will take the gamble and select Austin Rivers?
Well, there are many organizations who are in need of a scoring guard who can create a shot off the dribble. Rivers fits this bill exactly. Not only can he penetrate with effectiveness, but he has a fantastic pull-up jumper from deep. His elite ball-handling skills and ability to change speeds quickly has NBA scouts drooling.
However, Rivers' game hasn't matured the way many expected under Coach K. The young guard still tries to shoot himself out of slumps and doesn't look for his teammates quick enough in transition. In addition, he doesn't necessarily have a position at the pro level, as he is somewhat of a tweener.
Rivers plays like a shooting guard, but is only 6'4". This could pose a problem, as his defense has never been stellar. Bigger off-guards, like Joe Johnson or Nick Young, may be able to take advantage of the undersized Rivers.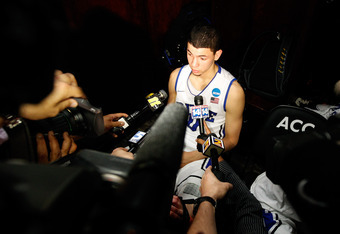 Streeter Lecka/Getty Images
But, without further ado, here are a few teams who may take a chance on Rivers.
NBA Teams That May Select Rivers
Phoenix Suns
The Phoenix Suns are in a state of flux. Much like the Detroit Pistons of the Eastern Conference, this former West powerhouse isn't fully committed to rebuilding. With veterans like All-Star Steve Nash, Marcin Gortat and Grant Hill, the Suns will never be able to acquire a high lottery pick due to not "bottoming out." 
Sure, the team may sneak into the playoffs, but how far are they actually going to go? With no depth and very little encouraging prospects, the time to go into a mass rebuild is now. And, with this extremely deep draft, a star just might fall into their laps.
That star could be Austin Rivers.
Rivers would thrive in an up-tempo offense like the Suns. Plus, he would be able to learn from one of the greatest guards in NBA History in Steve Nash, if he decides to stay.
Orlando Magic
Who wouldn't enjoy a reunion between Austin Rivers and the city of Orlando?
In his first tenure in Orlando, Austin Rivers dominated and dazzled in high school competition. But, the Orlando Magic brass wouldn't select him just for sentimental reasons; there is a definite need for a shooting guard who can create off the dribble.
Plus, with Jameer Nelson and Jason Richardson on the downside of their respective careers, Rivers will absolutely have a chance to prove himself worthy of a starting role.
A duo of former Duke stars J.J. Redick and Austin Rivers at the guard positions would be downright frightening for opposing defenses.
However, the Orlando Magic would have to trade for a higher pick to select Rivers, as he is expected to be drafted before the end of the lottery picks.
Milwaukee Bucks
By selecting Austin Rivers, the Milwaukee Bucks would boast the most talented trio of guards in the NBA. And the best part is they are all still young and developing.
Rivers would be able to learn from two of the best scoring guards in the business under Monta Ellis and Brandon Jennings. Both guards are undersized and have found ways to get around their unlucky physical attributes.
In addition, the up-tempo style of the Bucks would benefit the play of Rivers.
Sure, the Bucks do have a plethora of other roster issues to worry about, including their lack of big man depth, but this is quite the intriguing possibility.
Boston Celtics
Austin Rivers to the Boston Celtics makes almost too much sense. After all, his own father is the coach of the team and Rivers is already close with many of the players on the roster.
With Ray Allen on his way out of Boston, whether it is from retirement or a trade, the former sharpshooter from UConn would be a great role model for the young Rivers. Not only are they both prolific scorers, but they also have similar builds.
In addition, Rivers would be able to learn how to become a consummate professional. Between Paul Pierce, Kevin Garnett and Allen, the amount of experience on the Celtics is astounding. And, this would be a perfect way for the Celtics to start the rebuilding process with Rajon Rondo and Rivers as the franchise cornerstones.
Even though there is a major possibility of drama, this dream match-up may be too tempting for the Celtics to pass up.