Peyton Manning to the Broncos Doesn't Kill Tebow's Legacy
March 23, 2012

Doug Pensinger/Getty Images
This article will largely serve as a reply to Adam Odekirk's article, asking "Did Peyton Manning Acquisition Kill Tim Tebow's Legacy?". If you haven't read the article, it can be found here. 
Tim Tebow. Say what you will about about the man or the quarterback; to many, he was the "Mile High Messiah". There is no denying that the 2011 season in Denver was something special. It was the most exciting season in Denver since 1998, and the most talked about season ever. And while "Tebow Time" in Denver was, to put it simply, awesome, his legacy has not been killed by acquiring Peyton Manning. What exactly is Tebow's legacy? Odekirk states that to some Broncos' fans, Tebow will be remembered as the greatest quarterback in the history of the Broncos franchise. Is that the legacy of Tim Tebow?
No. That cannot be his legacy, because the best quarterback in Broncos' history was instrumental in hiring his replacement and sending Tebow to New York. 
The best quarterback in a franchise's history cannot be the quarterback who threw only 17 TDs for that franchise when another threw 300 of them. 
It cannot be the quarterback who threw for a total of 2,383 yards when another passed for over 51,000 yards (and failed to top 2,383 in a season only twice). 
It cannot be the quarterback who led the team to nine wins, when another won over sixteen times as many games. 
It cannot be the quarterback who won only one playoff game, made no Pro Bowl appearances, was never named All-Pro, won no MVPs of any kind and has never hoisted Lombardi's trophy, when another was a nine-time Pro Bowl-er, named All-Pro 13 times, won the MVP twice and wears two rings.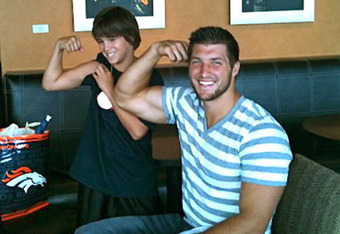 Odekirk states that part of the NFL is entertainment, and while it's true that No. 15 was just as entertaining as No. 7, entertainment is just that: it is only part of the NFL. Truer words were never spoken then when Vince Lombardi said "Winning isn't everything, it's the only thing." And to everyone involved in the NFL, from the players to the coaches to the owners to the fans, winning is everything. Losing a game is never entertaining.
This is why it was right for the Broncos to acquire Manning in the first place, because while having a star lead your team is nice, having a star quarterback lead your team is better. That Broncos fans have to know that there is no possibility of "Tebow Time" going into the fourth quarter of games in 2012 shouldn't be a hard pill to swallow, since they've already had 45 minutes of Manning and there's another 15 minutes on deck.
To suggest that Tebow's legacy has been killed is unfair to all, but is especially unfair to Tebow. He and only he will determine what his legacy will be. While he cannot (barring a trade back to Denver post-Manning) be remembered as the greatest quarterback in the history of the Denver Broncos, that shouldn't bother him. In fact, the trade to New York may allow the legend and legacy of Tim Tebow to grow.
Few people don't know who Tebow is. Playing in New York will virtually guarantee that all of America will know his name. If Tebow doesn't become a starter in the NFL again, it will not be because he didn't work for it. He is without question one of the hardest workers in the NFL.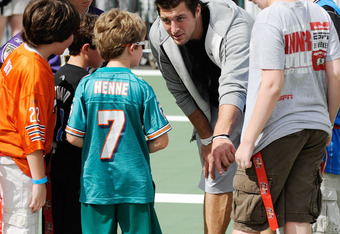 Handout/Getty Images
As Tebow's FRS commercial goes, "They said I couldn't be a high school quarterback. They said I couldn't get a D-1 scholarship. You won't make it, you're not good enough, you're not skilled enough. They said I couldn't win a Heisman. They said I wouldn't win a National Championship. They said I wouldn't be a first round draft pick. They said I couldn't play in the league. 'Preciate that."
If the legacy of Tim Tebow dies, it is because Tebow allowed it to. While there's no such thing as a sure thing, the closest thing to a sure thing is that Tim Tebow will never stop giving life, not football, but life, all that he's got to give. Right now, Tebow lives the life of a football player. His heart, drive and passion are unmatched and he will never stop working.
The legacy of Tim Tebow may go down as the greatest legacy of any professional athlete ever, because his is not a legacy that will be contained to football like the legacies of athletes before him, John Elway and Peyton Manning included. The legacy of Tim Tebow will be greater than football. The legacy of Tim Tebow will never die.