Pros and Cons of San Francisco 49ers Signing Randy Moss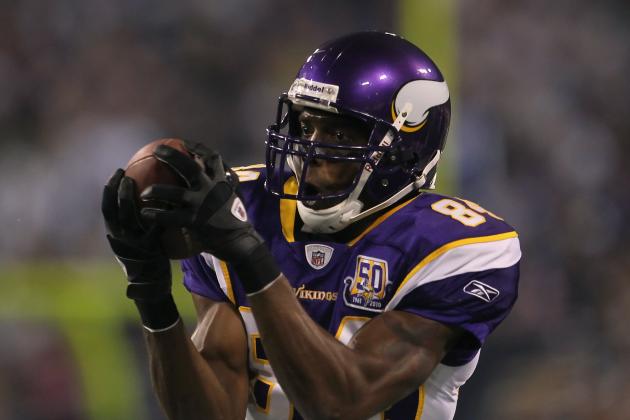 Jeff Gross/Getty Images
Randy Moss sat out the entire 2011 season
The San Francisco 49ers knew they wanted to upgrade their wide receiver corps, as they headed into the offseason. After losing to the New York Giants in the NFC championship game, when the 49er wide receivers combined for one catch and three yards, the need for an upgrade was painfully apparent.
49ers' GM Trent Baalke did not want to pay the exorbitant demands of some of the top free agents available, so he and head coach Jim Harbaugh went outside the box. Randy Moss entered the picture.
Harbaugh worked Moss out and was the man that actually threw him the passes, as Moss ran his routes. The courtship was complete when the 49ers' signed Moss to a one-year contract.
Never would I have expected the 49ers to touch Moss, as Harbaugh and Baalke are all about team players and having everyone all-in for the team. Moss comes with baggage, so this was indeed a surprise to me and many others.
Let's take an objective look at the pros and cons of the Randy Moss signing.
Begin Slideshow

»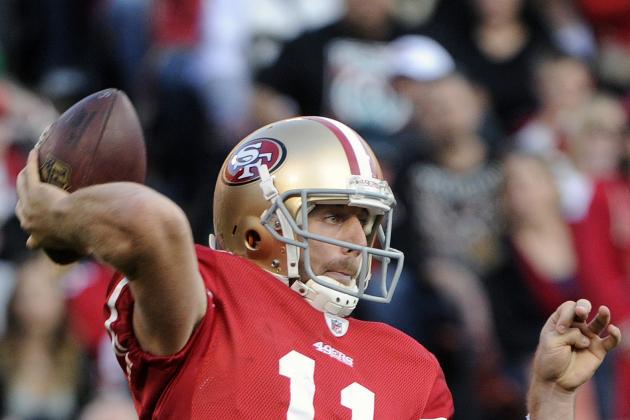 Thearon W. Henderson/Getty Images
Alex Smith has someone who can stretch the field
The acquisition of Randy Moss gives the 49ers a true deep threat that can stretch the field. Without such a threat in 2011, defenses played tight coverage and there was a lot of traffic within 20 yards of the line of scrimmage.
With Moss, opposing defenses must honor the potential that the 49ers can throw the ball deep down the field. This will open up the underneath routes for Michael Crabtree and Vernon Davis.
Alex Smith has shown a weakness in throwing the deep ball, and this is an area that he must improve upon. Even if he and Moss miss connections more often than not, Moss' mere presence will open up the field for the 49ers.
My gut feel is that Smith will indeed miss Moss on some deep throws, but he will also hit on a few for big gains. The threat of the long bomb will help the entire 49ers' offense and is something they have not had in several years.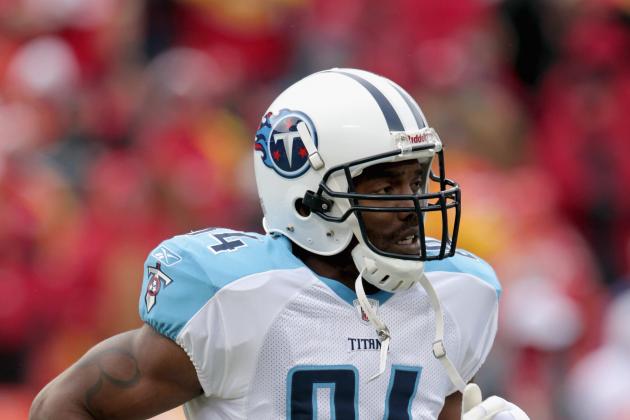 Jamie Squire/Getty Images
Randy Moss played for three teams in 2010
In 2010, Randy Moss' final season in the NFL, prior to this year, he played on three separate teams. He began the year in New England, where Bill Belichick released him after only four games. This was the beginning of a bizarre year for Moss.
After being sent packing by the Patriots, Moss signed with the Tennessee Titans. After eight games and only six receptions, they also released him.
Moss returned to the Minnesota Vikings, where he began his career back in 1998. In his four games with the Vikings in 2010, Moss did not distinguish himself on the field and was let go following the season.
Moss ended 2010 with only 28 catches for 393 yards. There were questions about his attitude and even his desire to play football.
Even in some of Moss' best years, he was accused of taking plays off and not playing hard on every down. This is something that Jim Harbaugh must be very wary of, as it would create a rift among the players.
2011 did nothing to quell the concerns about Moss' desire to play, as he sat out the entire year. If Moss does not maintain a positive attitude and show a passion for playing the game, he will not be welcome in San Francisco.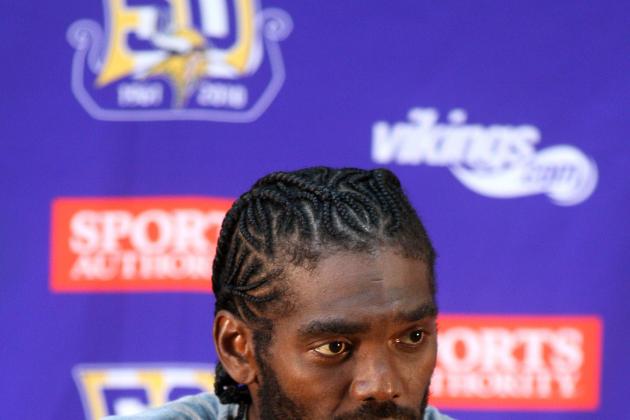 Adam Bettcher/Getty Images
Can Randy Moss Resurrect His Career?
When Randy Moss met with Jim Harbaugh and Trent Baalke, he was able to convince them that he truly wanted to play football and resurrect his career. Perhaps sitting out 2011 made him realize how blessed he is to have the skills he has and he really missed playing.
Harbaugh and the 49ers are banking on Moss consistently maintaining that burning desire to play and to make a positive impact for the 49ers. Moss has to realize that this is probably his last real chance, and he has an opportunity to play for a winner in 2012.
If this doesn't light a fire under him, nothing will.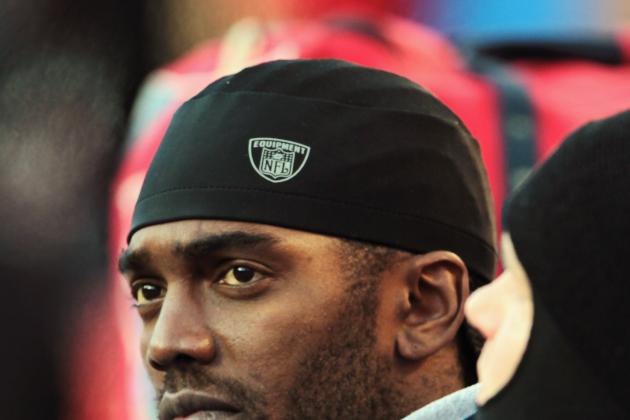 Jamie Squire/Getty Images
Randy Moss is 35 years old heading into the 2012 season
Randy Moss is 35 years of age and relies on his speed and leaping ability to get open and catch passes. However, at this age, does he still have enough athleticism to get down the field and make big plays?
In addition, after sitting out all of last year, will Moss' body hold up under the physical strain of an NFL season?
These are lingering questions that will only be answered by how well Moss does on the field.
If Moss' head is in the right place and he still has the physical tools to be a force on the field, the 49ers have made a great investment.
However, if Moss has lost his ability to make big plays and be a difference maker, is he worth the risk to the team chemistry the 49ers relied on in 2011?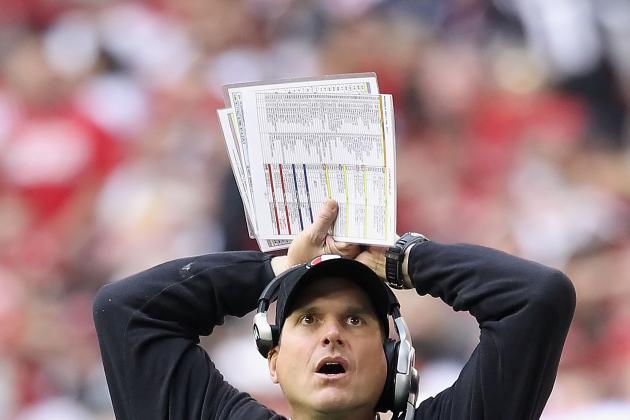 Christian Petersen/Getty Images
Head coach Jim Harbaugh believes in Randy Moss
The San Francisco 49ers were able to land Randy Moss with a rather low contract commitment. Moss will have a base salary in the $2.5 million range, with roughly $1.5 million more in incentives. In addition, if the 49ers cut Moss before the season, they owe him nothing.
This type of contract gives the 49ers virtually nothing to lose and everything to gain. If Moss reaches his incentives, that means he is playing well and a dynamic and positive weapon in the 49ers' offense. The 49ers will gladly pay him, if this occurs.
On the other hand, if Moss is unable to produce or becomes a negative distraction, the 49ers will get rid of him, much like they did with Braylon Edwards in 2011.
The 49ers hoped Edwards could come in and provide production in the passing game, especially in the red zone. Injuries caused Edwards to miss several games and when he returned, he was unable to stay healthy and produce.
His production dropped, so he saw less playing time. My best guess is that he apparently started complaining, which is not something head coach Jim Harbaugh will tolerate. Edwards was released with only one game left in the regular season.
If Randy Moss becomes a similar distraction, Harbaugh will not hesitate to cut him. He has proven that he has no qualms about weeding out any bad apples.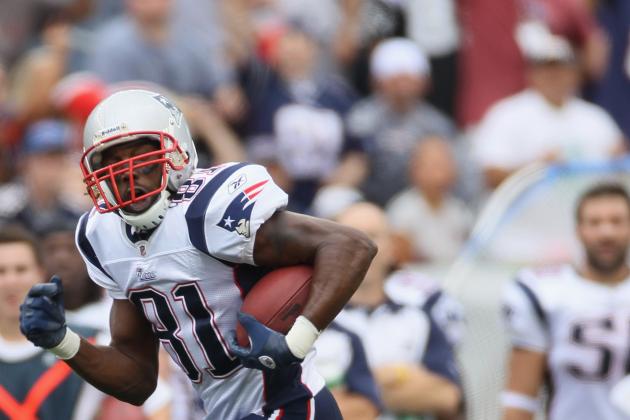 Elsa/Getty Images
Randy Moss in the good times with New England
Alex Smith has shown a propensity to check down quickly on his throws. He also is not the most accurate passer on deep balls and often missed open receivers deep down the field.
If he does this with Randy Moss, how much of it will Moss take before he starts sulking?
Moss, even in his good years, has periodically sulked and let it be known how unhappy he was when he was not getting the ball. If Moss is a bad influence on a young player like Michael Crabtree, that would be detrimental to the 49ers' overall success, not only in 2012, but for as long as Crabtree remains a 49er.
It will be up to Smith, Harbaugh and Moss to be on the same page, especially when things do not go well. Moss' history is that when things go south, he does too, which cannot happen in San Francisco, if the 49ers hope to take the next step to the Super Bowl.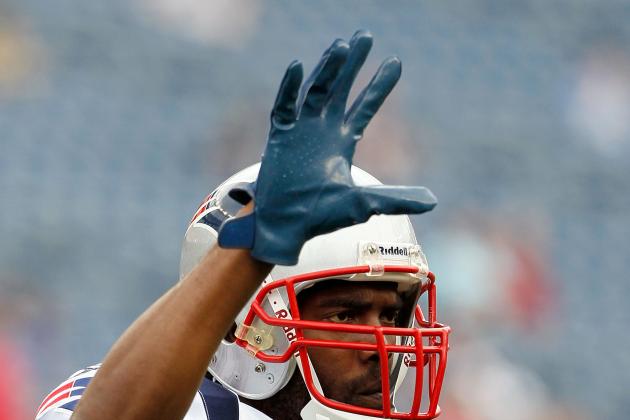 Jim Rogash/Getty Images
The 49ers are rolling the dice, hopefully they don't crap-out
The bottom line with the Randy Moss acquisition is that, I believe, he is worth the risk. If he has anything left in the tank and can keep a positive focus, he will be an excellent addition to the 49ers' receiving corps.
It has been said by many of Moss' former teammates that he is a good locker-room presence. Where he has gotten in trouble is with the media and sometimes feuding with coaches.
The 49ers have big upside potential with Randy Moss. Hopefully, he has matured enough as a professional to appreciate this opportunity and give it everything he has on a consistent basis.
If not, and Moss becomes a negative distraction to the team, Jim Harbaugh will simply cut his losses and get rid of him. Harbaugh proved he has no problem doing that, as the Braylon Edwards situation exemplifies.
Because the 49ers are paying Moss on a heavily incentive-based contract, in reality, there is minimal risk. This is as close to a win-win situation that Moss and the 49ers could ask for.