NFL Free Agency 2012: 7 Worst Cleveland Browns Signings Since 1999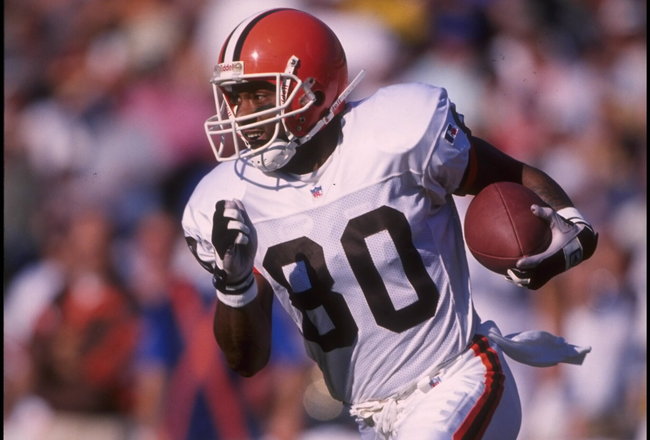 Andre Rison: a beacon of troubles ahead.
Jed Jacobsohn/Getty Images
"Reputation is an idle and most false imposition; oft got without merit, and lost without deserving."-Iago, Othello

While Cleveland Browns fans express reactions ranging from approval to mild frustration to utter disgust at the organization's "toesies first" approach to the free-agency market, these seven acquisitions remind fans of the risks an organization runs when they adopt a cavalier attitude toward signing established stars.

The tale of Andre Rison in 1995 foreshadowed the Browns' coming futility, as the team pursued the most expensive wide receiver of all time and proceeded to declare relocation to ease financial burdens that fall.

Rison signed a five-year, $17 million deal with $5 million in guarantees. Rison espoused his gratitude for a franchise making him "finally feel appreciated," with a 1995 season consisting of a mere 47 receptions, 701 yards and three touchdowns.

Some of these signings failed as a result of circumstances like injury and organizational futility.
But the reality is before this free-agency period the Browns had signed 81 free agents since 1999, and one has made it to the Pro Bowl: Jamir Miller in 2001.

You can follow me on Twitter: @StepanekButton
LeCharles Bentley, Center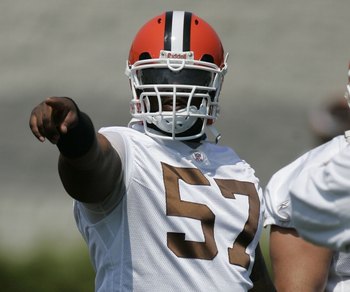 LeCharles Bentley: the personification of post-1999 frustration.
Gregory Shamus/Getty Images
2005: six years, $36 million

To call this one of the "worst" really translates better into "most heartbreaking." The case of LeCharles Bentley may prove the single most frustrating episode in contemporary Browns history—free agent, draft, coaching or otherwise.

At age 26 out of Ohio State with Pro Bowls and All-Pro on his resume, fortunate son LeCharles Bentley took the first opportunity available to join his beloved Cleveland Browns in 2005. The Browns correctly invested heavily in the proven talent with enormous upside and leadership potential.

Bentley tore his patella tendon on the first play of 11-on-11 "shells" and practice. Things only deteriorated from there.

A consummate "good guy" off the field, Bentley suffered a fate Browns fans wouldn't wish on Ray Lewis or James Harrison. He nearly lost his leg to amputation as a result of multiple staph infections.

The Browns reasonably thought that perhaps in acquiring Bentley, they found someone to help them win games, they had solved their problems on the offensive line and they had established the first legitimate face of the franchise.

Instead, the Browns lost many more games and Bentley nearly lost his leg.
Leslie Shepherd, Wide Receiver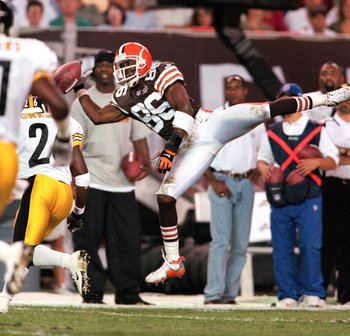 At least Leslie Shepherd played out his contract.
Tom Pidgeon/Getty Images
1999: one year, $1.5 million

Leslie Shepherd enjoyed his best season with the Washington Redskins in 1998. When the Browns acquired the 30-year-old receiver in 1999, they thought they'd uncovered a hidden gem.

Tight end Irv Smith nearly out-Shepherded Shepherd in terms of yardage, as the slot man caught only 23 passes for 274 yards and 0 TD's.

By 2002, Shepherd was out of football after a seven-year career.
Donte' Stallworth, Wide Receiver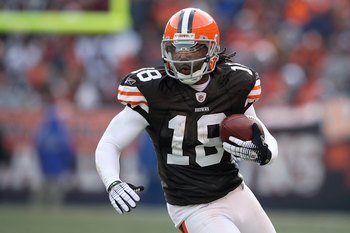 Donte' Stallworth: where to begin?
Andy Lyons/Getty Images
2008: seven years, $35 million
Stallworth played one injury-plagued season in Cleveland before establishing himself as perhaps the most bizarre and tragic of the Cleveland Browns' free-agency mishaps.

As football fans and civilians alike remember, Stallworth struck and killed a 59-year-old Florida resident in the spring of 2009. Demonstrating maturity perhaps only attainable through such a life-altering experience, Stallworth admitted guilt rather than fighting charges of a DUI/manslaughter, according to Yahoo.com.
Stallworth's critics abound and rightly so, but after the fact I'm not sure what more society could expect of someone who made a mistake.

Stallworth never played another game in a Browns uniform and has since returned to the NFL. But he never returned to the form that earned him his big-money contract with the Browns in 2008.
Gary Baxter, Cornerback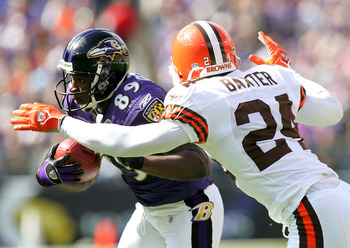 Baxter: another victim of the Browns' free agency curse.
Jamie Squire/Getty Images
2005: six years, $30 million
Like Bentley, Gary Baxter also qualifies as one of those "had the right idea there" kind of misfortunes. Also like Bentley, a patella tendon injury cost Gary Baxter his career. Unlike LeCharles Bentley, Baxter managed to tear both tendons on one play, an injury which hadn't occurred in the NFL for over a decade.

Like Bentley, Baxter was 26 years old and projected to develop into a perennial Pro Bowler.
Jeff Garcia, Quarterback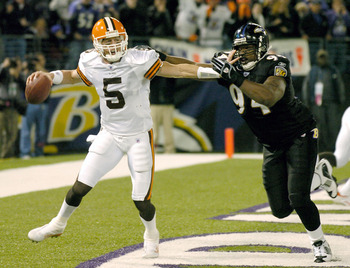 Jeff Garcia played only 11 games after signing a four-year deal.
Nick Wass/Getty Images
2004: four years, $25 million

The Browns attempted to shortcut their way to quarterbacking legitimacy in 2004 when they signed Jeff Garcia to a lucrative contract to lure him away from San Francisco, where he had established himself as a fan favorite.

Garcia criticized Butch Davis' offense from the beginning of the preseason and by the end of the year, Garcia was whining to California papers about what a lousy place Cleveland was. Serves the Browns right for signing a 33-year-old quarterback with two playoff appearances after a drop-off season to a $25 million dollar contract.

Butch Davis didn't last the season and the Browns didn't learn their lesson.
Jake Delhomme, Quarterback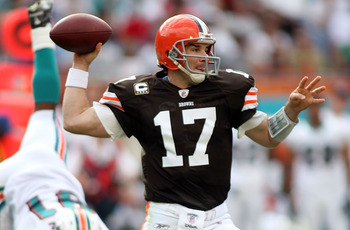 Jake Delhomme: about a half-decade too late.
Marc Serota/Getty Images
2009: two years, $7 million guaranteed
Jake Delhomme never really recovered from his five-interception performance against the Arizona Cardinals in the NFC Divisional round back in 2008-09.
When Eric Mangini signed Delhomme in hopes of finding the right veteran quarterback to provide stability and leadership on the Browns offense, Delhomme figured to be a safe bet with a Super Bowl appearance and a Pro Bowl season under his belt. But at 35, Delhomme's body could ill afford the taxing assignment of standing and firing behind a Cleveland Browns offensive line.
Delhomme lasted four games as the starter.
Ross Verba, Offensive Line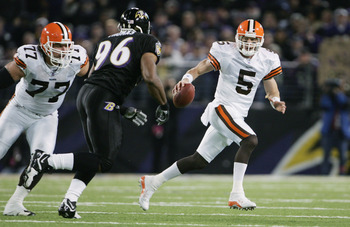 About right: a defender between Verba and the hapless QB.
Doug Pensinger/Getty Images
2001: four years, $16 million

Bentley wasn't the only time the Browns tried to play "build a team legitimately" and fell short of the mark.
In a mistake the Browns found themselves doomed to repeat throughout the last decade, the front office confused the legitimacy of the late-1990's Green Bay Packers with Ross Verba's personal value as a player.
The Browns played several different quarterbacks during Verba's four-season tenure with the team, and he under-protected each new signal-caller with the same "Unworthy of the Detroit Lions" kind of sloth Verba made his calling card in Cleveland.
Keep Reading

Cleveland Browns: Like this team?