Oakland Raiders New-Look Defense Will Prove Difficult for Peyton Manning
March 21, 2012

Justin Sullivan/Getty Images
One may look at the title and see a joke, it sure could pass as one. How could the Oakland Raiders do any damage to the magical aura of Peyton Manning? The four-time league MVP and a world champion? With the flimsy excuse for a defense last year, Peyton should be safe from the men in Silver and Black, right?
Wrong.
In the 2010 NFL season, the Oakland Raiders defense managed to put on a clinic on how to sack the quarterback. The Raiders put up a massive number of 47, which was tied for second in the league with the Green Bay Packers and San Diego Chargers.
Last season, the sack numbers were not that impressive. They had 39 sacks on the season but ranked 15th in the NFL. Richard Seymour had a quite season early on racking up numbers, but things just stopped as the injury bug made its yearly visit to slow everything down. Additionally, there was a second factor in Chuck Bresnahan.
The lack of blitzing is one thing, but his terrible play-calling in crunch time is another. Who calls a Cover 2 against the Detroit Lions with Rolando McClain playing the middle and a Mike Mitchell wanna-be Jerome Boyd, a practice squad player of all people over Megatron? Chuck Bresnahan does, and that's why he's going to end up coaching in the UFL again as a "water consultant." It's all he's good for.
Aside of Bresnahan, there was a definite drop in the defensive quality of playmakers, making everything difficult. Yes, the 2011-12 Oakland Raider defense did not play as a unit and did not play smart. Breaking the single-season penalty yard record showed that, but the numbers never lie.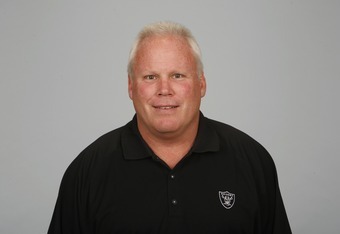 Handout/Getty Images
Thankfully though, Chuck Bresnahan's contract was NOT renewed for the 2012-13 NFL season, which puts an end to ONE of the bad factors that plagued the Raiders defense. Instead, new head coach Dennis Allen, a defensive-minded man, decided to bring in another defensive-minded fellow for the job by the name of Jason Tarver.
Despite having the "defensive coordinator" label for a short while, Tarver has been around NFL defenses in the past, more importantly as the San Francisco 49ers' linebackers coach. Allen though, has a scheme in mind which he will no doubt pass onto the team and have Tarver dictate, which should amount to a better showing.
The Denver Broncos defense has been bad over the course of the decade. Last year however, they showed signs of resurgence. A duo named "Von Doom," which consisted of [then] rookie Von Miller and defensive-end Elvis Dumervil, managed to link together 20 sacks, which is amazing for two players!
Von Miller was definitely worth the first-round draft selection, but there is no denying that Miller is a liability in pass coverage. Due to Miller's quick step, he can wreck havoc off of the snap from the outside and do damage, especially when a left tackle has Dumervil to account for. The defensive coordinator for the Broncos, Dennis Allen said he understood how to properly utilize Von Miller, and it worked.
Welcome to the Raiders, coach Allen!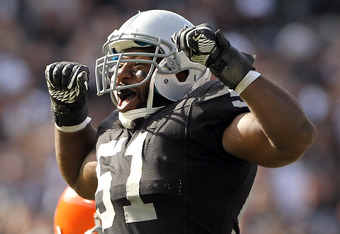 Ezra Shaw/Getty Images
The Raiders defense is made up of explosive athletes, which moves directly into Al Davis' last gift to the Oakland Raiders—Aaron Curry. Coming out of Wake Forest, Curry had all the tools scouts thought would make him a first ballot Hall of Famer.
Unfortunately, due to conflicts, he never amounted to anything in Seattle as a Seahawk. In Oakland however? Dennis Allen will want to hide Curry's flaws and utilize his strengths, which is that of a genetic freak with exceptional aggressiveness and a thunderous hit stick.
Curry may not be able to play the ball in coverage as good as Rolando McClain, or be as formidable as a pass rusher as ex-Raider Kamerion Wimbley, but Curry CAN (theoretically) do those things.
Peyton Manning will join the AFC West as a Denver Bronco in 2012 and will have to face a revamped Oakland Raider defense. At the moment, the scheme the Raiders will be running is still up in the air, but nonetheless, with two brand new cornerbacks in Ron Bartell and Shawntae Spencer, the Oakland cornerback position has been instantly upgraded on both sides. To stop the Broncos, the Raiders do not have to worry about Tebow's spread-option, rather, Manning torching them through the air.
Not this time.
Richard Seymour and Tommy Kelly will both be looked at to cause havoc. Seymour and Kelly, when healthy, are two very disruptive forces lining up as defensive and nose tackles (in a 4-3 defense) which will allow fourth-year stud Matt Shaughnessy and second-year defender Lamarr Houston to work the outsides as defensive ends.
Throw in Aaron Curry's ability off the edge, Rolando McClain's knack for playing the pass (and ability to NOT bite on play-actions) and what you get on paper is a defense  that is definitely something to look at.
In the back-field, Tyvon Branch has made a name for himself as a sure tackler who takes good angles, as well as being a ferocious hitter in his own right. Michael Huff will rejoin the Oakland Raiders with a newly restructured deal, leading both newcomers Shawntae Spencer and ex-Ram starter Ron Bartell to capitalize on mistakes created by offenses by the disruptive front seven.
Anyone who says Peyton "has it made" in Denver is a stone-faced liar. Manning is walking into an inconsistent-yet-deadly pass rushing division. The Raiders are no exception to that rule. Last year the Broncos gave up 46 sacks and 68 QB hits; how will it change with the simple addition of a Jeff Saturday?
Ryan Clady, Denver's left tackle, has taken a few steps back since his All-Pro campaign in 2009. He will be tasked to protect Peyton's blindside which is vital to the Broncos' success. A hurt Peyton Manning cannot land them in the post-season. Clady will have to stop the likes of Shaughnessy and whoever will replaces Kamerion Wimbley.
Unlike Tim Tebow, Peyton Manning is not a hero and will not look to extend a play on the ground with his legs. The spread option is going right out the window and definitely removed from Fox's offensive playbook, meaning that the Raiders will have to scheme to stop the areal attack. McGahee did nothing in the first game and half of the second. T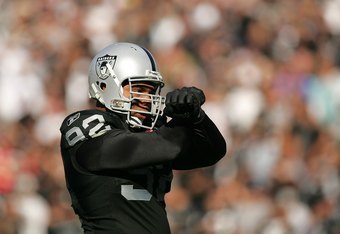 Ezra Shaw/Getty Images
he Raiders locked both he and Knowshon Moreno down until the spread option begun to tear the defense apart. Those days are over. Many question Manning's ability to deliver the deep ball after the four neck operations. With a decent running game, can Manning REALLY beat the Raiders two times a year?
All and all, Manning is walking into a division that the Broncos only won, as many fans would argue, because Darren McFadden got hurt. One could also argue that Jamaal Charles, Tony Moeaki and Eric Berry's injuries also stuffed the Chiefs' playoff hopes, but nonetheless, the Broncos won the AFC West.
Yes Bronco fans, bask in the triumph.
But also Bronco fans, Peyton Manning is looked at with a lot of eager eyes that want and expect instant success. There is zero room for failure with Manning in Denver, but before he can earn that he must beat the newly revamped Oakland Raiders, an Oakland Raiders team with explosive playmakers that head coach Dennis Allen will utilize properly, just like he did a year ago while waving the blue and orange banner in Mile High.
Players the likes of Oakland's disruptive defensive line which will see Shaughnessy back in the lineup. A defensive line that houses Richard Seymour and Tommy Kelly simultaneously. A defensive line that analysts argued was one of the best in the NFL! Don't forget that little tidbit Peyton, it may just come back to haunt you during division games!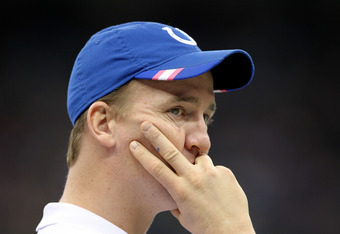 Jamie Squire/Getty Images
Another reminder is that Dennis Allen was the secondary coach in New Orleans when Tracy Porter had a pick six for 74 yards that sealed Super Bowl XLIV shut. The possibility that Allen could once again coach Tracy Porter is currently on the table, and Peyton Manning will never forget that interception.
It's one that will haunt him incessantly, and one that he wishes he could take back. With the likes of newly added Ron Bartell and Shawntae Spencer who each (respectively as a Ram and 49er) played against the top WR in the NFL, Larry Fitzgerald, the likes of playing young and inexperienced wideouts like Eric Decker and Demaryius Thomas will not be that much of a task.
So, to those that believe Peyton Manning will step into the AFC West and beat the Oakland Raiders down, don't hold your breath. When Peyton has had his weapons in Indianapolis as a Colt, he barely beat the Raiders two seasons ago, and this time? He's with a bunch of new faces in a new stadium, with a new mentality after his string of neck operations.
Survive, Survive, Survive.
He does have a decent record all-time versus the Raiders, 3-2, throwing for a little over 1,200 yards, 12 touchdowns and eight interceptions, but that was as a Colt. Now he has to face the Raiders twice a year wearing blue and orange, which just so happens to a natural enemy of any player suiting up in Silver and Black.
Manning will interject himself into one of the most bitter rivalries in the NFL in 2012, against a defense that may play inconsistent but WILL be disciplined under a new regime, which just makes them much more dangerous than one could imagine.
Good luck Mister Manning, you will need it.