Tim Tebow Trade Rumors: 3 Teams Where Tebow Would Thrive
March 19, 2012

Al Bello/Getty Images
Prized free-agent quarterback Peyton Manning is set to become the most important horseshoe on the Denver Broncos. According to the Denver Post, the 35-year-old's contract will most likely be in the five-year, $90 million range.
With Denver finding their star, one man is the odd man out. That man is the miracle man Tim Tebow.
According to CBSSports.com writer Mike Freeman, the Broncos intend to trade Tebow. Now the question is, where is the best place for Tebow to go?
Jacksonville Jaguars
The first team that comes to mind is the Jacksonville Jaguars. Last season the Jaguars struggled on offense, especially when it came to throwing the pigskin. The Jaguars had an NFL worst passing yards per game average of 136.2 yards. First-round draft pick Blaine Gabbert looked nothing like the quarterback he was hailed to be by NFL scouts. Gabbert threw for 2,214 yards and had 12 touchdowns along with 11 picks.
The Jags have signed often-injured quarterback Chad Henne, but Henne is frail and makes questionable decisions with the ball. Tebow would be a dangerous asset to the Jags offense. With an ability to scramble and pump up his teammates, Tebow will certainly help the lowly Jaguars become a threat in the AFC South.
Another thing to keep in mind is that the Jacksonville Jags have been the subject of relocating the franchise. The Jags need something that will get fans excited and want to go to Jaguars' games. Tebow wearing the teal and black can bring back memories of another lefty scrambler during the Jags' glory days...Mark Brunell.
New England Patriots
Another team that fits the bill is the New England Patriots. Hear me out. Tim Tebow is still a developing quarterback. Imagine if Tebow learns from Tom Brady for a few years. Tebow can very well be an elite quarterback.
Tebow was drafted by New England's offensive coordinator, former Broncos head coach Josh McDaniels. McDaniels is a young, vibrant coach who can teach Tebow how to become an elite quarterback. The former Heisman Trophy winner can benefit from the experience the Patriots offer.
Tebow would also reunite with former Gator tight end Aaron Hernandez and former teammate Brandon Lloyd. I'm not saying Tebow shouldn't play at all and just learn, but maybe take 10 to 15 snaps per game. I'm sure Patriot fans would rather have Tebow as a backup rather than Ryan Mallett.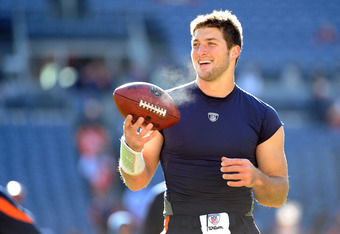 Garrett Ellwood/Getty Images
San Francisco 49ers
The last team that would be a fit for Tebow would be the San Francisco 49ers. Coach Jim Harbaugh played in the NFL as a quarterback from 1987 through 2000. Harbaugh compiled a career 26,288 yards with 129 touchdowns and 117 interceptions.
After his playing days, Harbaugh went on to become the quarterbacks coach for the Oakland Raiders for the 2002-03 season. After helping Rich Gannon achieve an AFC championship, Harbaugh became the head coach of the University of San Diego, where he compiled a coaching record of 29-6. Harbaugh left USD to turn around the football program at Stanford University and then left Stanford for the 49ers head-coaching gig. Harbaugh rejuvenated the career of Alex Smith and brought back the winning trend of the 49ers after an eight-year playoff drought.
If anybody can make Tebow an NFL quarterback, it's Harbaugh. If the 49ers want to make a serious run through the 2012-13 playoffs, they need a quarterback with upside. Tebow in the scarlet and gold jersey can resemble another lefty scrambling quarterback who won a Super Bowl—a guy by the name of Steve Young.
No matter what, Tebow is going to be a project and a publicity stunt. If Tebow gets dealt to one of these three teams, he can become a solid starter to elite quarterback. Tebow is a talent who needs a little molding, but with the right coaches and right supporting cast, Tebow can win a Super Bowl.