WWE Raw Preview: The Rock and Cena in Philadelphia En Route to Wrestlemania
March 19, 2012

WWE Monday Night Raw is live tonight at the Wells Fargo Center in Philadelphia, PA.
It's the first of only two more Raw shows until the grand spectacle known as Wrestlemania 28 in Miami on April 1.
John Cena, who will be facing The Rock in one of the biggest matches of all-time, wasn't injured earlier today in a car accident, and has been cleared to appear and compete on Raw tonight as normal.
Cena was traveling on a freeway in Philadelphia when he was rear ended by a tractor trailer.
Cena is set to face the world's strongest man Mark Henry in singles action.
The Rock, who has been on a #TeamBringIt tour as of late, is in Philadelphia and will be on hand for this week's Raw according to his Twitter account.
The surprise The Rock is talking about?  It seems obvious to me that we will see The Great One run the same steps his buddy Sly did in the famous Rocky film.
There is no doubt in my mind that I am more pumped about this match than any other wrestling match in history.  
Just as I felt ten years ago during Wrestlemania 18 in Toronto, when The Rock faced Hulk Hogan, I have the same goosebumps thinking about this upcoming match.
In that match, The Rock, and the new attitude in the WWE, defeated the past in Hogan.
Will Cena do the same thing that The Rock did to Hogan?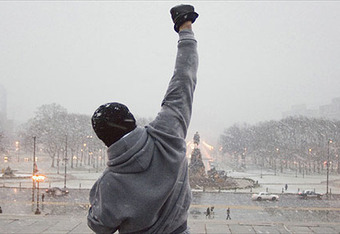 It is hard for one of the main events to overshadow the other in my opinion, and I am just as excited about the Triple H/Undertaker rematch as I am about the John Cena/Rock showdown.
Inside Hell in a Cell, legendary Hall of Famer Shawn Michaels will be the special guest referee for The Undertaker vs. Triple H rematch.
The dying breed will be competing in a match that is highly considered being the end of both Triple H and The Undertaker's career.
Sitting at 19-0 and undefeated on WWE's biggest stage, The Undertaker attempts to fight it out one more time with Triple H.
We haven't seen The Undertaker compete since he faced off with Triple H at Wrestlemania 27 in Atlanta, when he couldn't make it to the backstage area under his own power.
Somehow, The Undertaker managed to get the victory to keep his winning streak alive.
Triple H has come out of retirement after claiming he was done, to prove to The Undertaker that he can end the streak.
Sunday, at a house show in New York, Triple H returned to in-ring action and defeated his opponent with The Undertaker's tombstone piledriver, sending a message to the deadman.
Tonight on Raw, all three men have agreed to appear in the ring at the same time to discuss the upcoming match at Wrestlemania.  
Will Shawn's ego get involved, or will he let his buddy Triple H and nemesis Undertaker settle their differences?
No one has gotten physical yet in the past weeks of Raw, but tonight could be a different story, as we are only 13 days away from Wrestlemania.
Plus, after Chris Jericho got personal last week with CM Punk, how will the current WWE Champion respond?
Will he be in his right mind this week, or in-time for his title defense at WrestleMania?
My odds bet that he will get in Jericho's head tonight, just as Jericho did to him last week.