Peyton Manning to Broncos: Denver Must Go All-In on Mike Wallace
March 20, 2012
Doug Pensinger/Getty Images
Peyton Manning has shifted the landscape of what we know as the NFL by committing his services to the Denver Broncos for the 2012 season.
While the team and Manning's agent work out the numbers, it's time for the Broncos to pull out the big guns.
Denver has to go all-in and sign Pittsburgh Steelers restricted free-agent wide receiver Mike Wallace.
Not only would they be adding a weapon to Manning's arsenal, they would be taking a weapon away from a team that could seriously threaten their title run.
While this is the kind of expensive move that could come back to bite a team later on, the Broncos have made it perfectly clear that they have shifted into a win-now mode. Signing Wallace is a must.
NFL insider Jamison Hensley is reporting about the team he views as most likely to pursue Wallace:
As I speculated earlier this morning, the one team I would watch going after Wallace is the Broncos. They have the cap room ($40 million before the Manning signing), the late first-round pick (25th overall) and the need for a dependable wide receiver.
With Manning now under center, what was an option before just became a necessity. The Broncos need a big-time target for Manning, and there is no better long-term option on the market.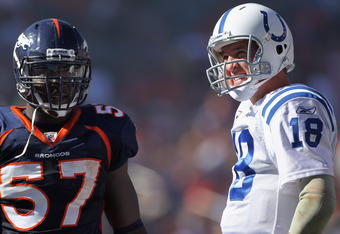 Doug Pensinger/Getty Images
It's true that Denver would have to overpay for the star and give up their first-round pick, but it would be well worth it if it means giving Manning that kind of weapon for the remainder of his career.
The focus is on winning right now in Denver, so there should be no expense that is too steep to pay. The Broncos will have to go through a complete rebuilding time after Manning leaves, but the hope is that there will be a Super Bowl ring or two to ease the pain.
At least that's the idea.
Check back for more on the National Football League as it comes, and check out Bleacher Report's NFL Page to get your fill of all things football.