Peyton Manning to Broncos: Why We Shouldn't Blame Him for Taking Easy Way out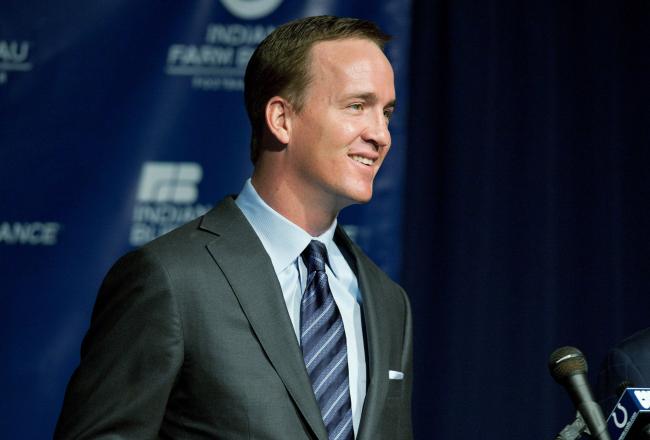 Joey Foley/Getty Images
Peyton Manning didn't want this. The surefire Hall of Famer obviously didn't ask to get hurt and miss an entire season, then get cut by the only professional team he's ever known. Manning handled being jettisoned from the Indianapolis Colts with the utmost class, and he handled his two weeks of free agency much the same way.
Like him or not, Manning is football royalty. If anyone deserves to pick his own way out of the game, it should be Manning. (I don't mean that to say the league, or the Colts for that matter, owes Manning anything. I mean it in more of a cosmic sense of deservedness for all he's done for the game.)
Manning deserves to ride off into the sunset on his terms. That said, Manning is taking the easy way out.
Think about the teams that showed interest in Manning, and look where he is deciding to sign. He could have gone to the Jets, but he would have to share New York City with his brother and play Tom Brady twice every season just to make the playoffs.
Manning could have gone to Miami, but that team is probably the third- or fourth-best team in its division, and he'd still have to face Brady twice a year just to make the playoffs.
Manning likely could have gone to the Texans, which seemed like a perfect fit. That said, there's suddenly a lot of pressure in Houston after winning its division last season. The Texans would clearly look at Manning as the last piece of a Super Bowl puzzle. Plus, Manning would have to face his old Colts team twice a season.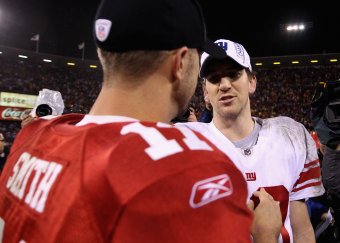 Ezra Shaw/Getty Images
Many predicted Manning would end up with the San Francisco 49ers, a team that was as close to the Super Bowl as any team could get. As well as Alex Smith played last season, he isn't named Manning. Clearly, all the pressure would be put on Peyton's shoulders in San Francisco, and let's not forget the team that beat the 49ers to make the Super Bowl: Eli's Giants.
Peyton stated all along that he didn't want to block Eli's path to the Super Bowl by going to the NFC. Other than the Eagles, Cowboys or Redskins, there's no bigger obstacle for the Giants in the NFC—at least one in need of an upgrade at quarterback—than San Francisco.
With all those other options, Denver was the safe choice. Denver was the easy way out.
Manning can end his career on his terms because John Elway will let him do that. Manning can install his own offense because John Fox has already shown a willingness to do whatever it takes to make the quarterback more productive.
If Fox scrapped months of planning and allowed his offensive staff to rework the play book during the season for Tim Tebow, imagine what they can do with a guy who can actually throw a tight spiral and an entire offseason to work together.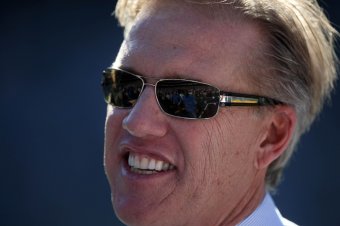 Donald Miralle/Getty Images
Most importantly for Manning, he picked a town that is almost exactly like the one he left. Denver is a Broncos town 365 days a year, but fans aren't nearly as hard on the team as they are in other cities. Could you imagine Manning in Washington or New York? Why would he want that headache?
In Denver, they love their players…especially their quarterbacks (well, maybe not Jay Cutler so much). Manning will be welcomed with arms even more wide open than Tebow has been received. He has no pressure to succeed there because, still, nobody really even knows when he'll be ready to play. Elway, Fox and the Broncos' medical evaluators are taking all the pressure off Manning with this signing.
Elway clearly never felt comfortable with Tebow under center (or in shotgun). All the credit in the world goes to Fox for making the Tebow-led offense work well enough to get to the second round of the playoffs.
Nevertheless, fans had to think there was a small part of Elway that cringed when Tebow threw an 80-yard touchdown pass in overtime to beat Pittsburgh. That pass put Tebow's cult status at an all-time high. Even after laying an absolute egg in the divisional playoff, Elway had very few ways to get out of the Tebow experiment.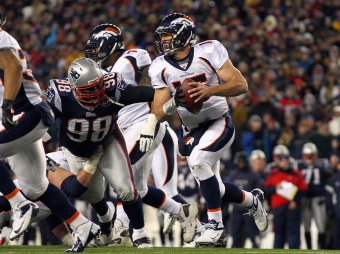 Al Bello/Getty Images
That is, unless a Hall of Fame quarterback wanted to play in his town. Manning was Elway's ideal escape, as no football fan in their right mind would complain about going with one of the 10 greatest quarterbacks of all time over a mildly productive gimmick offense centered around a dynamic NFL running back who sometimes throws.
It's the perfect out for Elway, but he is taking a huge risk by signing Manning. As mediocre as Denver was last season with Tebow, they were the media darlings for two-thirds of the season.
"Tebowmania" swept across the country, so if Manning isn't productive for Denver or proves to be injury-prone in his last few years in the league, he will quickly become Elway's albatross. Strange as it may sound, Elway is assuming all the risk with this move.
Let's be honest, the Broncos only made the playoffs last season because the AFC West was one of the worst divisions in the history of football. We shouldn't assume because the Broncos made the playoffs last year that anyone fancies them as a serious contender in the AFC.
This actually puts lesspressure on Manning, as nobody expects him to get to the Super Bowl with this team, as they would with the 49ers, Texans or Jets.
If Manning can throw, play and maybe even win in Denver, he will end his career in one of the great football cities in America on his terms. With very little pressure, Manning is choosing a place where he'll get to decide when his sun finally sets. Who can blame him for taking the easy way out?
This article is
What is the duplicate article?
Why is this article offensive?
Where is this article plagiarized from?
Why is this article poorly edited?