NBA Rumors: Derek Fisher, Lamar Odom and Jeremy Lin Enraged by Their Teams
March 19, 2012

Stephen Dunn/Getty Images
The NBA trade deadline came and went last week. Some teams—like the Los Angeles Lakers and the Milwaukee Bucks—really improved their chances to contend this season. But left in the aftermath of the trades are three players who are disappointed.
Fisher has spent 13 of his 16 NBA seasons playing for the Los Angeles Lakers, who originally drafted him. Later, Fisher left willingly for the Golden State Warriors following the 2003-2004 season as a free agent.
When he was dealt with a first-round pick to the Houston Rockets on Friday for Jordan Hill, it was not by choice. In fact, it surprised Fisher, who was not expecting to be traded.
Lakers GM Mitch Kupchak has also admitted that he never really gave Fisher or his representatives a heads-up that a deal was in the works:
"He may have caught wind of the rumor a day or two ago, but there was no heads up given...It's not necessary, because a lot of times there's nothing to the rumors. How many times was one of our players traded in the last 10 days and it never took place? So you can't spend your time dispelling or confirming rumors.

"But when something like this does happen, I can imagine what he's going through. I've never really gone through it, but to be in one place, to have the kind of contribution, midseason, it's got to be pretty emotional. We'll talk at the right time."
Fisher has since agreed to a buyout, rather than reporting to Houston. He's expected to sign in the future with a contending team, most likely one of the Thunder, the Clippers, the Bulls, the Heat or the Spurs.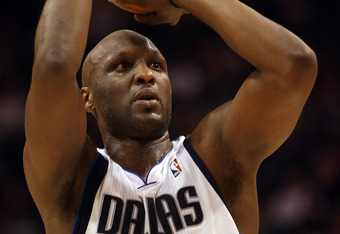 Christian Petersen/Getty Images
After being traded to the Dallas Mavericks in the offseason, Odom is likely still upset. So much so that he asked the Mavericks to buy out his contract last month. But Mavericks owner Mark Cuban and general manager Donnie Nelson refused.
Currently, he's in the middle of the worst season of his career, averaging just 7.2 points per game, 4.4 rebounds and 1.7 assists in 21.2 minutes per game. He's also shooting an atrocious 34.6 percent from the field.
With the trade deadline now behind us and the Mavericks refusing to buy out his contract, Odom is stuck in Dallas for the remainder of the season. It could be worse: Odom is a free agent after the season and, while they have played below expectations so far, the Mavericks have got a chance to right the ship and bring Odom another ring.
Former New York Knicks head coach Mike D'Antoni reportedly wanted the Knicks to trade Carmelo Anthony because Anthony's style of play didn't work well with Jeremy Lin. Knicks owner James Dolan disagreed and D'Antoni was forced to resign.
With D'Antoni out, Mike Woodson has taken over as head coach. Woodson plans on adjusting the Knicks offense so it centers around Carmelo Anthony and Amar'e Stoudemire.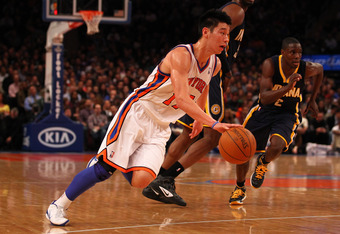 Al Bello/Getty Images
While Woodson keeps Lin as the starter for now, he's made it very clear that he prefers experienced veterans, saying, "I remember playing for a great coach in Red Holzman. He taught me rookies were to sit, listen and learn. He taught me a valuable lesson way back when. I listened and learned a lot as a rookie."
While Lin is no rookie, he's certainly far from an experienced veteran, as he only played in 29 games last season. Due to Lin's relative inexperience and Woodson's preference for veterans, indications are that veterans Baron Davis or Mike Bibby could soon supplant Lin in the rotation.
If that's the case, Lin may wish that Carmelo Anthony was dealt at the deadline. In that scenario, D'Antoni would still be coach and Lin would still be playing in a system that utilizes his strengths. Now' it looks like he might return to the bench and, possibly, to obscurity.