WWE Rumours: Cena to Feud with Laurinaitis/A-Train Post-Wrestlemania?
March 18, 2012

Every man and his dog has now probably heard about the rumoured return of former intercontinental champion Matthew Bloom (Albert, A-Train, Prince Albert).
Whilst Bloom has feverishly denied reports on the official New Japan Pro Wrestling site (the company for which he currently features), as many as four different WWE sources have apparently confirmed a return for the former T&A man shortly after Wrestlemania 28.
According to Daniel Pena of lordsofpain.net:
"Matthew Bloom, who previously wrestled as Prince Albert, Albert and A-Train for WWE, denied on Twitter on Saturday that he has signed a contract to return to the promotion after WrestleMania XXVIII as he will be appearing for New Japan Pro Wrestling on their next tour. He also said that he does not know how the rumor got started, calling it "comical." Regarding the rumor, four WWE sources have said within the past week that he is returning to the organization, with one saying it has been assumed for two months that it was happening. Furthermore, numerous WWE performers were talking about his pending return at Friday's live event in Montreal, Quebec, Canada after being informed by management of the news."
As per usual then, it appears that nobody actually knows what is going on.
The way I see it, this rumour will go one of two ways:
a) The Chris Jericho route—everyone knows it's happening, but the man in question will deny, deny, deny until it eventually happens and everyone is proved right.
b) The Shaq route—everyone thinks they know it's happening, then we wait, then wait some more, then wonder why it hasn't happened yet, then realise it's not happening.
For my money, I'd much rather see scenario A, whereby Albert could make his rumoured return in an enforcer-type role to John Laurinaitis (*SPOILER ALERT*—Who WILL be the undisputed GM after Wrestlemania?)
Pena goes on to say:
"A source close to creative says he is set for "a big push" upon his return to WWE programming in April as a villainous henchman for Raw Interim General Manager and Executive Vice President of Talent Relations John Laurinaitis. F4WOnline.com reported that there has been talk of Bloom feuding with John Cena since the Raw Superstar does not have a post-WrestleMania XXVIII program in place at the moment. However, the note of Bloom possibly feuding with Cena has since been deleted."
Now, I appreciate that this is much speculation; however, it kind of makes sense if you think about it.
Cena is always cast as the guy who has to overcome the odds and fight "the man" (Never Give Up, Rise Above Hate, yadda yadda yadda...), and it's surely time for him to take on the new (potentially) oppressive power in the WWE.
Hey, I'd much rather see the Champ facing off with an established Attitude Era star and a comedy villain (Laurinaitis) than have him randomly thrown back into another WWE title feud.
Plus, the WWE needs another formidable stable.
Recently we have seen fads such as the Nexus and the CORRE disintegrate within the company, but it would be great to see another truly dominant stable, especially if it were to exist at the heart of the company and really impose itself on the WWE Universe (and not involve Vince McMahon).
The only real problem with such a feud would be the predictable eventual outcome, as we all know that anyone named Cena or Orton NEVER loses a feud in the WWE, despite how one-sided it may appear at face value.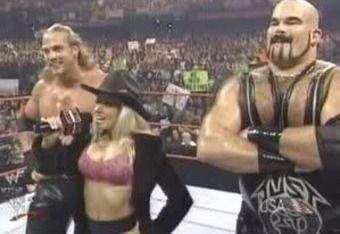 Anyway, I digress.
A return of Bloom at this point is still very much unconfirmed.
Having been released in 2004 whilst out with an injury, it could be questioned as to how much Albert would even want to return to the company where he achieved relatively little success compared to his current role in NJPW.
On the other hand, the WWE is pro wrestling's premier platform, so who wouldn't want to showcase their talents on the grandest stage in the industry if offered the chance?
What do you think? Should A-Train return to the company?
If so, should he act as henchman to Big Johnny to feud with erm…Little Johnny???
Thanks for reading!
Please feel free to leave any thoughts and/or opinions in the comments section below.