NFL Free Agency: Why the Chicago Bears Must Sign Kamerion Wimbley
March 18, 2012

Ezra Shaw/Getty Images
After missing out on Mario Williams and Jeremy Mincey, it is clear that the Chicago Bears are looking for someone who can get to the QB opposite Julius Peppers.
Well on Friday an interesting player hit the free-agent market.
Kamerion Wimbley was released by the Oakland Raiders and he could be the answer to all the Bears' prayers.
Over the years Wimbley hasn't played the Bears many times, but when he has he seemed to enjoy it. In two regular-season games he has seven tackles and two sacks, but who can forget that preseason meeting in 2010 when he sacked Jay Cutler four times?
For his career Wimbley has racked up 369 tackles and 42.5 sacks, with a career high of 11 in his rookie season, over six years. He also is extremely durable, only missing one game for his career.
The biggest question when it comes to Wimbley is if he can play with his hand on the ground?
Even though he played defensive end in college at Florida State, he has been a linebacker during his professional career. At 6'4" and 255 lbs, he might be a little slight but he is only about two inches shorter and 20 lbs lighter than Peppers.
According to Sean Jensen of the Chicago Sun-Times the Bears had around $12.9 million in cap space before they re-signed Israel Idonije and Craig Steltz, which brings us to the next question.
Can the Bears afford him?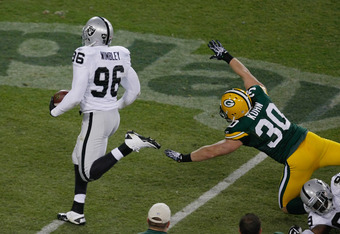 Scott Boehm/Getty Images
Wimbley was going to be due $11 million in 2012 in the second year of a five-year, $48 million contract. So on average he was getting paid just under $10 million a season.
At that price it would be pretty difficult for them to sign him.
Signing him would leave the Bears with very little space to make any other moves and might even require them to restructure a few deals or even release some players. Also he will turn 29 in October, so he isn't as young as some may think.
Even with all that being said I think the Bears must sign him. Bringing back Idonije was a nice move but he is better suited as a third rotational end and in the draft there are never any guarantees.
In Wimbley, you know what you are getting, and by shifting him back to end it might allow him to focus completely on rushing the passer, which could help his sack totals. It is interesting to note that in his rookie year when he recorded 11 sacks, he was playing opposite Willie McGinest.
Imagine what he could do playing opposite Peppers.
Maybe the Bears could offer him a four-year deal worth maybe $32 million and back-load it so his cap hit wouldn't be as big this season. Remember after year three of Peppers' contract, he becomes extremely cheap because his deal was front-loaded and 2012 will be his third season in Chicago.
GM Phil Emery made a big splash on Tuesday by trading for Brandon Marshall and if he wants to make another, he needs to sign Wimbley. Maybe his former teammate Jason Campbell could do some recruiting.
So what do you think folks: would Wimbley be a good fit for the Bears? Sound off below.
Make sure to follow me on Twitter @dachicagofan, and check out my weekly Bears podcast every Monday on my site The MG Experience.