2012 NFL Free Agents: Matt Flynn Remains the Best Fit for the Miami Dolphins
March 17, 2012

Jonathan Daniel/Getty Images
Even with Peyton Manning still on the open market, and with the eighth overall pick in their possession, Matt Flynn remains the best option for the Miami Dolphins going forward.
Flynn has yet to become a regular starter in his NFL career, but he's had the opportunity to be an understudy of Aaron Rodgers and is well equipped to run Joe Philbin's offense—who was his offensive coordinator in Green Bay.
Matt Flynn's name has been rather mum on the free-agent market thus far, and that's mainly because Peyton Manning has dominated all quarterback talk as he decides where he wishes to finish out his illustrious career.
However, that doesn't go without saying that aside from Manning, Flynn is the best quarterback on the market.
In his only start of the season last year, Flynn lit up the stat sheet to the tune of 480 yards and six touchdowns.
The Dolphins have rapidly fallen down Peyton Manning's list of potential destinations and I feel that in the end, that's a good thing for Miami.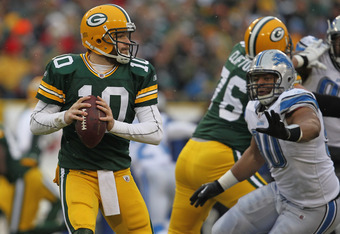 Jonathan Daniel/Getty Images
After trading away wide receiver Brandon Marshall, it's clear that Miami is looking to move forward all together, and Joe Philbin and his staff are looking to do things their way. Philbin is comfortable with Matt Flynn and knows what he can bring to the table. 
As for their draft pick, they're in a tough position.
They aren't in a position to trade into the Robert Griffin III sweepstakes because the Redskins already beat them to the punch, and with such a large drop-off in talent at the quarterback position, taking Ryan Tannehill at No. 8 overall would be an astronomical reach.
Adding a quarterback like Flynn in free agency and using their draft picks to address other team needs such as defensive end or offensive line is the ideal way for the Miami Dolphins to go.
Flynn and head coach Joe Philbin are comfortable with each other, and the Dolphins are looking for a fresh, younger face to lead them into the future.
As good as Peyton Manning is, and will be, the correct direction for the Miami Dolphins includes Matt Flynn under center.