Arizona Cardinals Must Prepare to Mend Fences or Sever Ties with Kevin Kolb
March 16, 2012

Christian Petersen/Getty Images
The clock continues to tick while Peyton Manning continues to deliberate his future, for the Arizona Cardinals, the decision has a clear deadline, 1pm local time.
Though Manning has yet to officially reject the offer from the Arizona Cardinals, as he reportedly has for the Miami Dolphins, indications continue to point towards the fact that Peyton Manning is not likely to be a Cardinal in 2012. Manning doesn't appear ready to rush into a decision yet, but if the Cardinals do not receive positive confirmation within the coming hours, the team will likely rule themselves out. 
One of the first orders of business for the Cardinals management once they have done so is to decide what happens to current Cardinals quarterback Kevin Kolb. The Cardinals offered Kolb a mega, multi-million dollar salary last season, which includes a $7 million roster bonus due later today.
Conventional wisdom had it that if the Cardinals lost out on Manning, keeping Kolb was a no-brainer, but things may not be quite so simple.
The Cardinals organization are one of the most tactful, professional groups in the league, and always refused to show even the slightest amount of concern about Kolb's future, even when his performances were far below-par. They always expressed a confidence that he would improve, and a belief that he was still their QB of the future. 
However, the Cardinals open and very visible courtship of Manning puts paid to that idea. In expressing such a public desire to sign No.18, the Cardinals made one thing abundantly clear. They were not as confident in Kolb as their comments had suggested.
What's worse, the presence of several key players, including star wide receiver Larry Fitzgerald, during the sales pitch to Manning is considered by many to be not only a vote of no confidence by the owners and front office staff, but also by his teammates.
Kolb is a professional, and a $7 million payday will certainly help smooth things over, should the Cardinals keep him around in 2012. But while it is a relatively easy for the Cardinals GM Rod Graves and president Michael Bidwell to hold up their hands and say "Hey, it was just business," it's a much tougher pill to swallow when your head coach, Ken Whisenhunt was acting as chauffeur, and number one receiver Larry Fitzgerald risked missing a flight to Australia on vacation, to meet with Manning.
While it might be all business to the front office staff, when it involves your head coach and teammates, plural (receiver Andre Roberts was also reported to be on site during Manning's visit to the desert), it's hard not to take it a little personally.
If Kolb stays, as many suspect that he will, then the Cardinals organisation, will have a lot of sucking up to do before the start of the season, which means the chances of restructuring his contract—a must, if the Cardinals hope to make any big splashes in what remains of free agency—shrinks greatly. 
Therefore, while Kolb doesn't really seem like the type to unnecessarily cause problems—he's been in this situation on multiple occasions before, while in Philadelphia—should the Cardinals have reason to believe that his presence is becoming a distraction, or that they simply don't believe he has what it takes to get the job done, they may still chose to sever ties with him before his roster bonus is due.  
Manning's possible signing with the Titans means that Matt Hasselbeck may once again be on the market. Hasselbeck was rumored to be a potential target for the Cardinals in 2011, before the team decided on Kolb. The former Seahawks QB knows the NFC West well, and may be grateful for the chance to return to his old stomping grounds and reassert his dominance.
If the Cardinals courtship of Manning was truly a sign of their conviction that Kolb is no longer a viable QB1 in Arizona, then Hasselbeck, who should be both affordable and who's services should be relatively uncontested, may be a better option for the Cardinals, going forward.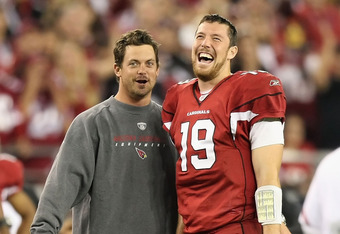 Christian Petersen/Getty Images
If Manning indicates that there is still a possibility of his signing with the Cardinals, but not before Kolb's bonus is due, the team may still choose to risk cutting Kolb and hoping for the best. The fact that Manning has not yet officially ruled out the Cardinals, in spite of doing the same for the Dolphins, who do not have such serious time constraints could, in fact, be a sign that Manning is closer to joining the Arizona team than most expect.
While cutting Kolb would certainly be a risk, some have argued that some have argued—myself included—that John Skelton, not Kevin Kolb should be given the starters job in the absence of anyone better.
Though the default position of most, is that the Cardinals paid too much for Kolb already to give up on him after just one season, $8.5 million (his 2012 contract, including roster bonus) is not chump change, if Skelton ultimately wins out, and a cash strapped Cardinals team could put the money to great use, as they continue to meet with free agents.
Whatever Manning chooses, I, for one, am not certain that Kolb is getting paid today.