Miami Heat: Still the Team to Beat in NBA Eastern Conference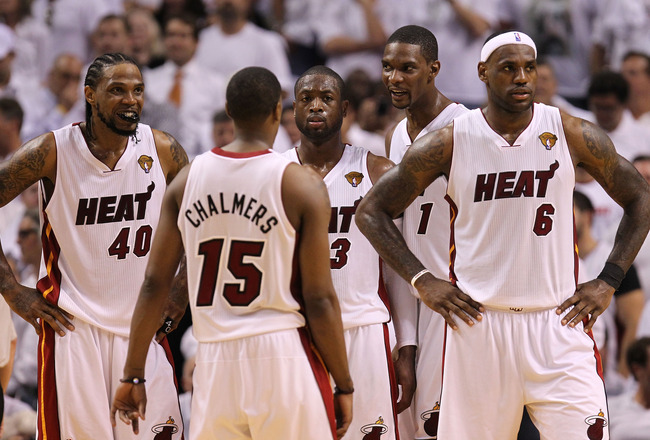 Miami Heat starters from last year's 2011 NBA Finals loss to Dallas Mavericks.
Ronald Martinez/Getty Images
Following last June's surprise ending to a season so rich in expectation, the Miami Heat started the strike-shortened 2011-2012 NBA campaign as a different team.
The frenzied media coverage following the team's unprecedented 2010 free-agent signings of three of the league's best players quietly dissipated like the morning tide on South Beach.
The brimming confidence emanating from the lips of its star players has been replaced with a guarded optimism articulated with measured words.
The tall, lean, athletic lineup of last year's Heat has been shrewdly upgraded to a slightly taller, leaner and more athletic lineup for this year's reigning Eastern Conference NBA Champion.
The smug satisfaction of other NBA teams as they witnessed the more ballyhooed Heat fall to the Dallas Mavericks in last year's NBA Finals has unquestionably motivated them.
Expect the Miami Heat to return to the 2012 NBA Finals in spite of formidable competition from other Eastern Conference foes.
Chicago Bulls: Top Team in NBA Eastern Conference...For Now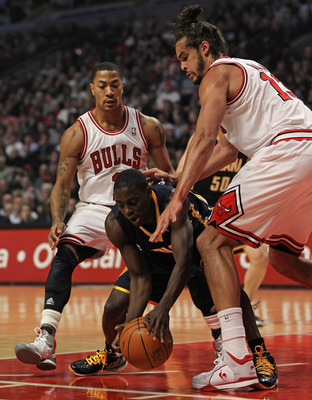 Chicago Bulls' athleticism, disciplined half-court offense and smothering defense have contributed to their success so far this year.
Jonathan Daniel/Getty Images
Certain to face the Miami Heat again in this year's Eastern Conference Finals, the Chicago Bulls have displayed an edge—especially defensively—all year.
Currently holding the best record in the Eastern Conference, the Bulls started the season quickly and have maintained the same rugged pace in spite of injuries to last year's NBA MVP Derrick Rose, two-time NBA Champion and starting shooting guard Richard Hamilton and first-time NBA All-Star and starting small forward Luol Deng.
Except for Hamilton, the Bulls return the same nucleus from last year's team that won 62 games and fell to the Heat in five games in the third round of the playoffs.
The Bulls may not be able to compete in open court with the Heat, but their more disciplined half-court sets and excellent passing out of the post from Joakim Noah may prove to be what's necessary in besting Miami this year.
Orlando Magic: Destined to Be a Bridesmaid
Unlikely that Dwight Howard returns anytime soon to an NBA Finals.
Sam Greenwood/Getty Images
There seems to be magic dust wafting through the air in Orlando this week.
Not only has reigning NBA Defensive Player of the Year Dwight Howard chosen to stay with the Magic through the end of next season, but Orlando defeated its three top Eastern Conference rivals—Miami Heat, Indiana Pacers and Chicago Bulls—all in a three-game span.
Holding the third-best record in the Eastern Conference, Orlando seems poised to make a solid run deeper in the playoffs this year.
However, Orlando is a very good NBA team, not a great one.
Orlando relies too heavily on three-pointers and struggles defensively at times with slower-footed forwards Hedo Turkoglu and Ryan Anderson, as well as the aging Jason Richardson at off-guard and oft-criticized Jameer Nelson at the point.
The Magic boast Howard, the game's top 20-20 man and preeminent shot blocker. However, most NBA insiders agree that despite his massive shoulders, Howard alone cannot carry the Magic past the Heat or the Bulls in an NBA playoff series, even though they recently defeated both teams.
Plus, put the ball in Howard's hands on the free-throw line during crunch time and rain will instantly appear to wash away any magic dust—or for that matter, any opportunity for Orlando to win the Eastern Conference Championship this spring.
Boston Celtics: Past Their Prime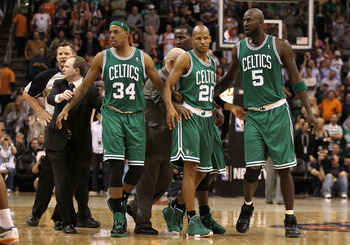 The Celtics' Paul Pierce, Ray Allen and Kevin Garnett are doubtful to make another run deep into the NBA Playoffs.
Christian Petersen/Getty Images
These guys were once prized players on the parquet floor in Boston.
Feared and hated by Eastern Conference foes, Paul Pierce, Ray Allen and Kevin Garnett are still admired and respected. However, the whispering around the league is that The Big Three have seen their better days and any deep run into the playoffs is not at all anticipated.
Certainly on any given night, Allen and Pierce can get it going. Plus, KG can be the defensive stopper we've always known him to be. Add a much younger Rajon Rondo, who can defend, dish and inexplicably dominate on the boards as a 6'1'' point guard, and the fans will rise to their feet in the Fleet Center.
Pierce, Allen and Garnett may be able to dramatically rise to the occasion once or twice during a series against the Bulls, Magic or Heat, but, at their age, never the four times it would take to advance to the next round.
The Celtics may be the sentimental favorites in this year's Eastern Conference playoff race, but count on the Celtics to be watching the Bulls and Heat to square off again for another series.
Indiana Pacers: Under the Radar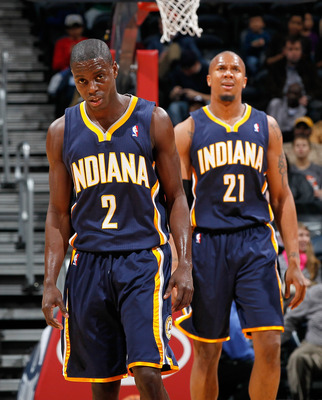 The Pacers have been the Eastern Conference's most pleasant surprise this year.
Kevin C. Cox/Getty Images
Just call them the anti-Heat or anti-Bulls.
No South Beach schmaltz or sizzle. No Windy City pomp or paparazzi.
Just a group of under-the-radar guys who can play...very well together. Perhaps the surprise of the 2011-2012 NBA season, the Indiana Pacers have posted the East's fourth-best record and have instilled caution into any opposing team that would take them lightly.
Danny Granger is a star who can score. First-time All-Star Roy Hibbert is a load down low with a slow, but impressive post game. Darren Collison is a jet who creates havoc in the open court. Surprise offseason pickup David West has brought strength and leadership to this young team, in addition to his ability to score.
Watch for the Pacers to get past a first-round matchup with the Sixers or Celtics, but then subsequently fall to the Heat or Bulls in the conference semis.
My favorite as an underdog pick, but I don't believe the Pacers will be hunting after the first round.
Philadelphia Sixers: A Player or Two and a Year or Two Away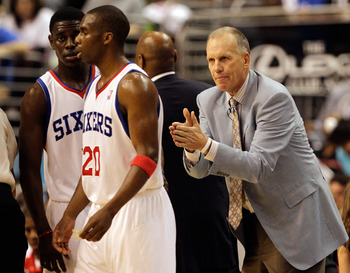 Sixers coach Doug Collins has assembled a great group of young players.
Rob Carr/Getty Images
In a league dominated by stars, this Sixers team really doesn't showcase any NBA superstar.
Sure, Philadelphia may have first-time All-Star Andre Iguodala, but the rest of the team is comprised of young, athletic little-known players who have jelled seamlessly together under coach Doug Collins to form one of the NBA's most exciting franchises on the rise.
Well, if the Sixers could only play the Wizards, Nets, Knicks and Raptors 80 percent of the time, then they'd sport the Eastern Conference's best record.
After starting the season with a glittering record, injuries to centers Spencer Hawes and Nikola Vucevic and more competitive games eventually caught up with the surging Sixers.
Don't expect the Sixers to advance beyond the first round this year. However, I believe Philadelphia is one key free-agent acquisition away from playing deeper into the Eastern Conference Playoffs next season.
Atlanta Hawks: Same Old Atlanta Hawks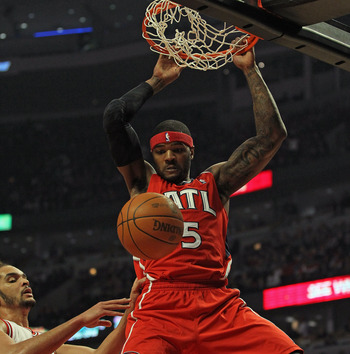 Atlanta Hawks forward Josh Smith is arguably one of the NBA's most exciting players and prolific dunkers.
Jonathan Daniel/Getty Images
"Forever destined to be mired in mediocrity" is the best way to describe the Atlanta Hawks.
Long and athletic with lots of hops and youth, the Hawks will once again qualify for the playoffs and exit as expected after the first or maybe second round.
The current team showcases terrific talents in Josh Smith and their $20 million man in Joe Johnson. Add high draft picks Al Horford and Marvin Williams and the Hawks field a formidable starting five.
However, depth, defense and offensive disciplines have traditionally derailed the Hawks' playoff hopes and they will again this year.
The Hawks will always entertain their fans with high-flying dunks and dazzling fast breaks, but they will once again disappoint them with an early exit from the playoffs.
New York Knicks: From Linsanity to Insanity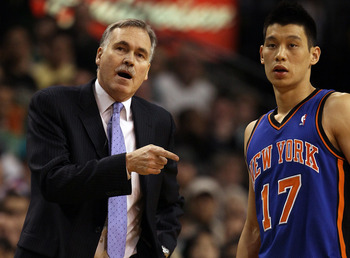 Coach Mike D'Antoni suddenly resigned this week from the Knicks.
Elsa/Getty Images
Last month's Jeremy Lin "Linsanity" has quickly morphed into this month's "insanity."
The circus in Madison Square Garden doesn't involve elephants, tigers and trapeze artists.
Sadly, the current circus centers around the NBA Eastern Conference's final likely playoff team: the New York Knicks.
This week, coach Mike D'Antoni suddenly resigned after reports that he had lost control of the locker room and was feuding with All-Star forward Carmelo Anthony.
With Anthony, fellow superstar Amar'e Stoudemire, stalwart defender and 2011 NBA champion Tyson Chandler and new NBA phenom Jeremy Lin, the Knicks look great on paper.
However, they're terrible on the hardwood, having lost eight of 10 games since Carmelo Anthony returned from a groin injury.
Veteran NBA coach Mike Woodson is now at the helm of the reeling Knick ship.
Woodson's biggest success will not be in securing the final Eastern Conference playoff berth, but it will be escaping the Knicks' first-round exit without being decisively swept.
NBA Finals Prediction: Miami Heat vs. OKC Thunder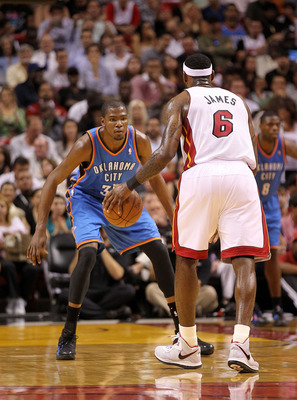 Watch for a 2012 NBA Finals Showdown between LeBron James and Kevin Durant
Mike Ehrmann/Getty Images
The Bulls should take the Heat to seven games in this year's NBA Eastern Conference Finals.
However, expect the Heat to be victors again and earn their return to this year's NBA Finals.
As the regular season winds down, the Heat will be restored to health and will enter the playoffs with a guarded optimism, while carrying the giant chip from last year that Dirk Nowitzki, Jason Kidd and Jason Terry brazenly knocked off their shoulder in the 2011 NBA Finals.
Straight talk. No static.
MIKE - aka Mike Raffone - thee ultimate talking head on sports!
Keep Reading

Miami Heat: Like this team?