New York Giants: No Reunion for Former Tight Ends Kevin Boss, Jeremy Shockey
March 16, 2012

On the third day of free agency in the NFL, it wasn't as action packed as the first two days.
Mario Williams, Ben Grubbs and Steve Hutchinson were the biggest names that got signed by teams, and Peyton Manning is still deciding on his next home.
For the New York Giants, they were quiet on Thursday, as they didn't make any significant moves after they signed former Cowboys tight end Martellus Bennett.
On Wednesday, we all wondered if the Giants were going to make another move to add a second tight end to the roster.
However, the rumors of two potential signings ended on Thursday.
The first was former Giants and Raiders tight end Kevin Boss, who agreed to a three-year, $9 million deal with the Kansas City Chiefs.
Chiefs reach agreement with former Raiders and Giants tight end Kevin Boss.

— Adam Schefter (@AdamSchefter) March 16, 2012
Boss was released by the Raiders just after the first year of the four-year, $16 million deal he signed last summer.
When the word got out that Boss was being released by Oakland, we all thought a potential reunion would happen with him and the Giants, but with Boss signing with Kansas City, that reunion just was not meant to be.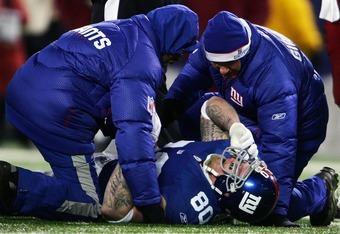 Chris McGrath/Getty Images
And then the other rumor; which ended up turning into an all-out war of words through Twitter.
On Thursday morning, Gary Meyers of the New York Daily News reported that former Giants, Saints and Panthers tight end Jeremy Shockey was interested in coming back to the Giants in 2012.
When the news broke of this, former Giants wide receiver Amani Toomer chimed in with disapproval of the Giants having any interest in Shockey.
@garymyersNYDN No!!Shockey"I will never play4 you again!"he yelled at jerry Reese in 08. Let him keep his word. Bad teammate, worse person.

— Amani Toomer (@AmaniAToomer) March 15, 2012
Following the Giants winning Super Bowl XLII, things went from bad to worse with the relationship between the Giants and Shockey. During training camp, Shockey held out of training camp and got into a heated argument with Giants GM Jerry Reese, leading to the Giants trading Shockey to the New Orleans Saints.
In response, Shockey fired back at Toomer and blamed him for the broken leg that ended his 2007 season.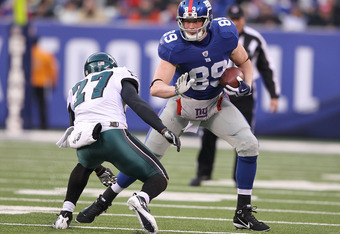 Al Bello/Getty Images
Amani Toomer on Jeremy Shockey: Bad teammate, Haha. Well he was the lazy one that broke my leg!!

— Jeremy Shockey (@JeremyShockey) March 15, 2012
Shockey even went as far as to bring up Toomer's divorce from his ex-wife back in 2007 as well.
@DonaldLongo @amaniatoomer yes remember when his ex divorced him and he urinated on a her cloths I guess he's the good person

— Jeremy Shockey (@JeremyShockey) March 15, 2012
In the war of words, Shockey denied the rumors of wanting to come back to the Giants in one of his last Tweets, bashing the Giants and the New York media.
"It's funny how the Ny media still try's to make money off me!" Shockey wrote. "Can anyone find a quote from me on me wanting to play for the GAINTS?"

I think it's safe to say that back in 2008, Shockey burned the bridge to come back in New York and then in 2012, Shockey found yet another way to burn the bridge and any hope of going back to the Giants.
Honestly, the Giants are better off not having to deal with Shockey and his antics again.
When he was 27, he was immature and a pain to deal with. At 31, it looks like nothing has changed with the former Giants tight end.
So by the end of the third day of free agency, two potential names that had ties to the Giants came off the board, and while there was a lot of excitement that surrounded the Giants, in the end, it really turned out to be a quiet day for Big Blue.
Stay tuned, Giants fans.