San Francisco Free Agency: What's the Deal with Alex Smith?
March 16, 2012

Ezra Shaw/Getty Images
Given the free-agency fiasco, 49ers fans must be asking what's the deal with Alex Smith?  Although it's a little confusing why he hasn't re-signed with the 49ers yet, I believe that it is only a matter of time before he does so.
It was not  long ago that the Indianapolis Colts released Peyton Manning and the rumors came out that the 49ers were interested in signing Manning.  However, those rumors were quickly silenced by San Francisco.  The 49ers claimed that they remain committed to re-signing Smith and were not interested in participating in the Peyton Manning "sweepstakes" (according to Rotoworld.com). 
The 49ers offered Smith a three-year extension, but Smith has not accepted the offer yet.  So what's taking him so long?
There are two reasons why we might think Smith hasn't signed: either he's scoping the market for other opportunities or the 49ers are looking for another quarterback.  I think that both of these possibilities are misguided. 
The fact that 49ers expressed no interest in Manning is a good reason to doubt they are looking for another quarterback. The 49ers have not shown any interest in another quarterback in both the free agency or in the upcoming draft.  So it can't be the case that San Francisco is looking for another quarterback.
As for Smith looking for another quarterback opportunity, I also think this is definitely not true. There have been no talks of other teams showing interest in Smith and Smith has not said anything about joining another team.  Why would he?
But there are also a lot of rumors circulating.  For instance, there's some talk that Smith believes that his worth is a little higher than what the 49ers are offering him.  This could make some sense.  Last year, Smith had a 90.1 passer rating, 61.3 completion percentage, threw 17 touchdowns and only turned the ball over eight times.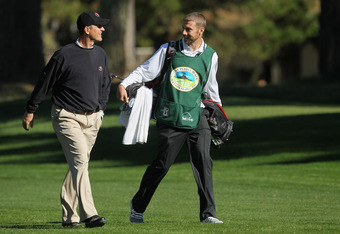 Jeff Gross/Getty Images
At the same time, there are also rumors denying that Smith thinks he's worth more.  Smith did claim that he had no problem with the current offer by the 49ers.  The reason that he hasn't signed, some claim, is due to some minor details about the contract that Smith's agent and the 49ers are in the process of resolving.  What these minor details are, I'm not sure.  
This is the problem with this issue: the fact that these are all rumors and nothing known for certain just goes to show that this issue is not much of an issue at all. 
It could be the case that the 49ers are busy dealing with other pressing matters, such as free agents that they feel they are more likely to lose (like Carlos Rogers, Josh Morgan, Reggie Smith, Chilo Rachal and Ted Ginn).
There's also the possibility that Smith's agent isn't working fast enough.  His talk with the 49ers might be moving kind of slow because Smith and Manning happen to have the same agent.  And if anything, Smith's agent might be a little more busy dealing Manning's future than Smith's at the moment.
Whatever the case may be, I think there are strong reasons to believe that Smith will sign soon with 49ers.
Thus, for those 49er fans that love Alex, there's no reason to worry.  And for those who wish Alex were going somewhere else, they'll have to wait another season for their wish to come true.