NBA Trade Deadline: Odds on Every Remaining Marquee Deal
March 15, 2012

Chris Graythen/Getty Images
Only a few hours are remaining until the NBA trade deadline passes, and teams are working at a feverish pace in an attempt to finish off potential deals. Plenty of names are being floated into the market—most notably Dwight Howard and Pau Gasol—but no blockbusters have been completed yet.
Let's examine some of the most coveted players available and their odds of landing with a new team before the day is over.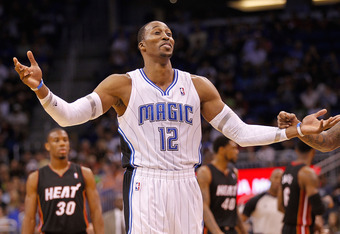 Mike Ehrmann/Getty Images
Dwight Howard
Howard continues dominating the headlines as his situation remains unclear despite ongoing talks about his future. Chris Broussard of ESPN reports the All-Star center has told the team he plans to remain in Orlando for another season.
As of now, however, he still hasn't signed the waiver guaranteed his commitment to the franchise. So the Magic remain in limbo. They can't afford to lose him for nothing. That means trade negotiations should continue until everything becomes official.
Since Howard keeps changing his mind about a potential deal, the Magic would be better off avoiding another year of headaches by trading him. The front office remains hopeful he'll sign a long-term deal, though.
All told, it's a mess.
Odds of being traded: 25 percent
Pau Gasol
It's been a rough season for Gasol. Not on the court—he's actually playing quite well—but personally. He was nearly traded during the offseason and has been linked to trade speculation ever since the original deal was vetoed.
ESPN's Chris Palmer reports Gasol is likely to remain in Los Angeles after interest in the power forward dropped off. The Lakers weren't interested in Rajon Rondo for him, proving to other teams the price was going to be extremely high.
There's always a chance of a late change of heart from the Lakers front office if a tremendous offer comes along, but there isn't much time to figure out the details of a major trade.
It looks like he'll be staying with the Lakers for now.
Odds of being traded: 10 percent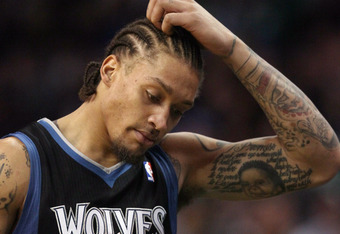 Elsa/Getty Images
Michael Beasley
Late yesterday, Beasley became a hot topic when Alex Kennedy of HOOPSWORLD tweeted a potential three-team trade that would send to small forward to the Lakers. It's yet to be completed, but there have been no reports that talks have broken off, either.
The deal seems to make perfect sense for Los Angeles. The team would finally be able to replace an ineffective Metta World Peace at the small forward position without giving up a big piece. That said, the Timberwolves and Trail Blazers might be looking for L.A. to sweeten the pot.
It's not the first time Beasley has received a rumor mill mention, which is actually surprising because he has a boatload of talent is still young. As long as he maintains a positive outlook, the Lakers would be getting a steal.
Odds of being traded: 70 percent
Kaman has been playing a lot better recently. To nobody's surprise, that caused the sharks to start circling in hopes of landing him for a championship run. Mike Wells of the Indianapolis Star says the Pacers are on of the interested teams.
Due to a lack of reliable big men in the NBA, the Hornets' phone will undoubtedly be ringing off the hook as teams try to snag Kaman. His price should be a lot more reasonable than that of Howard or Gasol, which makes him an attractive option.
When you combine the fact he's a free agent at season's end with New Orleans' last-place standing in the Western Conference, a trade makes a ton of sense. The Hornets should basically tell every interested team to make their best offer and choose one right before the deadline.
Odds of being traded: 55 percent