Peyton Manning Rumors: QB's Decision Holding Up Teams' Free-Agent Plans
March 14, 2012

Andy Lyons/Getty Images
The start of free agency came and went without Peyton Manning finding a new team.
Although it has been less than 24 hours since free agents were made available to the league, plans are already being held up by Manning's impending decision.
A report from Mike Klis of the Denver Post indicates that the quarterback, whose list of desired teams was as small as two before expanding again (likely for financial leverage), is back down to as little as four teams again:
The Broncos, Tennessee Titans, Miami Dolphins and Arizona Cardinals are the finalists for his services, with a decision expected to be made soon, possibly today.
Peyton met with everyone but the Titans thus far, but is scheduled to have a meeting with owner Bud Adams and a contingent of the coaching staff today. That is why many believe a decision could be made as early as today.
The Titans obviously have an advantage as possibly being the last team to sit down at the table with the future Hall of Famer, but there is also a group who believe Tennessee is just a means to an end financially.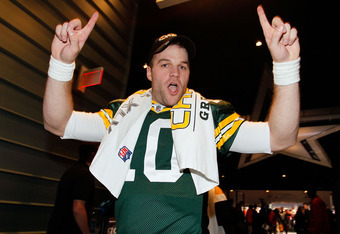 Kevin C. Cox/Getty Images
In the wake of all this is the fact that former Packers backup Matt Flynn is in talks with both the Dolphins and Browns, the Cardinals are days away from having to pay Kevin Kolb a $7 million roster bonus and the Titans have suspended their courtship of defensive end Mario Williams in order to focus entirely on Manning.
The Dolphins obviously prefer Manning, but there is only so long they can wait before the Browns push their offer over the top and land the 26-year-old in Cleveland.
Arizona has until Friday for the Kolb bonus, but it certainly isn't an ideal situation as Peyton readies for his decision.
The only team without current ramifications from the Peyton chase is Denver, but there is no telling what is in store for them with Tim Tebow should they sign No. 18.
While Peyton's eventual signing affects more than just the teams chasing him, it is also affects a large portion of the top players in the free-agent pool. 
He has no obligation to anyone for a quick decision, but teams are paying more than just money in order to court him.
If teams like the Titans and/or Dolphins miss on him it could have even bigger consequences than just losing out on the future Hall of Famer.
For better or worse, every team is hoping the decision comes today.
Throwing seven different kinds of smoke on Twitter too.