Peyton Manning to Chiefs: Why Ex-Colts QB Would Look Good in Kansas City
March 13, 2012

Elsa/Getty Images
I'm sure you have all seen photoshopped pictures of ex-Colts quarterback Peyton Manning wearing the jersey of another team. The Manning sweepstakes are hot right now. Even though he won't be able to wear No. 18 in Kansas City since it is retired by Emmitt Thomas, Manning can find success in Kansas City.
Look at Joe Montana in 1993. Kansas City had Marcus Allen rebounding his career at running back and an outstanding offensive lineman in John Alt. Marty Schottenheimer's offense had some strong pieces and a complete defense. He was one quarterback away from having a Super Bowl-caliber team.
Carl Peterson knew his team could win a championship if they had a quarterback with better credentials. Peterson hit the jackpot for Kansas City when he brought in Joe Montana. The Chiefs became the NFL's most electrifying football team and were one game away from representing the AFC in the Super Bowl.
Since the 1994 postseason, with Montana under center, the Chiefs have not won a playoff game. Owner Clark Hunt and general manager Scott Pioli are aware of Manning's success. They know that before them, they have a football team with rising stars on defense and two key players returning on offense. With the cap space the Chiefs have, the offensive line can be adjusted this offseason.
But what about the quarterback position? Clearly, Manning will improve Kansas City's quarterback woes exponentially. Matt Cassel's 27 touchdown passes and seven interceptions thrown were a given with an easy schedule. Cassel has not been able to duplicate that level of play any other season with a more challenging schedule.
Manning's presence will help improve just about any team seeking a quarterback. But coming to Kansas City will better fit Manning. His jump to Kansas City will put both himself and the Chiefs in position to become Super Bowl contenders on paper.
All Pioli has to do is upgrade the offensive line through free agency and the draft.
Manning will have a lot of tools to work with in Kansas City. Jamaal Charles is considered one of the fastest running backs in the league today and can break away and gain a lot of yards once the line gives him a small hole. Manning can also use Dexter McCluster's speed to his advantage through the air and on the ground.
In the passing game, Manning has Jon Baldwin. Baldwin is looking to bounce back after missing the first half of the season due to an off-the-field injury during his rookie season.  Manning will have another speedster in Steve Breaston, who made the jump from Arizona last offseason.
Dwayne Bowe is currently under Kansas City's franchise tag and will be open to the idea of playing again with the Chiefs if Manning's transition to Kansas City is a done deal. Manning will also have tight end Tony Moeaki coming back after missing his sophomore season due to a torn ACL during the preseason finale in Green Bay.
Kansas City's biggest weakness on offense comes at the offensive line. Head coach Romeo Crennel and offensive coordinator Brian Daboll are happy with Branden Albert at left tackle. Jon Asamoah has also proven himself at right guard since receiving significant playing time last year.
With Casey Wiegmann expected to retire, Rodney Hudson, last year's second-round draft pick, will handle the snapping duties. The Chiefs can help Manning play with a strong offensive line by taking a look at free-agent guard Carl Nicks or rookie David DeCastro.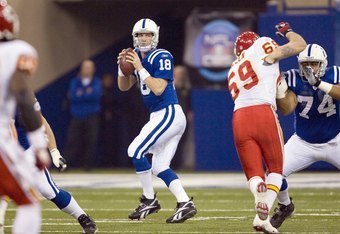 Dilip Vishwanat/Getty Images
A new right tackle this offseason is a must for Kansas City. Having Barry Richardson pick up blocks could send Manning back in the training room and perhaps away from football forever.
Pioli is being watched by Chiefs fans right now. The Chiefs have a big opportunity in front of them, and they could capture their first playoff win in 18 years by pulling the trigger and making some moves. Kansas City could also make a run for a Super Bowl, which they have not won in 42 years.
Mike Klis of the Denver Post reported Sunday evening that the Chiefs were one of two teams who reached out to Manning but were rejected. But Kils' report does not indicate a source of any kind.
While the Denver Broncos were considered as front-runners to get the former Colt, Manning's visit with the Tennessee Titans early this week has everyone buzzing. His visit with the Titans comes as a surprise while many thought Denver, Arizona and Miami were going to be his three options.
Doug Farrar of Yahoo! Sports tweeted that the Chiefs are not out of the Manning sweepstakes just yet. He spoke to a "reliable source" in Kansas City that the Chiefs have had productive meetings with Manning's representatives. For all we know, the Chiefs just might have a chance at landing Manning. After all, the Chiefs were reportedly the first team to offer Manning a contract.
The money is there for the Chiefs along with the talent. Let's see if the commitment is there. If the Chiefs follow through with some of these offensive moves, Kansas City will be a force to be reckoned with in 2012.