NBA Trade Deadline: 5 Burning Questions for the Houston Rockets
March 14, 2012
Ezra Shaw/Getty Images
The Houston Rockets have been somewhat of a surprise package in this year's ultra-competitive Western Conference.
After missing out on the eighth seed last season by just three games, Houston is leading the race for the eighth seed this time round.
Currently at a 22-20 mark, Houston leads the Minnesota Timberwolves by just a single loss and is a game and a half ahead of the Utah Jazz and Portland Trail Blazers, both tied at 20-21.
To put it in a more positive light, the Rockets sit just three games back on the Memphis Grizzlies who currently occupy the fourth seed.
With the trade deadline approaching, the Rockets have a host of questions to answer, surrounding key players whose choices will determine the fate of the franchise not just this season but for many seasons to come.
Kyle Lowry: Staying or Going? 
Kyle Lowry has been a revelation in Houston this season. After mediocre numbers his first couple of years, Lowry is in the middle of a breakthrough season.
Lowry has been involved in trade talks centered on the future of Los Angeles Lakers star power forward Pau Gasol. The Spanish big man seems to be surplus to requirement in Laker-land and is being openly touted for a trade away from L.A.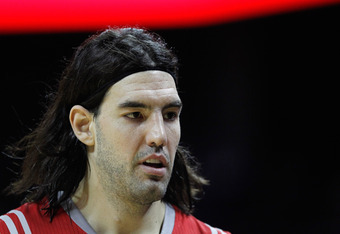 Streeter Lecka/Getty Images
According to Ken Berger of CBS Sports, the Lakers and Rockets were believed to be on the verge of agreeing on a swap of Gasol for Lowry before the Rockets point guard went down for two to four weeks with a bacterial infection that has since seen him hospitalized.
The big question for the Rockets in this trade is whether they believe they have enough to make the playoffs with Goran Dragic running point the rest of the season, and whether Pau Gasol can make that much of an impact this late in the season.
Luis Scola: Where Will He Be Come Thursday Afternoon?
Luis Scola could find himself replacing Pau Gasol in Los Angeles if the Lakers decide against a cost-cutting trade and go for broke in what could be one of Kobe Bryant's last productive seasons. Sam Smith of bulls.com reported a possible deal that would send Scola and Lowry to the Lakers for Gasol.
The Lakers are trying to cut down their huge salary bill, but doing so could send the wrong message to Bryant, who is desperate to add one more championship ring to his collection and equal Michael Jordan's six titles.
Scola would be a good fit for the Lakers if they do chose to go aggressive, however, it would be abandoning their cost-cutting strategy with Scola owed $16.9 million the next two years.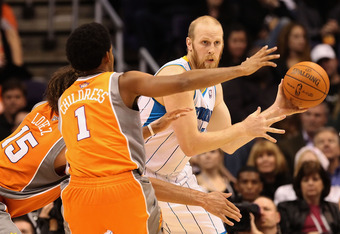 Christian Petersen/Getty Images
Chris Kaman in Houston? 
The New Orleans Hornets have actively shopped center Chris Kaman. The Hornets are believed to want a package consisting primarily of young players and draft picks, according to Sam Amick of Sports Illustrated, to "build a foundation."
Kaman would be an upgrade over Samuel Dalembert, who has done a great job in Houston all season (7.9 points per game, 7.6 rebounds per game) but Kaman's numbers outclass Dalembert, averaging 12.5 PPG and 7.9 RPG.
If the Rockets' front office can find a deal that satisfies the Hornets, this trade has to happen. According to Sam Amick of Sports Illustrated, Houston has been interested in acquiring Kaman in the past.
Pau Gasol as a Rocket? 
Pau Gasol, as mentioned above, could be on his way out of the Staples Center and into the Toyota Center.
Gasol would be a significant upgrade over Scola, who has put up admirable numbers, but players of Gasol's class and experience do not come along often.
Nor do they come cheap. A package of Scola, Kyle Lowry and picks would likely be the price to pay. Whether the Rockets front office considers that price too high for an aging, oft-criticized forward is the key to this blockbuster trade taking place.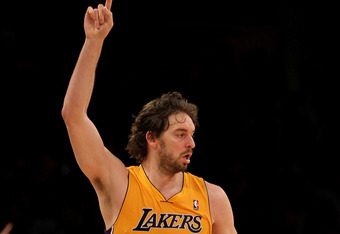 Stephen Dunn/Getty Images
Terrence Williams and a New Home? 
Terrence Williams is dead weight in Houston.
His averages of 15.1 minutes and a measly 4.5 points per game have come in just 12 appearances in Rocket red.
On an expiring contract, Williams could be an enticing proposition for a team needing to rebuild. His problem is that he is known for having a bad attitude, thus making finding a suitor for him a little bit more difficult.
With Williams' contract off the books, the Rockets would be free to offer more to players they target in a trade, perhaps making them more interesting as a destination.