Dale Earnhardt Jr., Carl Edwards Among the 5 Good, 5 Bad from Kobalt Tools 400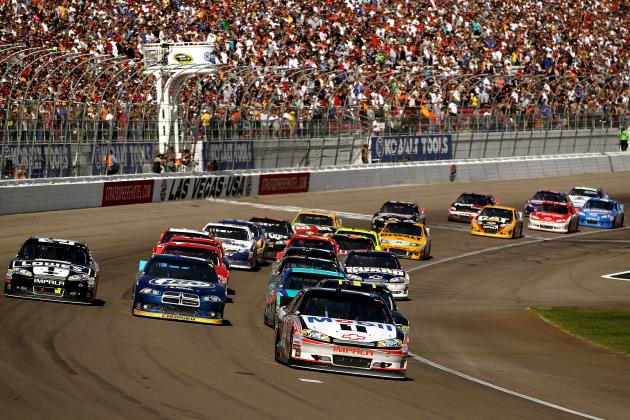 Ezra Shaw/Getty Images
Tony Stewart was the big winner in Sin City, but he wasn't the only driver with a good run
The boys of NASCAR took to the banks of Las Vegas Motor Speedway just outside of Sin City on Sunday.
The defending champ flexed some muscle in Sunday's Kobalt Tools 400, but another former Sprint Cup winner showed that he isn't ready to be written off this early in the season.
But for every good in Vegas, there was a bad. Fuel injection issues claimed two more victims while there was trouble amongst teammates late in the race.
Who cashed in and who lost everything in Las Vegas? We've got you covered!
Begin Slideshow

»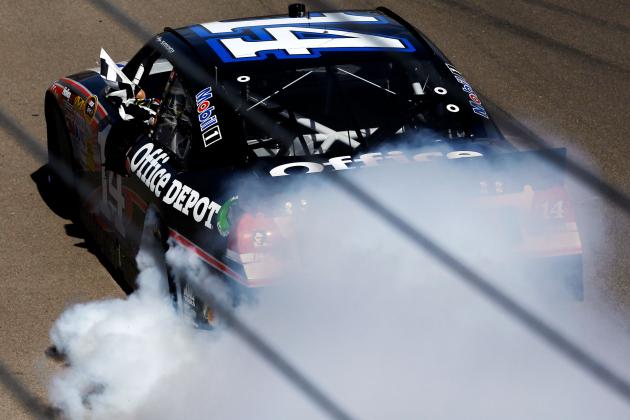 Tom Pennington/Getty Images
Smoke tore up the track Sunday at Las Vegas
There's a reason Tony Stewart won the championship in 2011.
Many people were ready to write Stewart off as a contender this season after parting ways with crew chief Darian Grubb following the 2011 season.
But after a frustrating fuel injection problem in Phoenix, Stewart came out as the high roller in Las Vegas.
"Smoke" dominated the race on Sunday, leading 127 of the 267 laps en route to his first win of 2012. Dating back to last season, it was his sixth win in his last 13 starts.
Anybody who had any doubts about Stewart doesn't have one now.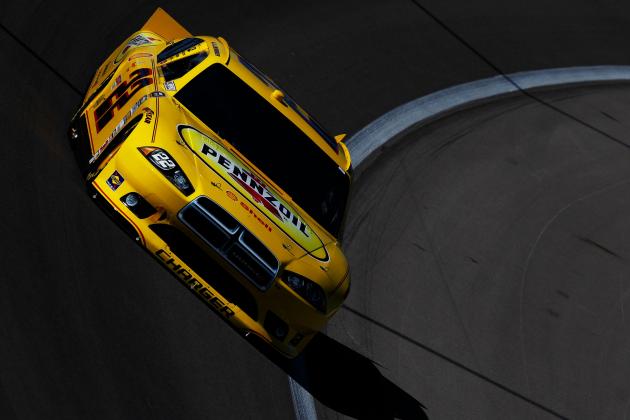 Tom Pennington/Getty Images
Fuel injection problems got the best of AJ Allmendinger(pictured) and Brad Keselowski at Las Vegas
Speaking of fuel injection problems...
It was not a good day for the Penske Racing cars of AJ Allmendinger and Brad Keselowski on Sunday at Las Vegas.
Allmendinger overshot his pit stall early and ran around 20th most of the day before fuel injection problems knocked his No. 22 car out of the race altogether.
Keselowski was a little more competitive thanks in part to some late pit strategy, but it didn't matter. Fuel injection gremlins plagued his No. 2 car with about 20 laps to go and knocked him out of the race as well.
The results were 32nd for Keselowski and 37th for Allmendinger.
The good news is if Tony Stewart is any indication, one of Roger Penske's Dodges will find Victory Lane next week at Bristol.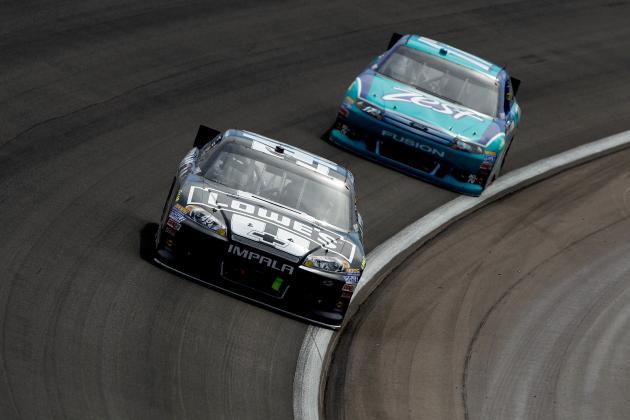 Todd Warshaw/Getty Images
J.J. had another solid run Sunday at Las Vegas
Queue the "Jaws" theme.
Five-time Sprint Cup champ Jimmie Johnson is quickly working his way up through the standings after an abysmal start to the 2012 season.
A fourth at Phoenix followed by a close second at Las Vegas has Johnson 23rd in the standings after three races.
The bad news? Barring Tuesday's appeal of the Daytona penalty, Vegas was Johnson's last race without crew chief Chad Knaus for six weeks.
The good news?
Johnson's No. 48 team is on fire and is showing no signs of slowing down next week at Bristol, where Johnson won in 2010.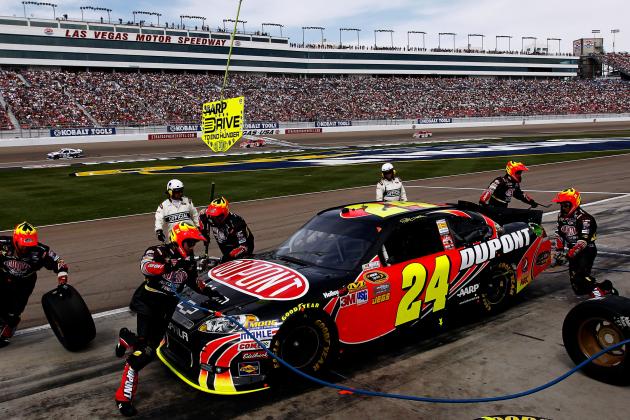 Tom Pennington/Getty Images
Jeff Gordon managed a 12th-place run, but his No. 24 car was not that good at Las Vegas
Jeff Gordon's race at Las Vegas was not very good.
Sure, the 2001 Vegas winner managed to finish 12th, well ahead of pre-race favorites Matt Kenseth and Kyle Busch.
But Gordon struggled to stay on the lead lap all day and actually lost a lap at one point in the race.
While his Hendrick Motorsports teammates ran in the Top 10 most of the day, Gordon hung around 25th.
The race didn't end badly for Gordon. But if his No. 24 team can't improve on Sunday's performance at Las Vegas, Gordon's intermediate-track program could be in some big trouble this year.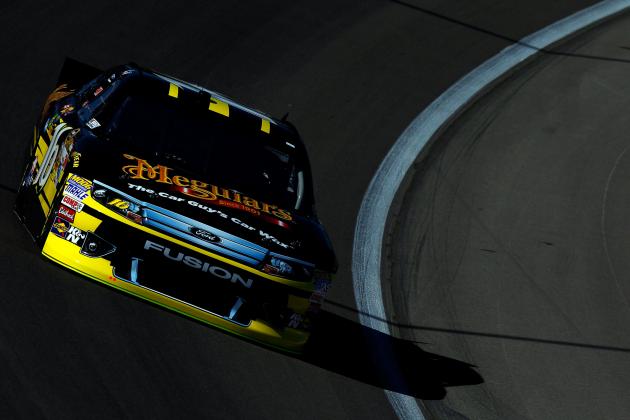 Tom Pennington/Getty Images
Greg Biffle has finished no worse(or better) than third in 2012
Talk about consistency.
Greg Biffle has finished third in each of the first three races this season, all at different style tracks.
With his solid performance so far in 2012, Biffle has now done in three races what it took him 36 races to do in 2011: earn three Top Five finishes.
Biffle now leads the standings by 10 points over Kevin Harvick.
Biffle's consistency has him looking like a force to be reckoned with in 2012, though there's no doubt he'd like to improve by two positions and get a win at some point this season.
My prediction for Biffle at Bristol: a third-place finish.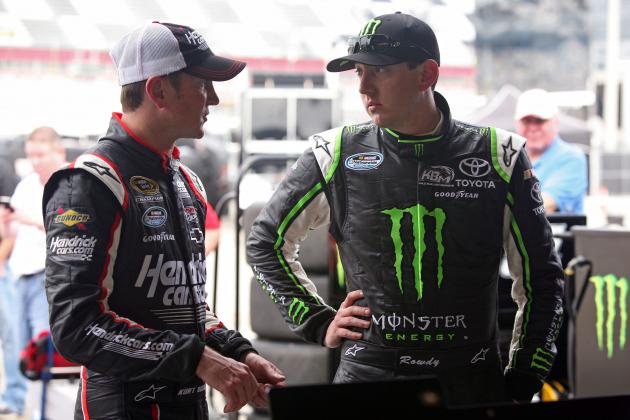 Jerry Markland/Getty Images
Kurt and Kyle Busch did not have a good homecoming at Las Vegas
It was not a good homecoming for the Busch brothers at Las Vegas.
Kurt had a myriad of trouble on Sunday. The elder Busch had a Top Five car early, but a caution during the first cycle of pit stops put him behind. Two flat tires and one crash later, Kurt found himself finishing in 35th.
Kyle had a better day, but not by much. The younger Busch hit the wall mid-way through the race and ran around 20th for most of the day before a flat tire and spin relegated him to a 23rd-place effort.
Perhaps better luck awaits the siblings at Bristol, where the duo has won a combined 10 times.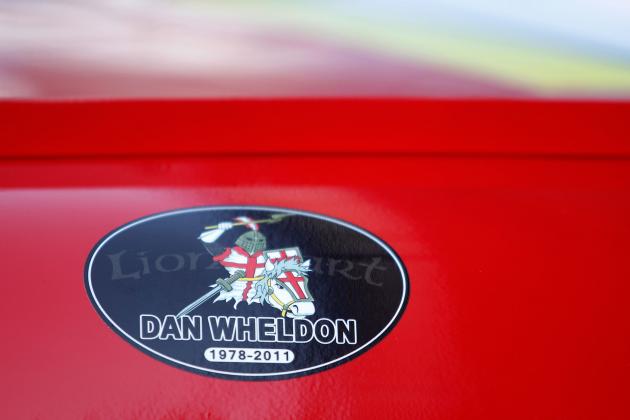 Todd Warshaw/Getty Images
McMurray had a solid run on Sunday while supporting the late Dan Wheldon
Jamie McMurray did Dan Wheldon proud on Sunday.
The Joplin, Mo. driver raced with a lion's heart at Las Vegas. Despite being sick before the race began, McMurray ran as high as second before settling in eighth for his first Top 10 of 2012.
The finish came at the track where former Chip Ganassi Racing driver Dan Wheldon lost his life in a crash in October.
McMurray and teammate Juan Pablo Montoya each ran with a special decal celebrating the life of Wheldon.
For McMurray, it was a drive Wheldon would have been proud to be a part of.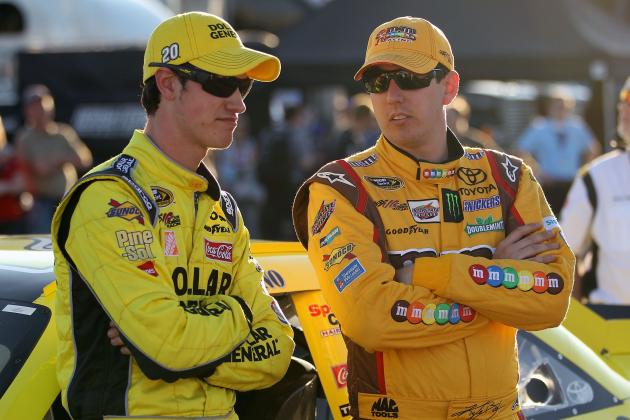 Ezra Shaw/Getty Images
Joe Gibbs Racing would like to have gone back to Phoenix after Sunday's race at Las Vegas
I don't think we're in Phoenix anymore, Toto.
After placing three cars in the Top 10 just one week ago at Phoenix, Joe Gibbs Racing failed to place a single car in the Top 15 at Las Vegas.
Joey Logano and Phoenix winner Denny Hamlin each lost a lap mid-way through the race, but did rebound to finish 16th and 20th, respectively.
As for the aforementioned Busch, we've already been over his story.
It was not the way JGR wanted to start off its intermediate program in 2012, but a rebound next week at Bristol would be a nice boost for the team's confidence.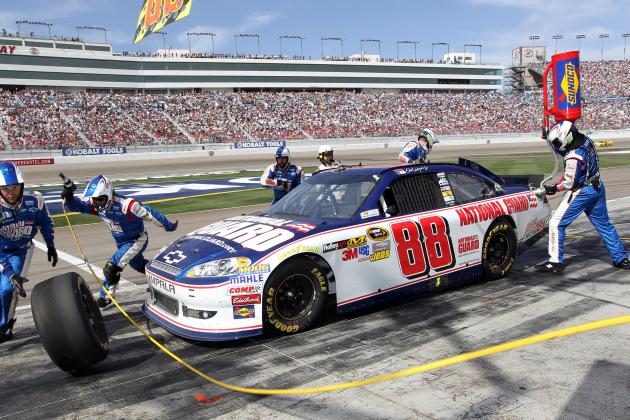 Jeff Bottari/Getty Images
Dale Earnhardt Jr. had his best showing in a long time Sunday at Las Vegas
Dale Earnhardt Jr. had a chance to win on Sunday at Las Vegas.
That's all you need to know. For the first time in what feels like a millennium, Dale Earnhardt Jr. had a car that led laps—70, to be exact—and looked capable of winning the race.
Junior led early at Las Vegas, taking the point from pole-sitter Kasey Kahne and led the first 43 laps. Pit strategy stuck him back in traffic, where he never fully recovered.
But when he wasn't stuck in traffic, Earnhardt's car looked dang good.
Junior finished 10th, but look for his No. 88 car to lead more laps and possibly—gasp—get a win on a mile-and-a-half track this year.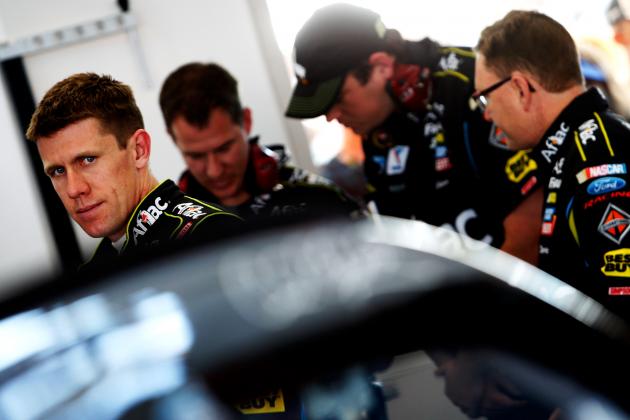 Tom Pennington/Getty Images
Carl Edwards' late move on Matt Kenseth was not that of a good teammate
Carl Edwards is not making any friends to start the 2012 season.
Last week at Phoenix, Edwards got into Ryan Newman, sending him spinning into the wall. Sunday at Las Vegas, an aggressive move by Edwards on a re-start took his teammate Matt Kenseth out of contention for a good finish.
The latter move crossed a line.
Edwards has a history of being a little racy with his teammates. At Talladega in 2008, Edwards bump-drafted teammate Greg Biffle in Turn 3, causing him to spin out and take out over 10 cars.
The result of Sunday's move wasn't as substantial, but it does send a very strong message.
Be very careful around Carl Edwards, even if you're his teammate.