Lakers Trade Rumors: LA Must Stop Dreaming and Just Make a Deal for Kirk Hinrich
March 12, 2012

Kevin C. Cox/Getty Images
The Los Angeles Lakers have been playing in fantasy land all too long now, so it is time to stop focusing on potential pipe dream deals for players like Rajon Rondo or Dwight Howard and focus on realistic targets like the Atlanta Hawks Kirk Hinrich.
The Lakers are clearly in need of some sort of upgrade at point guard, and as Alex Kennedy of HOOPSWORLD reports, the team is very interested in the former Chicago Bulls ball-handler:
Los Angeles has also been pursuing Kirk Hinrich in recent weeks. The Lakers have been linked to Hinrich in the past and the Atlanta Hawks would move the veteran point guard if the right deal came along. The two teams have had conversations in recent weeks.
While a player like Hinrich isn't as sexy as their other targets, the addition of Hinrich is exactly what they need. A player ready to take the backseat to Kobe Bryant, Pau Gasol and Andrew Bynum, but also a proven floor general who can make things happen while also playing strong defense.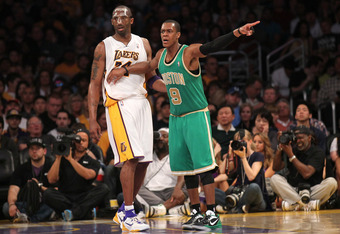 Stephen Dunn/Getty Images
Hinrich isn't getting the minutes right now in Atlanta, but he could probably start right away for the Lakers. If not start, he would at least be the first guy off the bench, which would be a nice rejuvenation for the defense.
The Hawks guard has missed some time this season with a nagging shoulder injury, but as of late, he has looked good to go. This season, he is averaging just 5.5 points per game and only dishing the ball 2.5 times a night. That is also in just 21.1 minutes per game—much lower than his career average.
Hinrich has the ability to put up the points. As the Lakers just need another scorer who can put up 10 or so additional points a night, Hinrich is that guy. His career average is 12.8 PPG, and he put up 10.2 a night during his stint with both the Hawks and Washington Wizards in 2010-11.
As amazing as the potential would be to land a guy like Rondo, the Lakers are just running out of time, with the Thursday trade deadline quickly approaching.
Not only that, the cost of Hinrich will be much lower than anything they would give up for Rondo. Considering the Lakers need for everything they have, giving up a ton for a potential head case like Rondo is a huge risk to take.
But if they can land Rondo at the right price and that is what they feel is best for the future of the team, then, by all means, they should make it happen. If that is where they put all of their focus and the deadline passes without the team making a deal for a PG, they will likely deeply regret focusing on more realistic options.
Jeff Chase is a Featured Columnist for the Chicago Cubs and Arizona State football. 
Follow @Real_Jeff_Chase
*The poll was supposed to read who would rather have compared to nothing. Sorry for the error.