Greg Biffle Heads Top 20 Coming out of Las Vegas in NASCAR Power Rankings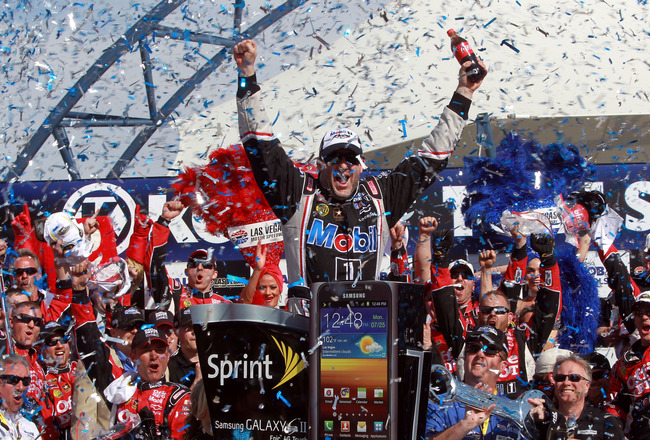 Jerry Markland/Getty Images
The NASCAR Sprint Cup Series leaves the Las Vegas Motor Speedway after its first real barometer reading of the season.
The first mile-and-a-half track had the powerhouse teams dominating all day long. Although a few interesting names made their way up front right at the end.
While we see a lot of the typical names running up front, we are starting to see new names make their way up the leaderboard and in my power rankings.
Let's take a look at my power rankings after the Kobalt Tools 400.
No. 20: Brad Keselowski, No. 2 Miller Lite Dodge Charger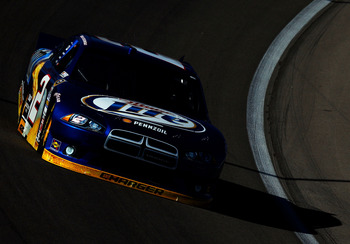 Tom Pennington/Getty Images
Brad Keselowski is leaving Las Vegas with his head hanging low after his 32nd place finish.
Keselowski was running up in the Top Five when his car would not go on a restart. It was fuel pressure issues that ruined Keselowski's day.
What looked like a great day for the No. 2 Miller Lite Dodge battling for the lead, slipped out of Keselowski's hands.
Now Keselowski fell down to 21st place in the points standings after a rocky start to his season.
With a 32nd finish in the Daytona 500 and a fifth place finish last week in Phoenix, Keselowski and his team need to shake out any bugs in their fuel system and build up some consistent Top 10 finishes.
No. 19: Jeff Burton, No. 31 Caterpillar Chevrolet Impala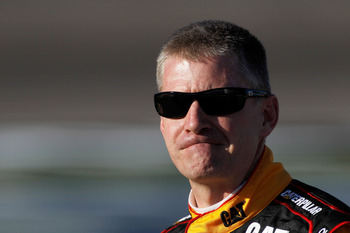 Todd Warshaw/Getty Images
Jeff Burton was not much of a player in the Kobalt Tools 400.
His 14th place finish was the worst of the Richard Childress Racing stable.
After a fifth place finish in the Daytona 500, Burton's luck has gone in the opposite direction. Mechanical woes derailed his run at Phoenix (finished 33rd), and Burton had a lackluster run at Las Vegas.
The question that is creeping up is whether Jeff Burton has become the weakest driver at RCR?
No. 18: Regan Smith, No. 78 Furniture Row Chevrolet Impala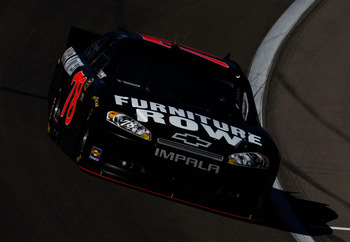 Tom Pennington/Getty Images
The No. 78 car of Regan Smith has not had the start to the 2012 season that he would have wanted.
Smith's car has typically qualified well and run well for the first half of races this season. It all goes wrong for Smith after a few pit stops and teams adjust their cars. Smith fades away and has ended up finishing mid-pack.
Smith leaves Las Vegas with a 15th place finish and sits 19th in points.
If this team wants to be taken seriously as a contender, the Furniture Row car will have to run a complete race without fading away when the top teams battle for wins.
No. 17: Clint Bowyer, No. 15 5-Hour Energy Toyota Camry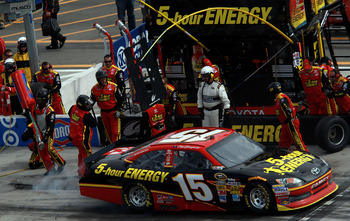 Ronald Martinez/Getty Images
Clint Bowyer earned his first Top 10 of the 2012 season with a sixth place finish at Las Vegas.
If there was driver who needs to build some momentum, that driver would be Clint Bowyer.
After joining MWR this season, Bowyer will have to prove whether he can still make the Chase. The No. 15 car currently sits 14th in points after mixed results this season.
Fortunately for Bowyer, plenty of drivers have had mixed results after three races. Bowyer needs to finish races stronger and put himself in position to win.
No. 16: Jeff Gordon, No. 24 Drive to End Hunger Chevrolet Impala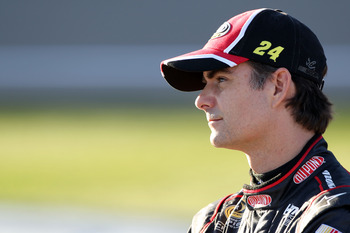 Jeff Bottari/Getty Images
I think it is safe to say this is not how Jeff Gordon wanted to start the 2012 season.
After flipping in the Bud Shootout, Gordon has struggled to turn things around.
A blown motor in the Daytona 500, an uninspiring eighth place finish and a miracle 12th place finish in Vegas is not how I expected the No. 24 car to start this season.
Gordon and crew chief Alan Gustafson have to show up to the track with better set-ups than what they have so far.
Gordon is in 17th in points, still digging out of hole that the blown motor put him in.
Jeff Gordon needs to show some power and fast before that Top 10 in points drifts too far away.
No. 15: Marcos Ambrose, No. 9 Stanley Ford Fusion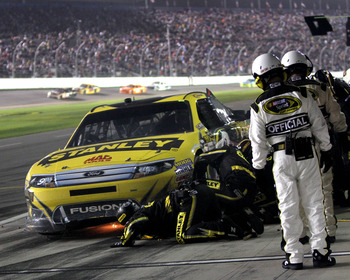 Jerry Markland/Getty Images
While he may be in 18th in points, Marcos Ambrose has run a lot better than that so far in 2012.
Ambrose had a strong Speedweek but finished 13th in the Daytona 500. Ambrose rebounded and was running in third last week in Phoenix when his motor blew with 17 laps to go.
In the Kobalt Tools 400 in Vegas, he ran mid-pack most of the race but crept up to finish 13th.
This team is showing flashes of strength and just needs to finish off a race as strong as Ambrose can run it.
No. 14: Paul Menard, No. 27 Menards Chevrolet Impala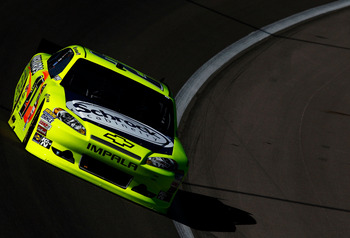 Tom Pennington/Getty Images
Paul Menard is a name that has slowly crept up the leaderboard this season.
Menard has Top 10 finishes in Daytona and Vegas. Menard's rough spot this season was getting caught up in a wreck in Phoenix and finishing 31st.
The No. 27 car sits 11th in points, but should be considered 10th because Mark Martin is not running the full season and he currently sits 10th in points.
Menard is looking to move up in the RCR stable and with Top 10 finishes, he's going to move up and be a Chase contender.
No. 13: Joey Logano, No. 20 Home Depot Toyota Camry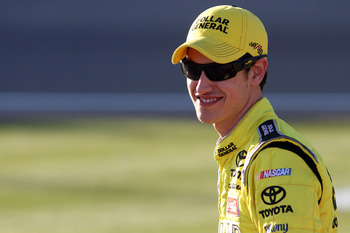 Jerry Markland/Getty Images
Joey Logano is quietly sitting under the radar in ninth in points.
Logano is doing what needs to do so far in 2012. He's staying out of trouble and finishing races.
After a ninth in the Daytona 500 and a 10th in Phoenix, Logano struggled at times in Vegas and ended up 16th.
Logano is handling the pressure of having to get results better than expected so far in 2012. He needs to show this season whether he can win races and make the Chase.
He still has a lot to prove to stay in that Joe Gibbs Racing ride.
No. 12: Kyle Busch, No. 18 M&M's Toyota Camry
Justin Edmonds/Getty Images
Kyle Busch leaves Phoenix frustrated after hitting the wall, spinning out and finishing 23rd.
Busch had to go to a backup car before the race and never made much of an impact in Vegas. Busch currently sits 12th in points.
Busch has to shake off his inconsistent start to the 2012 season. With finishes of 17th in the Daytona 500, sixth in Phoenix and now 23rd in Vegas, Kyle Busch does not look like he's ready to make a run for the championship.
Busch has to keep his composure to be taken seriously as a title contender. This will be a good test for Busch to rebound from.
No. 11: Martin Truex Jr., No. 56 Napa Toyota Camry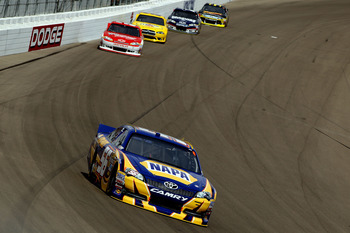 Ezra Shaw/Getty Images
Martin Truex Jr. is in a make or break season, and he's sitting in a good position being eighth in points.
With that said, Truex is looking a little like he did last season. He's running fast, but he can't get the finishes to match it.
Truex had a decent start with a 12th in the Daytona 500 and a seventh in Phoenix, but he slipped up a bit in Vegas.
Truex and his team could not get his car handling good enough to hold any track position and finished 17th.
With pressure from sponsors and a new competitive teammate to be compared to, Truex needs to break his losing streak and get back into victory lane.
No. 10: Jimmie Johnson, No. 48 Lowe's Chevrolet Impala
Ezra Shaw/Getty Images
The only reason Jimmie Johnson is 11th and not higher in my power rankings is the impending penalty he's facing.
After the controversy before the Daytona 500 and finishing 41st after crashing on Lap 2 of the Daytona 500, Johnson's season was a mess after one race.
Since then, Johnson has rebounded with a fourth place finish at Phoenix and a second place finish at Vegas.
Johnson is going to need to keep this up so he can dig out of the hole he got dug into after the crash and the possible loss of points he's about to face.
I still believe Johnson needs wins, but he's definitely on the right track to get back in the points race.
No. 9: Mark Martin, No. 55 Aaron's Toyota Camry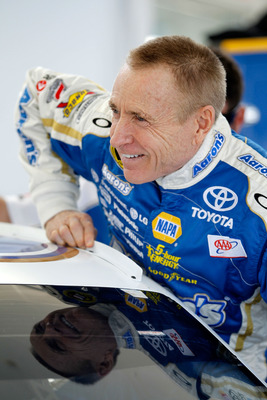 Todd Warshaw/Getty Images
It is a shame Mark Martin isn't running the full season.
He's off to a good start with two Top 10 finishes. A 10th in the Daytona 500 and a ninth in Phoenix was a great way for Martin to start his part-time season.
Las Vegas was not as good as Martin could have hoped for. At times Martin got into the Top 10, but never made a true run for the win and ended up finishing 18th.
Martin will take next week off from the No. 55 Toyota, and Brian Vickers will be behind the wheel in Bristol.
No. 8: Matt Kenseth, No. 17 Zest Ford Fusion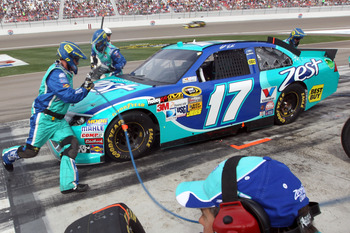 Jeff Bottari/Getty Images
Matt Kenseth showed his strength early and won the Daytona 500.
Since then, Kenseth has been sliding downhill.
Kenseth wound up finishing 13th in Phoenix and had a good day in Vegas going until the end of the race.
On the final re-start, Carl Edwards made a daring move going three-wide into Turn 1. Kenseth's car got loose with Kasey Kahne, and Kenseth hit the wall.
The No. 17 car ended up finishing 22nd.
Kenseth is sitting fifth in points right now, but he has to get the Top 10 finishes and rebound from Las Vegas.
No. 7: Ryan Newman, No. 39 U.S. Army Chevrolet Impala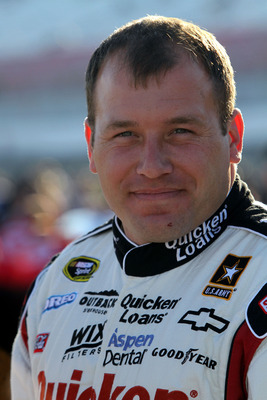 Jerry Markland/Getty Images
I have Ryan Newman pretty high here.
Newman did not have a good Daytona 500, finishing 21st, and he finished 21st again back in Phoenix. With those mediocre finishes, it is easy to put Ryan Newman down.
Don't forget, he's a good driver. He drives Hendrick cars, and he has one of the best teammates in Tony Stewart.
Newman is currently 13th in points after finishing fourth in Las Vegas.
The final re-start in the Kobalt Tools 400 allowed Newman to make some moves past the Roush cars after Matt Kenseth hit the wall.
It won't be too long til Ryan Newman is in victory lane this season.
No. 6: Denny Hamlin, No. 11 FedEx Toyota Camry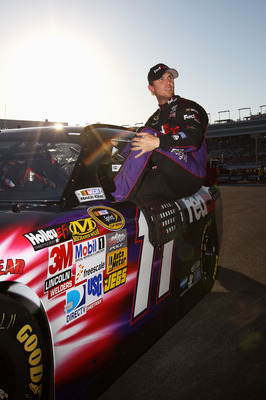 Ezra Shaw/Getty Images
Denny Hamlin comes into the 2012 season looking for a fresh start after a dismal 2011 season.
Hamlin is joined by 2011 Sprint Cup Series Championship crew chief, Darian Grubb. The pairing is already paying off for Joe Gibbs Racing.
The No. 11 Toyota started off the season with a fourth in Daytona and a big victory in Phoenix. Winning early in the season is a huge weight off the shoulders of both Hamlin and Grubb.
The victory was short-lived with a bad performance in Vegas. Hamlin never made much of an impact in the race and finished 20th.
Those kind of races can't happen to Hamlin. With his confidence still re-growing, Hamlin needs more good finishes to solidify his belief in his team and himself.
No. 5: Dale Earnhardt Jr., No. 88 National Guard Chevrolet Impala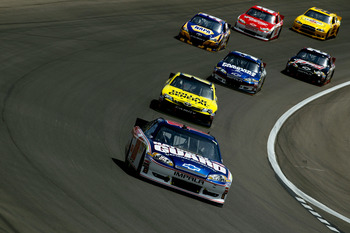 Todd Warshaw/Getty Images
Even though Dale Earnhardt Jr. needs a win badly, he needs the good finishes he's been getting so far just as much.
The combination of Earnhardt Jr. and crew chief Steve Letarte just gets better and better.
Junior just missed out on a Daytona 500 win, finishing second. Then Junior fumbled a bit, finishing 14th after a bad qualifying effort.
Earnhardt Jr. looked like he was ready to win after leading 70 laps in the Kobalt Tools 400. (Junior led 52 laps total in 2011.)
Junior's fast start in Vegas didn't last, and pit strategy and handling hurt the No. 88 car. He recovered enough to finish 10th.
Being fourth in points is exactly where Dale Earnhardt Jr. needs to be.
He could just use a trip to victory lane.
No. 4: Kevin Harvick, No. 29 Budweiser Chevrolet Impala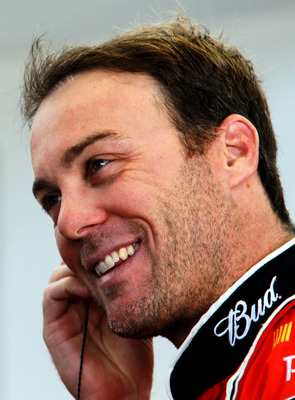 Ronald Martinez/Getty Images
Kevin Harvick should be pretty happy right now.
A smooth start to the season has Harvick sitting second in points, just 10 points behind Greg Biffle.
Harvick's team had some wholesale changes made, bringing in Shane Wilson to crew chief the No. 29 car. It was a move that can make or break a championship run. So far, it looks like it was the right move.
Harvick got out of the gate fast in 2012, finishing seventh in the Daytona 500 and second in Phoenix.
Harvick just missed getting three-straight Top 10 finishes by finishing in 11th in Las Vegas. Harvick had a good day in Phoenix. He was up in the Top 10 for most of the race but faded a bit and slipped out of the Top 10.
Going into Bristol next weekend, Harvick would not be a bad choice to pick for the win.
No. 3: Carl Edwards, No. 99 Aflac Ford Fusion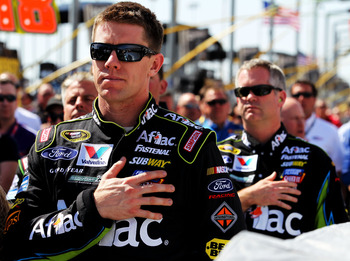 Jeff Bottari/Getty Images
After losing to a tie in the Chase for the Sprint Cup Championship, Carl Edwards is racing for nothing but a championship.
While he may be high on this list, he needs to win and win now. It's been a year since his last trip to victory lane.
Edwards started out with a eighth place finish in Daytona, but faltered like a lot drivers did in Phoenix, finishing 17th.
After Phoenix, Edwards showed some aggression in Vegas, going three-wide on the final re-start to get after the leader. It ended up costing teammate Matt Kenseth, but Edwards got fifth when the checkered flag came out.
While Edwards needs good finishes, he needs wins a lot more. He saw already what happens when someone wins a lot. Good finishes just don't cut it without a few wins.
No. 2: Tony Stewart, No. 14 Mobil 1 Chevrolet Impala
Jeff Bottari/Getty Images
After starting the season a little slow with a 16th in Daytona and a 22nd in Phoenix, Tony Stewart bounced back with a win in Las Vegas.
Stewart is trying to defend his championship and currently sits seventh in points.
Stewart's car has looked strong, and he's off to a faster start with new crew chief Steve Addington.
There is a considerable amount of pressure on Stewart to repeat as champion and even Steve Addington to fill the shoes of former crew chief Darian Grubb.
Now with a win out of the way early in the season, Stewart and Addington can focus on good finishes and going after the championship.
No. 1: Greg Biffle, No. 16 3M Ford Fusion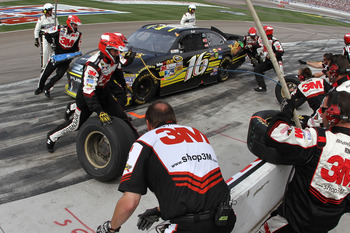 Jerry Markland/Getty Images
Greg Biffle is out to remind everyone that Roush Fenway Racing's star drivers don't just include Carl Edwards and Matt Kenseth.
Biffle is the current points leader coming out of Las Vegas.
The "Biff" has had to deal with questions about whether he tried to win the Daytona 500 or just block for Kenseth, and he has not let those distractions get in his way.
Biffle is the only driver in the Sprint Cup Series with Top Fives in all three races this season. He finished third in Daytona, Phoenix and Las Vegas.
The question is whether this great start will last or will the pack catch up to Biffle?
Or will mistakes cost the No. 16 car again like in previous years?
Keep Reading