NFL 2013: Why the Redskins Will Win the Super Bowl with RG3
March 10, 2012

Getty Images/Getty Images
Kudos Daniel Snyder, Mike Shanahan and the entire Redskins organization. They finally got it right and made what I (and many Redskins fans) consider to be the best decision the organization has made in decades - since the signing of Joe Thiesmann. On behalf of all Redskins fans, thank you.
Before the naysayers jump in and say, "RG3 hasn't even thrown an NFL pass yet, so how can you say the Redskins all of a sudden are going to be competitive let alone with the Super Bowl?," let me explain.
In the 2011 draft the Redskins accomplished in the draft what normally takes teams years to accomplish—we had a monster 2011 draft and greatly improved our entire team. With the additions of Helu, Kerrigan, Jenkins and Evan Royster, to name a few of our better picks, we added starting talent in four key positions on both offense and defense. All players (with the exception of the injured Jarvis Jenkins) started and made significant contributions on both sides of the ball.
In addition, in 2011 we were not handily beaten by every team we lost to. Often we lost by only a few points. In five of our 11 losses we only lost by seven points or less. This is with a mediocre (and that's being polite) quarterback combination of both Rex Grossman, who threw 20 interceptions versus16 touchdowns, and John Beck, who threw a whopping two touchdowns versus four interceptions while racking up a pathetic quarterback rating of 72 percent.  
Even with these (again being polite) mediocre quarterbacks, we still lost five games by a margin of a touchdown or less. You can easily make the argument if we were that close in five of our losses, then if we had even an average or above average quarterback, we would have won those games and hence won the division and made the playoffs.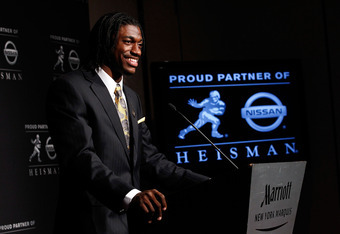 Jeff Zelevansky/Getty Images
Remember, the Redskins were this close while being decimated by early season injuries to several key players. In a September 2011 article on WashingtonPost.com, the author listed five starters that were injured at the beginning of the season.  
This list included Chris Cooley, LaRon Landry, Brandon Banks, Oshiomogho Atogwe, Donte Stallworth and running back Ryan Torain. Even with all of these injuries, the Redskins were still competitive. All of these players were playmakers, who I suspect had they been on the field the season would have gone quite differently.
Now bring in RG3.For the first time the Redskins have a mobile quarterback. A quarterback that can extend the play and who will force the defense has to account for his ability to rush the ball on every play.   
This brings an entirely new dynamic to the Redskins offense that we have never had before. On the contrary, this will force defenses to adapt to our scheme which will open things up underneath and downfield. There is no downside to this move.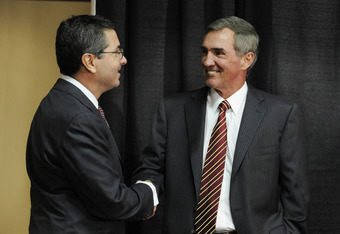 Mitchell Layton/Getty Images
Even if RG3 is not Aaron Rodgers in his rookie season, if he is even just average, the Redskins make the playoffs.
The fact that the Redskins are approximately $40 million under the cap will allow the team to add four to five bona fide free agents with starting potential. Now imagine this scenario, the Redskins with an already solid (healthy) defense, a dynamic mobile quarterback (who by the way can pass as well as anyone in the draft), and you now add four to five starters to support him. Now you have a legitimate playoff and Super Bowl contender.
Given the Redskins salary cap room and our recent successful drafts, trading the picks we traded will have a minimal adverse effect on the teams ability to continue to add talent.  
Naysayers say what you want, the Redskins made the smartest move we have seen them make in decades. Most people are saying we gave too much for an unproven entity. I say we could have given significantly more, and it still would have been the right move. 
The Redskins have been a quarterback away from contention for years. For the first time in decades, we have a true franchise quarterback.
One last note, the Redskins still have seven draft picks in the upcoming draft. The probability that we will find a few diamonds in the rough like Joe Jacoby was in 1981 is high.
I have said it before, Redskins nation—the Redskins will win the Super Bowl in 2013. We are finally a complete team with a new leader and weapon in RG3. The missing piece of the puzzle has been found and the glory days have returned. The new era of proud Washington Redskins-dominated football has returned.